This Stock Goes On Massive Tear Amid Positive Hepatitis C Study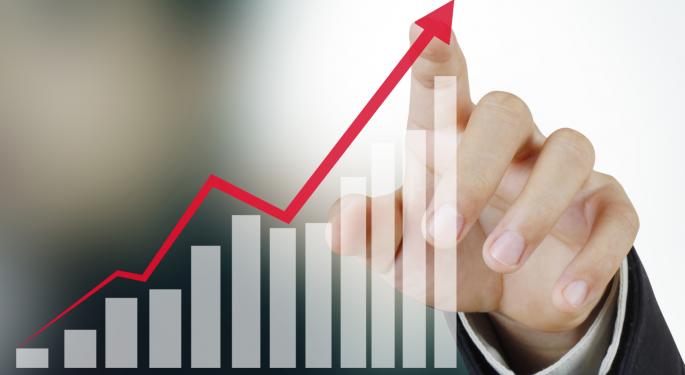 Regulus Therapeutics Inc (NASDAQ: RGLS) rallied to $18.33 in premarket trading, almost tripling in value from Tuesday's $6.77 close. The catalyst for the rally being the announcement of a positive RG-101 study for the treatment of Hepatitis C.
Traders immediately began aggressively buying the issue as the news broke, with the initial trade occurring a little more than $1.00 higher at $7.97 on mostly odd lots. A scared short or aggressive long player may have lifted any offer in sight up to the $10.50 level; A player with a large stake on many occasions can influence price by simply lifting odd-lot offers in after-hours or premarket trading.
In the rally from $7.97 to $10.50 from 7:49 a.m. to 8:22 a.m., less than 5,000 shares changed hands. Regulus is not a heavily traded issue and averages less than 70,000 shares per day.
Related Link: Sometimes You Need To Close Your Eyes And Buy
Big Boys Get Involved
After the initial pop, bigger players started to get involved and the volume began to escalate. This could have been the result of those holding any of the 8 percent outstanding short interest beginning to look for cover. Investors on the other side of the trade, watching huge profits accumulate instantaneously, began parcel out.
When more substantial volume started to come in around 8:34 a.m., Regulus really started to take off. In less than 20 minutes on heavy volume (250,000), Regulus spiked to $18.33.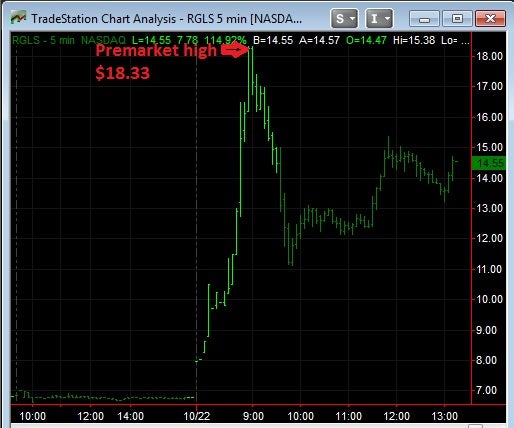 Finally Finds A Top
Following the rally, which exceeded its former all-time high ($12.89) by almost $6.00, it began to retreat on huge volume. Some of the shareholders of the 43.4 million outstanding shares began to ring the cash register.
The announcement was of positive data from the trial, not that the drug has been approved or will soon be brought to the market. Investors correctly anticipating the positive result realize that if the next phase of the trial disappoints, it could be right back at the $7.00 level.
As with many other biotech and pharma companies, the company has struggled to make a profit, as demonstrated by its negative EPS over the last five quarters. Its high revenue mark over this time period has been $6.12 million from Q3 2013, compared to $1.6 million in Q1 2014.
Only two Wall Street firms follow the issue. Lazard Capital Markets maintained its Buy rating from August 14, 2013, with a $15 price target. Wedbush Securities initiated coverage on November 29, 2012, with an Outperform rating and a $10.00 price target.
Aftermath
Regulus briefly traded to $15.00 after the open and retreated to $11.13 in the next 16 minutes. After a quick rebound to $13.00, it teased investors investors over the next few hours by consolidating between $12 and $13.00 over that time period.
Since breaking out of that trading range, it rallied to make a new high for the day at $15.29.
At time of publication it traded at $14.76, up 118 percent.
Tune in every morning, Monday-Friday, from 8-9:45 AM EST to hear Joel Elconin and Dennis Dick discuss what's moving the markets and why on Benzinga's #PreMarket Prep.
Posted-In: Technicals Movers & Shakers Intraday Update Trading Ideas General Best of Benzinga
View Comments and Join the Discussion!