How An Employee Of Wal-Mart Could Soon Be Your Delivery Driver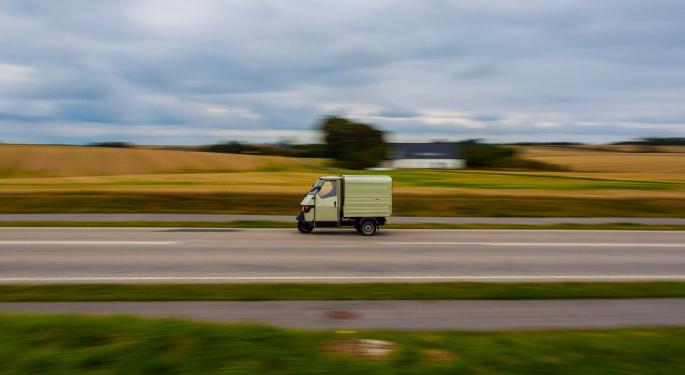 This article was originaly featured on DriveWealth
Soon your online purchases may not be delivered by a man or woman wearing the brown and gold uniform you've likely become accustomed to. Instead, they might be wearing…a…blue vest? That's right, in an effort to combat the success of online retailers such as Amazon.com, Inc. (NASDAQ: AMZN), Wal-Mart Stores Inc (NYSE: WMT) is now testing a program which will consist of store employees delivering some orders that have been placed on Walmart.com or Jet.com during their commute to (and from) work. Currently, Wal-Mart has 4,700 stores in the United States and it looks like they intend to use them as a competitive advantage over companies (Amazon) who generally only do business through online sales. Perhaps this strategy will be a significant step towards slowing down Amazon's recent dominance, it certainly is creative.
For now, the program is in a testing phase and will only run for a few weeks in three stores, one in an Arkansas store that is near Wal-Mart's corporate headquarters and two in stores that are near the Jet.com offices in New Jersey. Further, it seems that Wal-Mart is hoping to use its $3.3 billion acquisition of Jet.com, from last September, to explore this program as an option. According to a Wal-Mart spokesman, however, only a few hundred packages have been delivered using this program so far since it is still in a developmental stage. Although, Wal-Mart U.S. e-commerce chief Marc Lore was appeared optimistic when he recently said, "Imagine all the routes our associates drive (while going) to and from work and the houses they pass along the way." He may be onto something.
In order to make this process work, there are obviously a lot of moving parts. Currently, the plan is to give Wal-Mart employees who have a car and can pass a background check the opportunity to deliver up to 10 packages per day. To track their deliveries, there will be a phone application that suggests orders for them to deliver that would be the most convenient for them during their trip home. As for compensation, employees will be paid for the time they spend making deliveries but Wal-Mart has not yet revealed how much drivers will earn or if time spent driving will be considered time "on the clock." Some information has been released, though. For example, a Wal-Mart spokesperson has made it known that shoppers will not be aware of who is delivering their purchase at the time of them ordering it. This differs from other services such as Uber, which gives you a preview as to who your driver will be. Yet, under the assumption that your package is delivered safely, does it really matter who is delivering it or how it gets there?
Of course, as is the case with nearly all new ideas, Wal-Mart's plan does face some challenges. For instance, if driving time is considered time on the clock, some part-time employees may become full-time meaning that they will qualify for health care benefits. As result, labor expenses could drastically increase (depending on the quantity of driver). Additionally, there are many employees who do not commute by car, which will potentially lead to displeasure amongst workers who cannot make deliveries for a supplementary form of income.
From an investors perspective, this move by Wal-Mart might be one to keep an eye on. This is especially true during a year where Wal-Mart's United States e-commerce sales grew 63% (including sales from Jet.com and other recent acquisitions) in the most recent quarter. If the plan to implement an employee operated delivery program a successful one, Wal-Mart would likely continue to show signs of growth during a time when many other retail companies are struggling to even stay in business.
Posted-In: DriveWealthRetail Sales Topics Markets
View Comments and Join the Discussion!