11 CEOs Who Also Founded Their Companies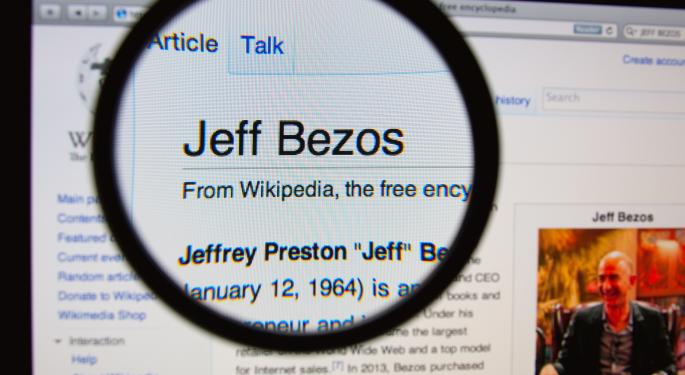 It's one thing to start a company; it's a completely different experience trying to make sure your "baby" not only thrives but succeeds. There are many stories of company founders who stayed on as CEOs, for better or worse – facing not only cutthroat competition but the challenges of trying to run their business on a day-to-day basis.
One historic and widely-known case was the late Steve Jobs, who founded Apple (NASDAQ: AAPL) in 1976, but was forced out as CEO in 1985 – only to return as Apple's chief executive in 1997.
Here are 11 company founders or co-founders, who have been able to buck the trend and stay on as chief executive:
Stan Shih – Acer (OTC: ASIYF)
The Taiwan native has always been an innovator. He designed, developed and sold Taiwan's first desktop calculator in 1971 and was later part of a team that came up with the world's first pen watch. Shih co-founded Acer in 1976 with four partners and $25,000.
Under his leadership, Acer became the world's second-largest PC maker. In late 2013, nine years after retiring, Shih was brought back on as Acer chairman and president, to help revive the company's flagging fortunes.
Jeff Bezos – Amazon (NASDAQ: AMZN)
A computer geek and proud of it, the New Mexico native worked on Wall Street after graduating from Princeton University with degrees in computer science and electrical engineering. After working on Wall Street for several years, he founded Amazon.com in 1994. The e-commerce site took off, making Bezos a billionaire. Last year, he purchased The Washington Post for $250 million in cash.
Michael Dell – Dell
In 1984, when he was 19 years old, Dell founded Dell in his college dorm room with $1,000. With an emphasis on computer design, manufacturing, good prices and better customer support, Dell boomed.
By 1992 Dell became the youngest CEO on the Fortune 500 list. The company is currently the world's third- largest computer hardware manufacturer by revenue. In 2013, after slumping sales, Dell took
his company private – a move he reportedly said would ease the company's transition from PCs to mobile devices.
Related: Still On Top: Eight Of The Longest-Serving CEOs
Larry Ellison – Oracle (NYSE: ORCL)
Ellison founded his computer technology company in 1977, making him one of the world's longest-serving founders and CEOs. Ellison is also one of the world's richest men, and makes no bones about it.
He collects airplanes, yachts, homes and currently owns most of the Hawaiian island of Lanai. He also put hundreds of millions of dollars into his Team Oracle USA's successful defense of America's Cup last year.
Dave Duffield – PeopleSoft/Workday (NYSE: WDAY)
A Cornell graduate, Duffield founded PeopleSoft in 1987. As company CEO and chairman, he helped parlay the company's office and financial management systems in the world's second-largest ERP (enterprise resource planning) company. PeopleSoft was acquired by Oracle in 2005. Since then Duffield has become the founder and CEO of Workday, which provides cloud-based human resources and financial applications for companies.
Marc Benioff – Salesforce.com (NYSE: CRM)
Benioff started his pioneering, cloud-based company in a San Francisco apartment in 1999. "My vision," he later blogged, "was to make software easier to purchase, simpler to use, and more democratic without the com­plexities of installation, maintenance, and constant upgrades." Salesforce's Customer Relationship Management (CRM) application is reportedly used by over 100,000 companies.
And the firm was on the Forbes list of the world's most innovative companies last year.
Elon Musk – Tesla (NASDAQ: TSLA)
Born in South Africa, Musk has been the driving force behind some of the most innovative companies of the modern business era. He was the co-founder of PayPal and SpaceX – the private commercial space venture where he remains CEO and Chief Designer.
Musk has also made history with another venture he co-founded, Tesla. The company's landmark Model S sedan has set the standard for electric car performance. In fact, in its car-brand perception survey for 2014, Consumer Reports lists Tesla among the top five brands.
Larry Page – Google (NASDAQ: GOOG)
Michigan native Larry Page co-founded Google in 1998 while working on his Ph.D at Stanford University. He remained CEO until 2001, when he became president of products. But Page resumed his role as company chief executive in 2011, as part of a company shake-up meant to help Google keep up with competition from a growing number of business rivals.
Mark Zuckerberg – Facebook (NASDAQ: FB)
The tale of how then-Harvard student Zuckerberg co-founded the pioneering social networking site, along with its subsequent rise and controversies, had enough drama that Hollywood made the story into an award-winning movie. Zuckerberg has enough power and influence that he recently called President Barack Obama to complain about federal intelligence and hacking programs on the Internet.
Jeremy Stoppleman – Yelp (NYSE: YELP)
Stoppleman was vice president of engineering at PayPal when, in 2003, he left the company to attend the Harvard Business School. While there, he and a former PayPal colleague, Rusel Simmons, came up the the idea of a web-based social network based on local, regional information.
Stoppleman dropped out of HBS to found the "online urban guide" and business review site in 2004. Yelp has also had its share of complaints, lawsuits and controversies, but the company has expanded internationally, and reportedly had a monthly average of 120 million unique visitors in the fourth quarter of 2013.
Reed Hastings – Netflix (NASDAQ: NFLX)
The Boston native co-founded Netflix in 1997, and has been its CEO since late 1998, making him another long-running CEO. Beginning with its DVD-by-mail rental service, Netflix now has an international presence as a video streaming service. It has also produced programming that has won both audiences and awards – including series such as House of Cards and Arrested Development.
"It's up to Netflix to harness the power of the Internet better and faster than other people," Hastings said in an interview last year, "to provide a great consumer experience."
Posted-In: CEOs company founders Dave DuffieldEntrepreneurship Management Economics Tech Media Best of Benzinga
View Comments and Join the Discussion!