Apple Watch Release Confuses Customers Who Couldn't Buy It In Stores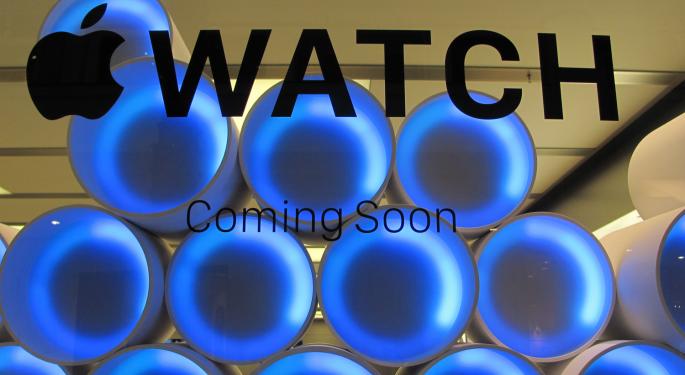 Few people showed up to purchase the Apple Watch at the Apple Inc. (NASDAQ: AAPL) Store at the Somerset Collection in Troy, Michigan.
No more than 10 people waited outside the store at one time. A handful shuffled in and out as they waited for the store to open. It was an unusual site for an Apple product launch, which have been met with massive lines and, on occasion, plenty of stock.
This Apple Store did not have any watches at all, however, disappointing those who were lured to the store by an ad campaign that heavily promoted the April 24 release date.
Numerous reports, though, noted that Apple would not actually be selling physical watches in Apple Stores. Only a select few locations would be selling the watch, but this did not appear to be very clear to some customers.
The New York Times noted, "Rumors of the Apple Watch's unavailability have, it turns out, been slightly, if not greatly, exaggerated."
As of this writing, the Apple Watch commercial -- which was published in the official Apple YouTube channel -- still concludes with the numbers "4.24.15" before displaying the company's iconic logo.
Related Link: Apple Watch Reviews: 10 Things We Learned From The Critics
Grand Opening?
Apple typically opens its stores at 8:00 a.m. when a new product is released, but it chose to keep the doors shut until 10:00 a.m. Friday morning. At 8:30 a.m., an Apple employee came outside to explain the situation.
Not much of a queue at the #Apple store for the new watch this morning pic.twitter.com/ZISc8FIsJ0

— Jenny Hodge (@JennyHodge) April 24, 2015
"If you want to purchase an Apple Watch today, the best way to do so is order one online and have it shipped to your home," he said. "Due to the online demand, the company has decided to put all of our current store allocations toward online orders."
This did not sit well with the customers waiting outside the Apple Store.
"I adore Apple products and I want to have one," a woman, who went only by the name Alexandra, told Benzinga. "But the thing is, the guy, he came out here and said you can only buy online, they don't have nothing."
Related Link: Leaked Apple Video Shows Angela Ahrendts Updating Employees On Watch, MacBook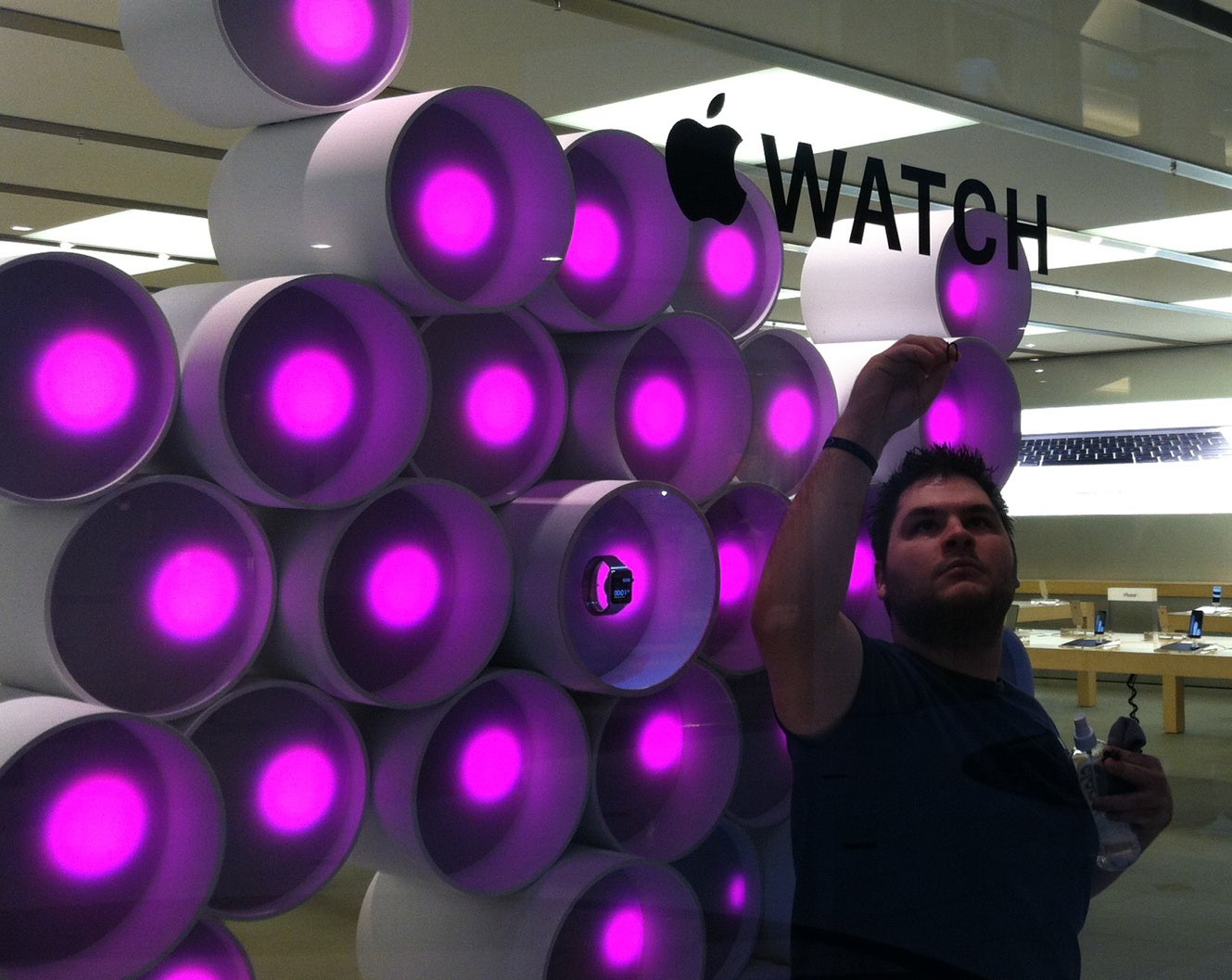 An Apple employee took a moment to peel the "Coming Soon" sticker off the store window. The irony was not lost on customers who were told the device wouldn't arrive in stores before May. Image Credit: Louis Bedigian
Alexandra asked to see the press release showing that Apple would only sell the device online. The employee responded by telling her to contact Apple PR.
"Everybody here was expecting to buy the watch, but they don't have it available," she said. "Why they made that big of a deal of the 24th -- everybody's here, and you don't have the watch, right? People made arrangements to be here."
One customer came all the way from Brazil just to pick up the watch. He wasn't interested in sharing his story, but Alexandra said that he spent "a lot of money" to come to the States.
Come And Go
Some customers remained seated outside the Apple Store even after an employee informed them that the watch was not in stock. The employee told them that they wouldn't be able to buy the device in store until "early or mid-May."
Arthur Yedid, easily the biggest fan waiting in line, decided to move on.
"I've been to all of the major Apple product releases," Yedid told Benzinga. "This has become a tradition."
That tradition will likely continue for him when the next iPhone arrives.
"Every new Apple product is excitement," he said. "They come out with a lot of good stuff. What's important is [that] it's a top-seller. And it's been so for many, many years."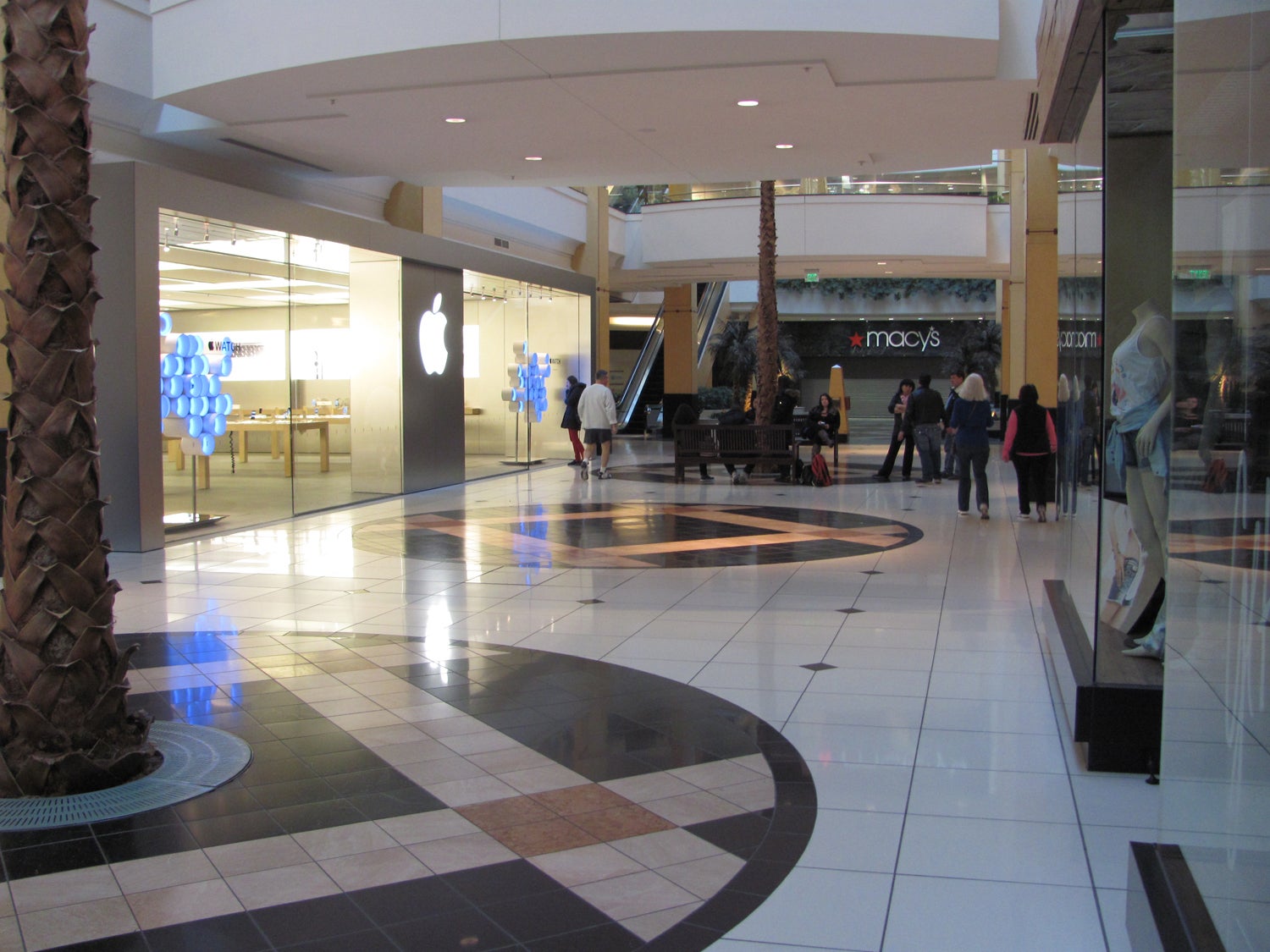 Roughly 10 customers lined up for a product they couldn't buy. Image Credit: Louis Bedigian
Product launches can also be a great meeting place for fans of Apple products.
"I met a lot of good people just basically through going and standing in line," Yedid added.
At press time, Apple had not responded to a request for comment. Benzinga will update this story if and when Apple responds.
Disclosure: At the time of this writing, Louis Bedigian had no position in the equities mentioned in this report.
Posted-In: Apple Store Apple WatchEvents Exclusives Tech Best of Benzinga
View Comments and Join the Discussion!