Big Investment Banks To Report With Goldman Sachs, Morgan Stanley Up Next Amid Strong Trading, IPO Markets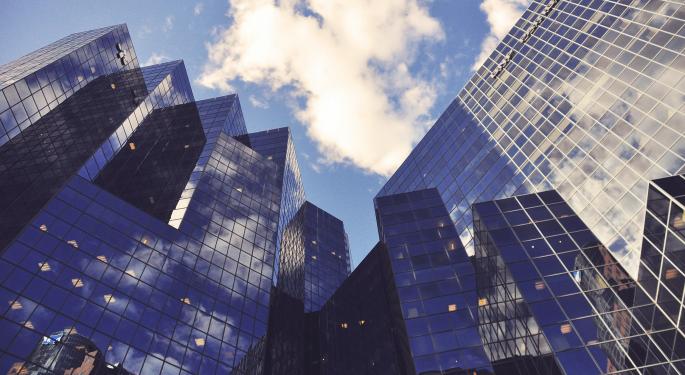 Big investment banks could have a tough time matching their incredibly strong Q3 earnings performance when they report Q4 results next week. However, you could argue that the conditions leading to their muscular Q3 earnings spilled into Q4.
An upsurge in capital markets trading activity and a very strong initial public offering (IPO) market could bode well for Q3 outperformers Goldman Sachs Group Inc (NYSE: GS) and Morgan Stanley (NYSE: MS). However, the more-consumer-oriented Bank of America Corp (NYSE: BAC) might face continued challenges, according to analysts' sagging estimates for the company.
Though Monday is a holiday, the bank sector comes out swinging Tuesday morning when BAC and GS are expected to report. MS is expected to follow on Wednesday morning.
Like the rest of 2020, Q4 probably was good for banks in one particular way: All the volatility in capital markets likely led to lots of trading activity. This could be a potential bright spot for banks like GS that have huge trading desks. Also, the market dynamics might provide a lift for the large wealth management business at MS.
On the other hand, lagging economic data in Q4—including last week's tepid December employment report—could drag a consumer-focused company like BAC. Credit card activity in the consumer banking arena could remain under scrutiny, as it did in Q3, with job growth slowing and weekly new jobless claims staying steadily above 800,000 through most of Q4.
One other possible worry is changes in Washington. Banks generally enjoyed a rollback of regulations under the current administration, but Democrats' sweep of the House, Senate and White House could mean a more active Treasury Department in coming years.
On the other hand, expected Treasury leadership by President-elect Biden's choice—Janet Yellen—means bank executives will know who they're dealing with in coming months. Yellen led the Federal Reserve until early 2018.
Brighter Times Could Be Ahead As Economy Improves
Financial stocks had a rough 2020 but generally performed better in Q4. Over the last three months, the S&P 500 Financial sector is easily leading the S&P 500 Index (SPX) in market performance.
The industry is slowly emerging from a worst-case scenario of low-interest rates, a struggling economy, and credit loss provisions the banks took to protect against potential loan defaults. All this hasn't vanished, but banks got good news last month when the Fed said they'd be allowed to resume stock buybacks. That's potentially one reason the sector's been doing better lately.
Also, banks did well on their most recent round of Fed "stress tests," and could be at a point where there's less worry of loan defaults. This would become even more the case, maybe, if vaccinations start speeding up and investors could see beyond this almost year-long pandemic.
The crisis hasn't been completely bad for banking firms' bottom lines. Consider that banks like GS, BAC, and MS all tend to benefit when the capital markets are energetic.
Initial public offerings (IPOs) were another Q4 factor that might have helped these massive banks find a way to emerge from the thicket. Research firm FactSet said IPO activity "remained strong through the fourth quarter with 168 IPOs recorded. While fourth-quarter activity came in below the breakneck pace of the third quarter, companies raised an astounding $53.8 billion."
Banks and their leaders generally did a great job managing through the crisis. Though they had to take massive protection against possible default—which crimped their profits—some analysts think banks actually might have gotten too cautious. That means there's a chance a lot of this reserve buildup could start winding down perhaps allowing profits to rebound more quickly than some had expected. The banks have also done well in cutting costs and branching into new businesses that expanded their customer base.
Heading into earnings season—before several large banks reported last Friday—research firm CFRA projected overall S&P 500 Financial sector earnings to fall 7.8% year-over-year in Q4. That's an improvement on the firm's estimate for an overall 2020 Financial sector earnings loss of 22%, so perhaps things are improving. Looking forward, CFRA sees Financial earnings rising 17.8% in Q1.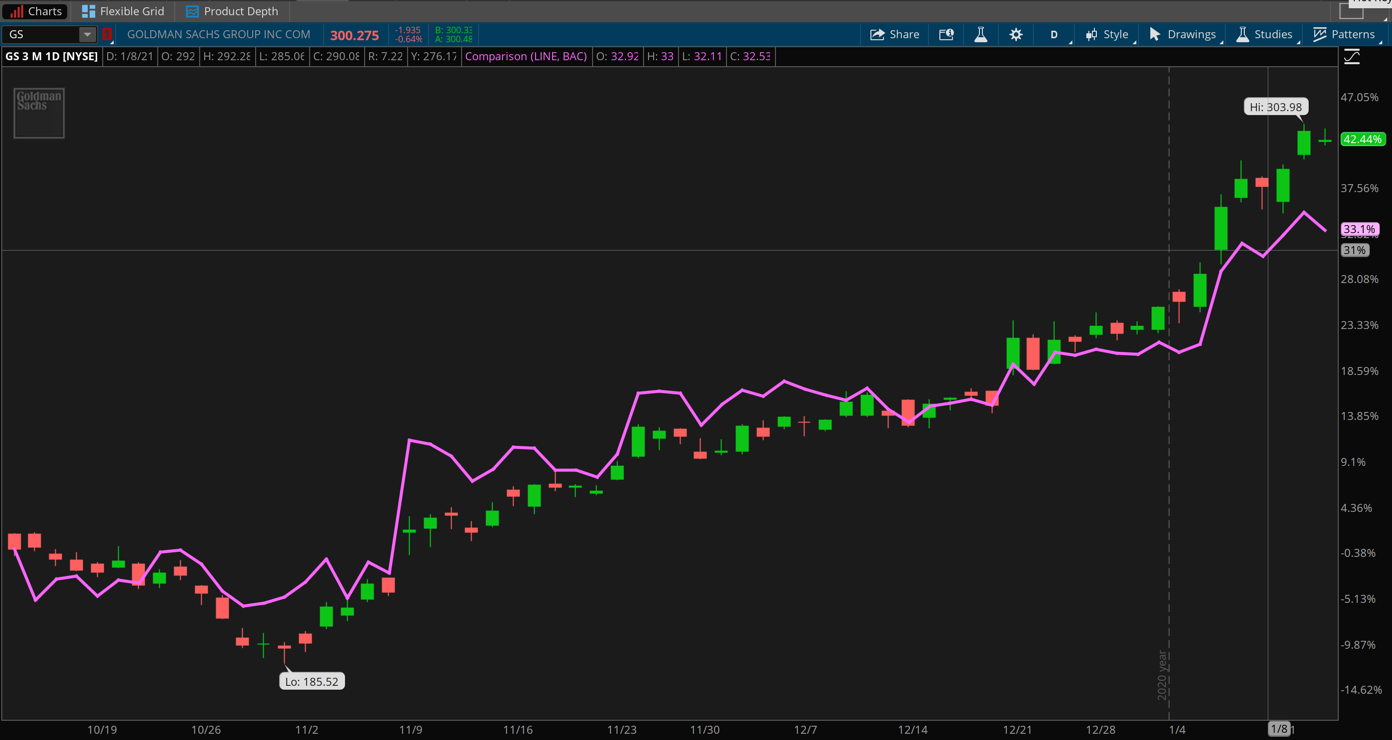 FIGURE 1: GETTING OUTPACED. Big bank stocks have been on a roll lately, but this chart shows that Goldman Sachs (GS—candlestick) is slightly outpacing Bank of America (BAC—purple line) over the last three months. This could partly reflect analysts' more potent earnings outlook for GS Q4 earnings compared with what they expect to see from BAC. Data Source: NYSE. Chart source: The thinkorswim® platform from TD Ameritrade. For illustrative purposes only. Past performance does not guarantee future results.
Goldman Sachs Looks To Repeat Strong Q3
In Q3, GS posted its second consecutive strong quarter, bolstered by asset management and bond trading revenue. At the time, the company said, "Our ability to serve clients who are navigating a very uncertain environment drove strong performance across the franchise, building off a strong first half of the year."
When GS reports Tuesday, investors are likely to look for any similar language in the press release related to Q4 conditions. Remember that Q3's strength in bond trading came despite a relatively dull Q3 for the bond market. Things actually got a bit more interesting in Q4 as bonds turned around their long rally and yields started ticking higher. Those rising yields could help banks in a number of ways, especially when it comes to net-interest income.
GS has a huge trading business. We'll be looking for results from there and for any different outcomes between the fixed income and equity sides of the quarter. GS is second only to MS when it comes to the size of banks' trading shops, so these two could be well-positioned from a capital markets perspective if those businesses continued to sail along in Q4.
Morgan Stanley Investors Eye Trading Revenue
MS also outperformed Wall Street's expectations last time out, exceeding analysts' estimates in both wealth management and investment management. With MS, it's important to keep a close eye on trading results, and also to see if the company feels it's making strides in its growing IPO business.
Also, investors will probably want to hear about Morgan Stanley's acquisition outlook, considering it's been a big acquirer lately. The firm has been shifting away from trading toward steadier, simpler businesses like money management. The company bought a large online brokerage firm last year that it said would significantly increase the "scale and breadth" of its wealth management business.
That said, 2020 was a record year for bond issuance, and that conceivably could help MS (and GS). The health of the capital markets is often closely tied to the health of big investment banks like MS and GS, and it's no different now during the pandemic.
Bank Of America Hoping To Rebound From Tough Q3
Looking specifically at BAC approaching Q4 earnings, one question centers around net-interest income. That measure of bank profitability fell by $2.1 billion in Q3 to $10.2 billion, BAC said. Its management said then that Q3 would likely be the bottom for net-interest income, so we'll see now if they were close to accurate with that prediction. Remember, BAC is often thought of as the big bank most exposed to interest rates due to its large base of deposits, so it probably has more to gain (or lose) than some of its rivals based on where rates go.
Investors are also likely to keep an eye on BAC's commercial loan business, including credit cards, car loans, mortgage books, loans to industry, and personal loans. Business and consumer demand remains mixed, judging from recent economic data, and that could have implications.
Q3 was a challenging quarter for BAC. The company missed Wall Street's average revenue estimate, though earnings per share did come in above analysts' projections. Trading results in the quarter were also less than stellar. Analysts aren't expecting a great earnings quarter from BAC this time around, but hopefully, some of the metrics can start bouncing back.
TD Ameritrade® commentary for educational purposes only. Member SIPC. Options involve risks and are not suitable for all investors. Please read Characteristics and Risks of Standardized Options.
Photo by Floriane Vita on Unsplash
View Comments and Join the Discussion!
Posted-In: Goldman Sachs Morgan Stanley's (MS) TD AmeritradeEarnings News IPOs Economics Markets