Amazon's Q3 Earnings: Retail And Cloud Services In A Pandemic Era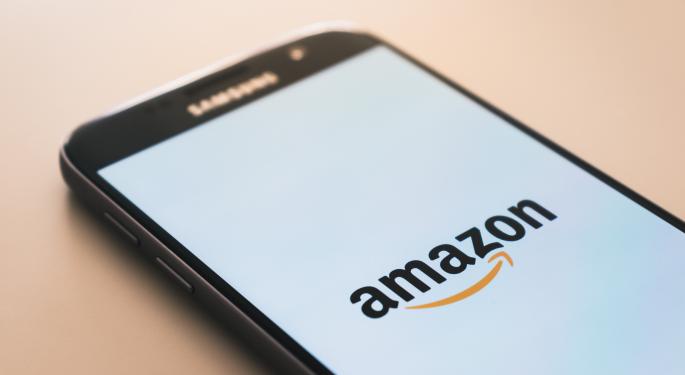 As social distancing continues and lockdowns remain in place, it's no surprise that consumer interest in e-commerce has perked up dramatically.
The hype around Amazon.com, Inc.'s (NASDAQ: AMZN) Prime Day, a two-day event that took place earlier this month, indicates how consumers have embraced online shopping. Although AMZN didn't disclose total figures, it did say that its small- and medium-sized independent sellers made more than $3.5 billion in Prime Day sales, a 60% increase from last year. And the mega sales haven't stopped. AMZN has already started its Holiday Dash event.
While AMZN remains the leader, everyone from grocery stores to big boxes appear to be counting on these big sales events to get a bigger slice of the e-commerce pie. That means Prime Day—however solid the results might be—isn't necessarily enough. AMZN is under pressure to show continuous innovation and add new capacity.
To keep up with increased demand in the retail space, AMZN has said it has increased its fulfillment capacity by 50% year-over-year by adding over 100 new facilities and plants in the United States and Canada. It's also added 100,000 additional employees. And as more people transition to working from home and increase their reliance on digital services, AMZN's cloud computing division Amazon Web Services (AWS) has also seen increased demand for its services.
With Prime Day behind us, attention turns to Q3 2020 earnings. AMZN opens its books on October 29.
AMZN's sector, Consumer Discretionary, has been moving up strongly. AMZN's share price has pretty much moved in line with its sector, although since early September the stock and sector have diverged a bit (see figure 1).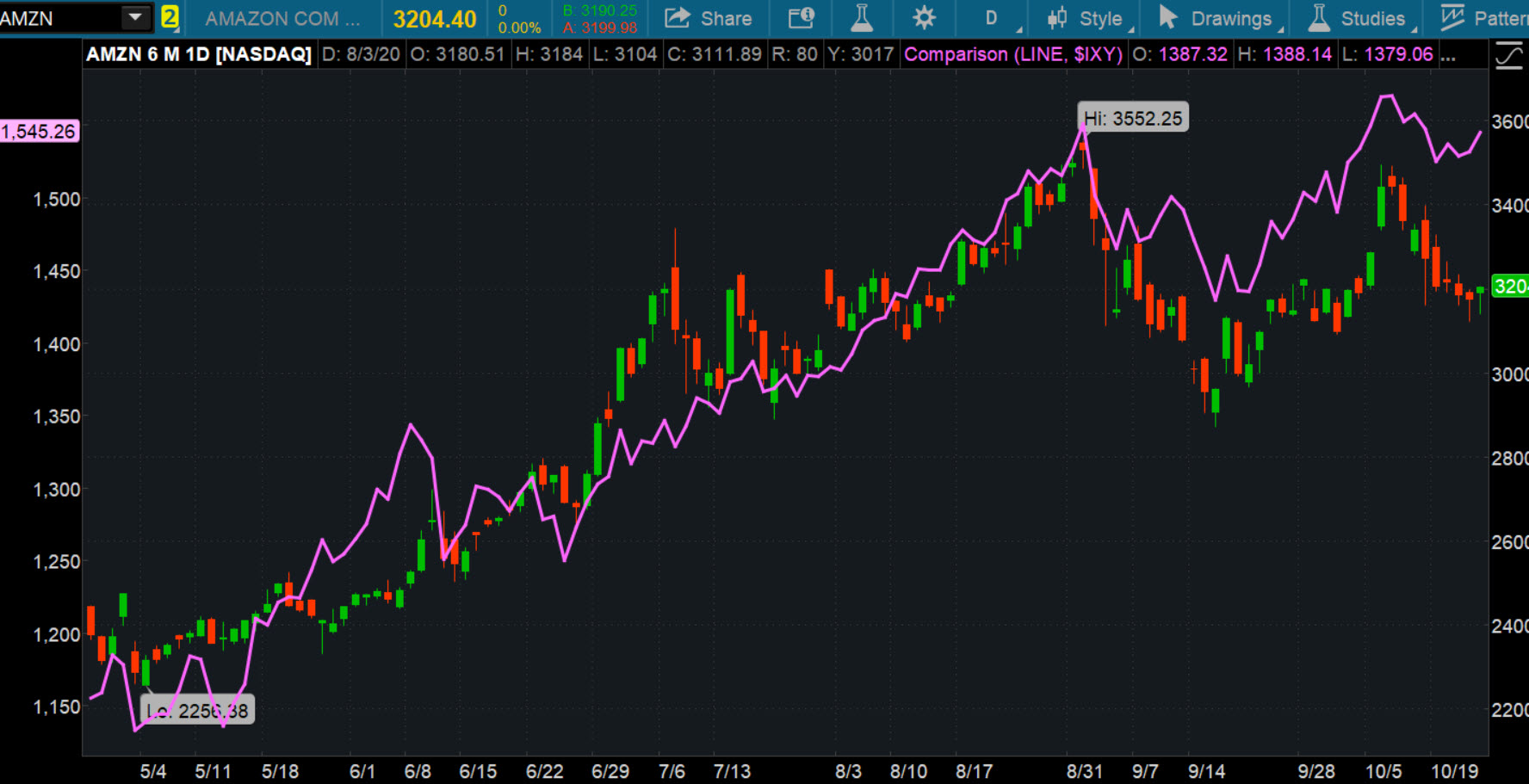 FIGURE 1: AN ON-OFF RELATIONSHIP? Since reaching its high on Sept 7, Amazon (AMZN–candlestick) shares have pulled back and underperformed the Consumer Discretionary sector ($IXY–purple line). Will the stock price and sector move in sync again? Data sources: Nasdaq, S&P Dow Jones Indices. Chart source: The thinkorswim® platform from TD Ameritrade. For illustrative purposes only. Past performance does not guarantee future results.
Early Holiday Shopping
According to Barron's, data from a survey of 1,000 shoppers found that 35% of customers plan to use AMZN more this holiday season than in past years, and 36% are waiting for an online sales event before making holiday purchases. And it's not just AMZN that's offering online sales events. Target Corporation (NYSE: TGT), Walmart Inc (NYSE: WMT), and Best Buy (NYSE: BBY) are playing "follow the leader."
The largest likely threat for AMZN could be increased competition. Something to listen for during the earnings call is how AMZN plans to maintain its position in the e-commerce arena. During last quarter's earnings, founder and CEO Jeff Bezos said AMZN invested more than $9 billion on capital projects, including fulfillment, transportation, and AWS. And that number doesn't include investment in research and development (R&D), which could be significantly larger.
Based on guidance from last quarter's earnings, AMZN expects sales to grow between 24% and 33% compared with a year ago. Last quarter, the company spent over $4 billion in COVID-19 related costs. It expects to spend more than $2 billion in Q3.
With Competition Comes Diversification
The Q2 earnings call revealed that online grocery sales at AMZN tripled year-over-year. WMT's subscription service, Walmart +, launched in mid-September, could bring competition—especially in the grocery space. TGT has also entered the online grocery space with its click-and-collect service. And outside of groceries, BBY is becoming more competitive with its electronic goods pricing.
Given that retailers such as WMT, TGT, and BBY have brick and mortar retail stores in local areas, consumers can take advantage of curbside pickup services within hours after placing their order. There's no worry of shipping delays. But AMZN isn't necessarily going to get left behind there either. Last month, AMZN got approval from the Federal Aviation Administration (FAA) for its Prime Air Drones. The intention is to have drones deliver packages 30 minutes after placing an order.
In the last earnings call, Bezos mentioned that third-party sales grew faster than first-party sales. A few months ago AMZN experienced unauthorized selling and counterfeit issues with some of its third-party sellers, which led some brands to pull their products. It remains to be seen how much this could impact AMZN's Q3 revenues.
One new avenue AMZN has ventured into—very different from third-party selling—is its Luxury Stores program. This is a service available only to select Prime members, which offers personalized shopping of designer wear for men and women.
AMZN's focus isn't solely on retail. In its Virtual Product Event earlier this year, AMZN showcased some of its new products. This includes Ring Always Home Cam, new Echo and Echo dots, a Guard+ option for Alexa that'll bark when it detects a possible trespasser, and a video game subscription service.
AMZN launched its Palm Scan System, Amazon One, and already implemented it in a few of its Amazon Go stores. Customers wave their palm over a scanner to pay for purchases. Is this an indication of AMZN branching out to provide payment services? It may not be a stretch since the company has made fintech investments in India and Mexico. During its earnings call, investors might want to listen for any comments on the different industries AMZN wants to branch out into and more importantly, how much it plans to invest in these projects.
In another move, AMZN recently unveiled its first electric van. So, the delivery landscape may get a new look—drones and different looking delivery vans. When is it likely to happen? Maybe Alexa knows.
Cloud Services: Still Keeps Floating
Cloud services have become increasingly important, especially during the "pandemic" era. It's also a very competitive space with companies such as Microsoft Corporation (NASDAQ: MSFT), Alphabet Inc (NASDAQ: GOOGL), and Oracle Corporation (NYSE: ORCL) wanting to maintain a strong foothold. In Q2, about 12.1% of AMZN's total revenues were from AWS. Will that change in Q3? Investors might want to keep an eye on MSFT's results to see how the cloud business is shaping up and get a preview of what AMZN might deliver.
AWS has developed partnerships with organizations of different sizes from different industries that want to migrate data services to the cloud. AWS has even partnered with the NFL, not just to stream live games but to place tracking tags on players for stat generation/analytics. As the AWS arm branches out into different facets, investors may want to listen for the types of applications the company is investing in. Some applications such as smart homes and autonomous driving will require advanced computing power and that could mean a big spend.
Looking Ahead: Ad Revenues
Another area to look out for is AMZN's advertising sales growth, an area that has been dominated by GOOGL and Facebook, Inc. (NASDAQ: FB). AMZN has indicated it is looking to become more of a "branding player" to connect customers with brands. Last quarter, as mentioned in the earnings call, ad revenues were $4.22 billion, up 41% year-over-year. If ad revenues continue to grow, it could make up a larger percentage of AMZN's future earnings.
Amazon Earnings And Options Activity
AMZN is expected to report adjusted EPS of $7.40, up from $4.23 in the prior-year quarter, according to third-party consensus analyst estimates. Revenue is projected at $92.48 billion, up 32.2% from a year ago.
The options market has priced in an expected share price move of 4.4% in either direction around the earnings release, according to the Market Maker Move™ indicator on the thinkorswim® platform.
Looking at the October 30 weekly expiration, put activity is highest at the 3000 and 3100 strikes. Calls are seeing a bit more activity with concentrations at the 3250 and 3300 strikes. The implied volatility sits at the 66th percentile as of Monday morning.
Note: Call options represent the right, but not the obligation, to buy the underlying security at a predetermined price over a set period of time. Put options represent the right, but not the obligation, to sell the underlying security at a predetermined price over a set period of time.
TD Ameritrade® commentary for educational purposes only. Member SIPC. Options involve risks and are not suitable for all investors. Please read Characteristics and Risks of Standardized Options.
Photo by Christian Wiediger on Unsplash
View Comments and Join the Discussion!
Posted-In: Amazon.com TD AmeritradeEarnings News Previews Markets Trading Ideas General Best of Benzinga