Tesla Rebounds But It Didn't Escape Volatility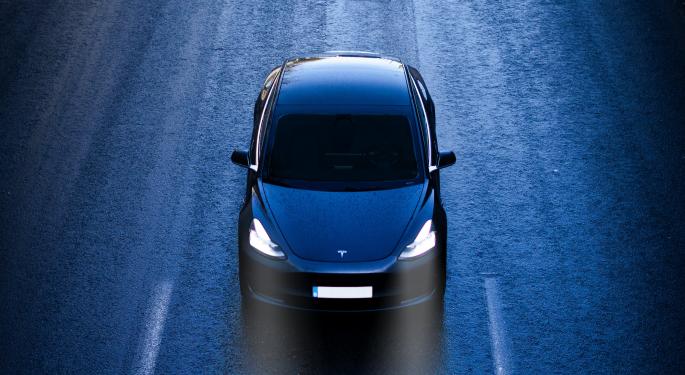 On Monday, amid a tech rebound, Tesla Inc (NASDAQ: TSLA) surged 11% following the Sensor Tower report that weekly app downloads grew 20% year-over-year. On Tuesday, it continued rising as Goldman Sachs Group Inc (NYSE: GS) reported that these developments could indicate a possible delivery beat in the third quarter. Tesla's stock was up by as much as 4% on Tuesday morning after erasing last week's losses already on Monday.
Tesla has made so many disruptions within a short period of time that investors became accustomed to expecting ground-breaking developments. Tesla's stock also rose as Musk tweeted about exciting developments coming on the battery front.
Expectations Are High For Its Battery Day
On September 22, Tesla needs to show something outlandish as expectations have become astronomical. Otherwise, things could get rough like what happened last Tuesday after the company's recent exclusion from the S&P 500 causing shares to drop 21% for their worst day on record. Jim Cramer says that investors are not interested in seeing a new vehicle but game-changing technology developments such as the million-mile battery that can outlast the life of the car.
With its flamboyant CEO who is prone to big promises, expectations are high.
Battery Day
Battery day expectations can probably be divided into four sections: battery cost, reliability, manufacturing capacity and new technology. Batteries are still more expensive than traditional engines. Reducing battery costs means removing one of the greatest barriers to the wider adoption of EVs as they will directly reduce their price and allow them to compete with their traditional counterparts.
Besides their range, battery reliability has been an issue since EVs were introduced. Tesla's success has lessened that concern as older Model S sedans are still up and running. But the more it lasts, the better.
Tesla's battery partner, Panasonic Corporation (OTC: PCRFY) recently announced more manufacturing capacity at Tesla's Nevada facility so, at the very least, there are enough batteries to support Tesla's growth. Wall Street expects Tesla to grow its sales by about 40% until 2021. Its Battery day will provide investors with a trailer of blockbusters that will come out during the next few years but also a glimpse of what is being developed behind the scenes.
Outlook- Volatility Is The Only Constant
Besides the blow from the S&P 500 committee, shares also suffered after Tesla announced it rose $5 billion through a new stock offering while its largest outside shareholder trimmed its position. This week is a clear sign that Tesla's home front is volatility as it keeps swinging between sharp gains and losses. One thing is certain, it's never boring with Tesla. But the bottom line is its shares are up roughly 400% this year and are having the ride of a lifetime.
This article is not a press release and is contributed by a verified independent journalist for IAMNewswire. It should not be construed as investment advice at any time please read the full disclosure . IAM Newswire does not hold any position in the mentioned companies. Press Releases – If you are looking for full Press release distribution contact: press@iamnewswire.com Contributors – IAM Newswire accepts pitches. If you're interested in becoming an IAM journalist contact: contributors@iamnewswire.com
The post Tesla Rebounds But It Didn't Escape Volatility appeared first on IAM Newswire.
Photo by Dylan Calluy on Unsplash
View Comments and Join the Discussion!
Posted-In: IAM Newswire TeslaEarnings News Penny Stocks Markets Tech General