Airlines Soar Again In Pre-Market Trading Amid More Reopening Optimism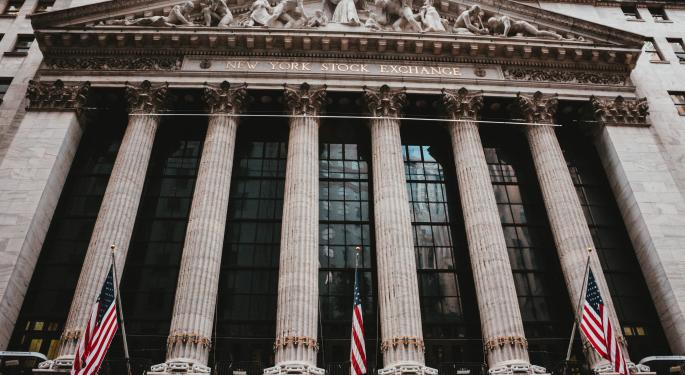 Stocks are up three weeks in a row. Can this be the fourth?
After Friday's incredible jobs report, the momentum does seem strong. However, there aren't necessarily a lot of catalysts on the calendar this week, other than a Fed meeting that few expect many fireworks from.
The market has the tendency to do that which people least expect. This long rally caught a lot of people under-invested and a lot of big funds short. This is causing pain, with some investors wondering why they didn't buy earlier. The jobs report Friday was amazing, and it will be interesting to see if the S&P 500 Index (SPX) can get to 3225 or 3250, both of which might be markers to watch in the coming days.
If someone had told you back on Jan. 1 that the SPX would be down a little over 1% by June 8, it might have sounded a bit disappointing, but also a little vanilla. Well, that's where things stand after anything but a vanilla first half of 2020. At one point this year, the SPX was down 30% from its 2019 close.
Last week's gains put the SPX up more than 45% from its March 23 intraday low and less than 6% from its Feb. 19 record. The Nasdaq 100 (NDX) has also rallied over 45% in that time and hit all-time highs on Friday. The index is now up 12.5% for the year. The Dow Jones Industrial Average ($DJI) has snapped back nearly 50% from March lows while the Russell 2000 Index (RUT) is up 56% from its 2020 lows and broke through resistance at its 200-day moving average on Friday.
Things began Monday where they left off Friday, with major index futures chalking up more gains in pre-market trading and the sizzling airline sector continuing to climb. Bonds are losing ground, signified by the 10-year yield moving over the 0.9% line in the early hours. Gold is rallying, which is interesting to see considering the fact that bonds are down. Most overseas indices moved higher early Monday, but crude leveled off slightly despite OPEC's agreement to extend production cuts. It's flirting with $40 a barrel and was up earlier.
The Week Ahead
While there's no major data today, investors get a look at May inflation numbers later this week. In the past, these reports often got close scrutiny from investors to see if the economy might be overheating, possibly making the Fed's rate hike finger get a little itchy.
In the COVID-19 economy, however, the inflation reports are more like the "free play" that the quarterback sometimes gets if someone on defense jumps off-sides during the count. In other words, whether inflation is high or low may not matter too much because the Fed isn't threatening to raise rates any time soon. Rates are likely to stay right where they are, near-zero, until the Fed sees signs of a full employment.
Looking ahead to earnings this week, a few interesting ones are on the calendar including Chewy Inc (NYSE: CHWY), Five Below Inc (NASDAQ: FIVE), and Lululemon Athletica Inc (NASDAQ: LULU). Aside from inflation, it's kind of a dull week on the economic data front except for the University of Michigan Sentiment on Friday. Obviously, the Fed is going to be front and center on Wednesday, though few if anyone expects any rate moves.
Jobs Report Redux
We talked a lot about payrolls data on Friday, and there's still plenty to say with a weekend now between the report and the market.
First of all, it's an amazing piece of news. A lot of people had been asking, 'Why is the market coming back so quickly?' and the report basically provided an answer. We're seeing states that are open and people getting back to work really, really quickly. Construction has been incredible, and retail trade job gains were actually a bit of a surprise, though it makes sense when you consider some states have let stores reopen.
A gain in health care wasn't really a surprise because the doctors' and dentists' offices have been in the process of reopening for a while. It was also good to see the hospitality industry pick up. All in all, maybe everything has happened a little bit faster than expected, but most people who watch the economy expected things to come back.
As Briefing.com said in a research note, "It's a good thing when more people are working and making a steady income. It's a good thing when businesses feel better about end demand that they feel the need to hire more workers. It's a good thing when the labor force participation rate is increasing."
Keep in mind that one strong jobs report is a snapshot of a single month. That said, the June jobs data that will be reported in early July could potentially show more momentum as reopenings continue, which would conceivably be good for corporate earnings and stock prices. We'll have to wait and see.
It's possible many economists got their jobs report forecasts wrong because they underestimated how many people were returning to work and didn't recognize that there are some parts of the country where COVID-19 cases haven't been as big an issue as they are in major cities.
Rates On The Move
The other thing you can't let go here as the new week begins is the 10-year Treasury yield. It's now flirting with 90 basis points, which is more than double the recent lows. The 10-year yield's premium to the two-year (see chart below) is also galloping higher, often a positive development and almost certainly one that should help the big banks.
With the economy being so awash in cash from the Fed, it's doubtful too many had expected rates to do this. And when you have Financials—the second largest sector in the S&P 500—really reliant on rates and they're performing so well, good things can sometimes happen.
Good things are in the mix, for sure. Still, it's way too soon to declare victory. There are 15.34 million unemployed workers on temporary layoff. Also, the government's Paycheck Protection Program (PPP) presumably helped the payrolls figure in May, Briefing.com pointed out (see more below).
Getting back to Friday's huge stock market rally, it's good to see that the gains pretty much held most of the day even with the weekend ahead. The major indices did finish a bit off their highs, though a little more buying caused a revival in the last half hour. The Nasdaq (COMP) hit a new record high and travel and casino stocks again helped lead the sector parade. Some of the biggest stocks like Apple Inc. (NASDAQ: AAPL) hit new highs, and Microsoft Corporation (NASDAQ: MSFT) is close to one.
The semiconductor space stayed hot Friday with the PHLX Semiconductor Sector (SOX) hitting a new all-time high after Broadcom Inc (NASDAQ: AVGO) reported solid earnings.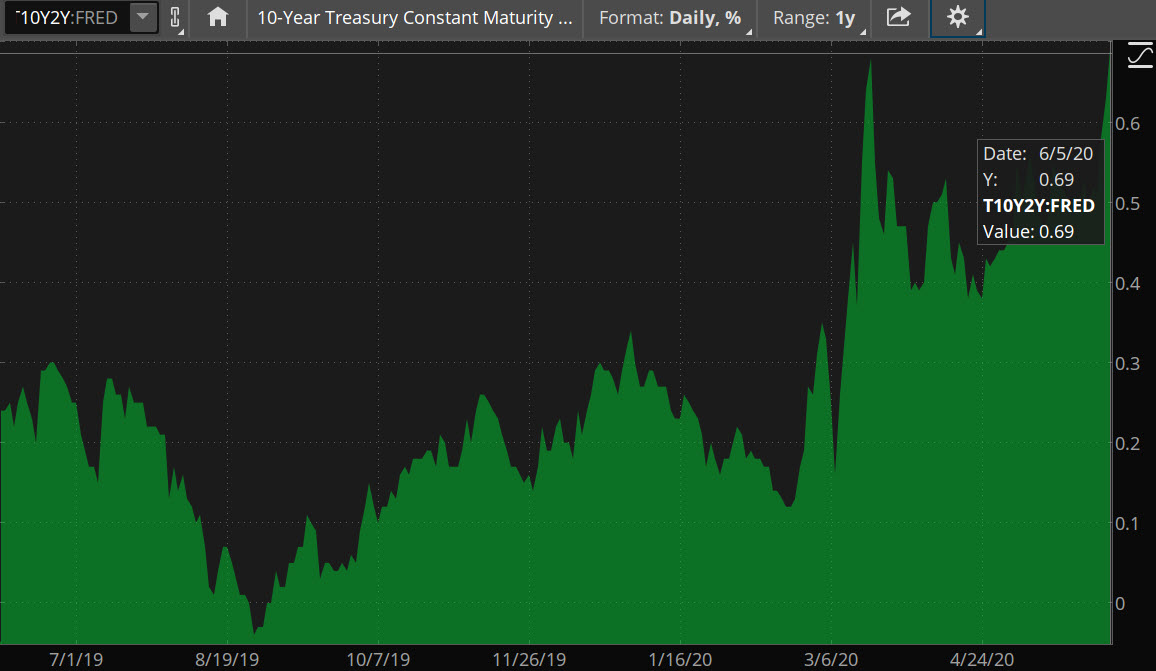 CHART OF THE DAY: REMEMBER THE YIELD CURVE? The yield spread between 2-year and 10-year Treasury notes widened briefly on Friday to its steepest point since early 2018, before falling back to 69 basis points, about where it was in the early days of the COVID pandemic. Recall the spread went negative for a brief time last fall, which at the time left many analysts wondering if there would be a recession in 2020. Data source: Federal Reserve's FRED database. Chart source: The thinkorswim® platform from TD Ameritrade. FRED® is a registered trademark of the Federal Reserve Bank of St. Louis. The Federal Reserve Bank of St. Louis does not sponsor or endorse and is not affiliated with TD Ameritrade. For illustrative purposes only.
Rising Curveball: While much focus has been on the rapid stock market recovery, the yield curve has been quietly steepening. Considering all that's transpired over the past few months, last August seems like forever ago. It was then that a closely-watched yield curve metric—the spread between 2 yr and 10 yr Treasuries—flipped to the negative for a brief period. It started grinding higher in late 2019, then began whipsawing during the front end of the pandemic, as the Fed pushed the front end back down to zero, but then a market rout sent investors piling into long-dated Treasuries, which led to more curve flattening. More recently, as markets eyed a return to normality, 2/10 spread resumed its upward trajectory. And Friday, the spread widened briefly to a level not seen since early 2018 (though by late Friday it had pulled back to 67 basis points—roughly the 2020 high water mark in mid-March).
Pain in the Patch: We talked here Friday about the chance of airlines and other heavy users of oil possibly hedging the crude futures market and raising prices there. On the other side of that, there's still pain in the U.S. oil production industry, where trade news outlet Oilprice.com reports that only 50% of shale producing companies had hedged 2021 production as of late May, compared with 60% a year earlier.
The shale companies are in a rough place. If they hedge at current prices below $40, that locks in losses, since these companies tend to not be profitable when oil sells so cheap. However, if they don't hedge and prices drop again, they face even worse possible consequences. One interesting outside factor that might actually help shale producers, however, is the strong chance of OPEC and Russia extending current production cuts. That talk has also been helping oil prices, and if OPEC cuts enough, maybe crude could reach levels where shale producers can start making some money. That would be ironic, when you think about it, since one thing OPEC apparently wants to do is drive a stake into the U.S. shale industry. There are a lot of moving parts here, so consider keeping an eye on these high-stake maneuvers.
PPP—Three Ps in the Payroll Pod: Nonfarm payrolls up 2.5 million for May vs. analyst consensus of down 8.5 million—if you're like many investors, you're scratching your head after Friday's release. Not only was the number far outside even the most optimistic forecasts, it doesn't jibe with what many of us are seeing in the shops, restaurants, airports, and travel venues. So what gives? Part of the answer might lie in the Paycheck Protection Program—that $600+ billion section of the CARES Act that aimed to prop up small businesses through loans of up to 2.5 times payroll costs. These loans of up to $10 million per business would ultimately be forgiven if a business kept its payrolls intact. Initially, the program was to cover expenses incurred within eight weeks of disbursement. Though that has since been expanded to 24 weeks, small businesses who received those early PPP funds were incentivized to get those payrolls going in May—so even if it wasn't outwardly evident, companies were clearly bolstering payrolls.
TD Ameritrade® commentary for educational purposes only. Member SIPC.
Photo by Aditya Vyas on Unsplash
View Comments and Join the Discussion!
Posted-In: TD AmeritradeEarnings News Economics Markets General