Day After Selloff, Earnings, Trade News Seem To Offer Lift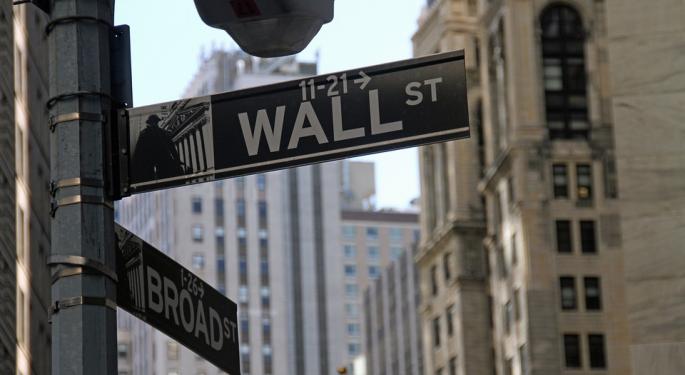 There's that old Wall Street mantra: "Buy low; sell high." Well, the only way to do that is if the market goes down and up again, and over the last few weeks we've had plenty of that. It's the "glass-half-full" way of looking at volatility—fluctuating prices can give investors opportunities to enter and exit the market at a price they may be looking for.
This morning, momentum seems to have swung into positive territory after yesterday's rout, as one of the nation's large retailers reported better-than-expected earnings and a report said that China and the United States have re-started trade talks.
In corporate earnings news, Home Depot Inc. (NYSE: HD) nailed it. The home improvement retailer said it earned $2.51 per share on revenue of $26.3 billion. ForQ3, HD was expected to report adjusted EPS of $2.26 on revenue of $26.26 billion, according to third-party consensus analyst estimates. After rising in pre-market trading, the Dow Jones Industrial Average ($DJI) component's shares sank after comments from the company's CEO on tariffs.
Home Depot is just one of several retailers reporting in the next few days. In addition to watching the headlines for earnings and guidance news, investors may also want to listen in on conference calls to try to get a read on what management thinks of the state of the U.S. consumer going into the holiday shopping season. From what we've seen in economic data, the American consumer seems to be doing well.
Meanwhile, the Wall Street Journal reported that the U.S. Treasury Secretary and his Chinese counterpart had resumed discussions about a trade deal. Trade tensions between the world's two largest economies have been an overhang of uncertainty for the market as some worry the fallout could hinder global economic growth
Repricing the FAANGs
Stocks had a serious case of the Mondays yesterday, with all three main U.S. indices falling sharply.
The tech bellwether Nasdaq (COMP) faltered as Apple Inc. (NASDAQ: AAPL) got dinged amid concerns about iPhone sales. While AAPL didn't have the biggest fall among COMP stocks percentage-wise, it is a widely held name and its performance often can help dictate momentum for the wider market.
Beyond company specific concerns, the pounding that FAANG—Facebook, Inc. (NASDAQ: FB), AAPL, Amazon.com, Inc. (NASDAQ: AMZN), Netflix, Inc. (NASDAQ: NFLX) and Alphabet Inc. (NASDAQ: GOOG) (NASDAQ: GOOGL)—names have gotten recently comes as investors seem to be repricing these assets amid market uncertainty. Although the market has gotten some clarity as midterm elections are now over, it seems that the repricing of these momentum stocks could continue until we get more clarity on the ramifications of the trade issue between the United States and China, not to mention the uncertainty surrounding Brexit.
The financial sector also took it on the chin yesterday. The bond market was closed for the observance of Veterans Day, so there wasn't any action in the government bond yields to trade on. It seemed that the big news for the financial sector was the decline in Goldman Sachs (GS) shares, which closed more than 7 percent lower after Bloomberg reported that Malaysia is seeking a refund of fees it paid to the bank in connection with troubled state investment fund 1MDB. The report was based on comments from the nation's finance minister in an interview with a Malaysian radio station.
Looking for Havens
Despite declines Friday and today, the 10-year Treasury yield is still above 3.1 percent. Rising yields have been a help to banks, which often do better when yields rise because they may be able to charge more on loans than they pay for deposits.
But as investors appear to be increasingly worried about global growth prospects amid oil's selloff and protracted trade negotiations between the U.S. and China it seems that they may be buying Treasuries because they are sometimes considered a safe-haven investment.
While the so-called safe-haven buying may be helping push yields lower, it also appears to be part of the reason behind the U.S dollar's recent rally.
A stronger greenback also seemed to put pressure on stocks on Monday, as it apparently dented the outlook for U.S.-based multinational companies. A stronger dollar can make U.S. goods more expensive abroad, potentially hurting demand.
In another sign that investors were looking for safety, consumer staples performed relatively well yesterday. Although that S&P 500 (SPX) sector didn't make it into the green, its loss was relatively muted. Investors tend to flock to these stocks in times of risk-off sentiment because they tend to have stable products that people need regardless of how the economy is doing and they often have a history of paying regular dividends.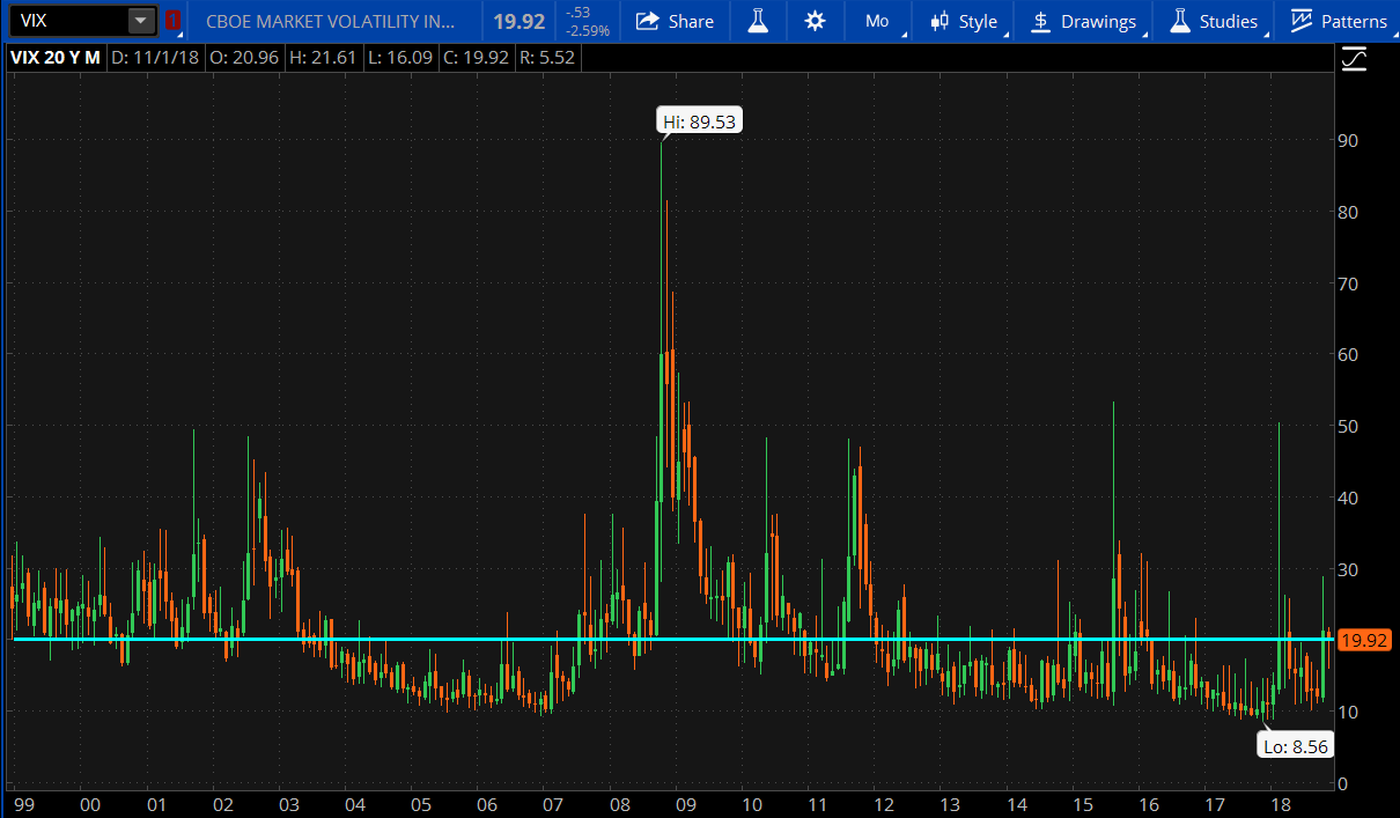 Figure 1: Volatility Expectations Rise, but Not Uncommonly So. The Cboe Volatility Index (VIX - candlestick chart) rose again Monday to above 20. Although Wall Street's fear gauge is higher than it has been for much of the last couple years, this 20-year chart, with a blue line drawn in at 20, shows such readings are not uncommon, even over extended periods. Data Source: Cboe Global Markets. Chart source: The thinkorswim® platform from TD Ameritrade. For illustrative purposes only. Past performance does not guarantee future results.
Windows Onto the Factory Floor
Consumer price and retail sales data this week might take more of the spotlight in the economic calendar, but investors are also scheduled to get three separate reports that look at the manufacturing sector. The New York Fed's Empire State Manufacturing Survey and the Philadelphia Fed's Manufacturing Business Outlook Survey are both expected to show slower, but still strong, growth than in the previous month, according to a Briefing.com consensus. Meanwhile, numbers on the nation's industrial production are also due out this week. Although America's manufacturing sector has waned in favor of the services industry, factory output in the United States is still an important sector of the economy. Health there has been one more feather in the cap of an economy that has been humming along nicely.
How Now, Black Gold?
Although the government releases U.S. crude inventory figures every week and the data sometimes don't garner too many headlines, it may be of more importance than usual to watch this week's batch of data. Negative sentiment from crude's slide in recent days has spilled over into the broader stock market amid worries about what falling oil prices may be saying about the outlook for global economic growth. Oil, as an asset that is often considered riskier than others, has also been facing pressure as investors dump other riskier holdings like some stocks. Other headwinds for oil have included high output from key producers, the Trump administration granting sanction waivers to key buyers of Iranian oil, and, more recently, a Tweet from Trump that he hopes Saudi Arabia and OPEC don't cut production. Momentum in the crude market is arguably to the downside. So it could take an extra jolt of an unexpectedly large draw in inventories to help to the upside. Any signs of build-up would likely keep selling pressure on the market.
Gridlock is … Not That Good
After the midterm elections, there's been plenty of attention paid to the fact that the market tends to perform positively under a split Congress. Gridlock is good, has been the mantra. But while it's true that stocks tend to perform well when different parties control the House and Senate, it's also true that they haven't performed as well as in other political scenarios. In the calendar years since World War II, the S&P 500 has averaged an 11 percent gain under a unified government, a 7.4 percent rise when congress is unified under a president of a different party, but only a 6.9 percent jump under a split congress, investment research firm CFRA said in a note. "Even though gridlock may be good, it ain't great, and investors would be wise to temper their enthusiasm for the year ahead," CFRA said.
Information from TDA is not intended to be investment advice or construed as a recommendation or endorsement of any particular investment or investment strategy, and is for illustrative purposes only. Be sure to understand all risks involved with each strategy, including commission costs, before attempting to place any trade.
Posted-In: TD AmeritradeEarnings News Bonds Commodities Econ #s Markets
View Comments and Join the Discussion!