IMX Dips In October, But Investors Remain Bullish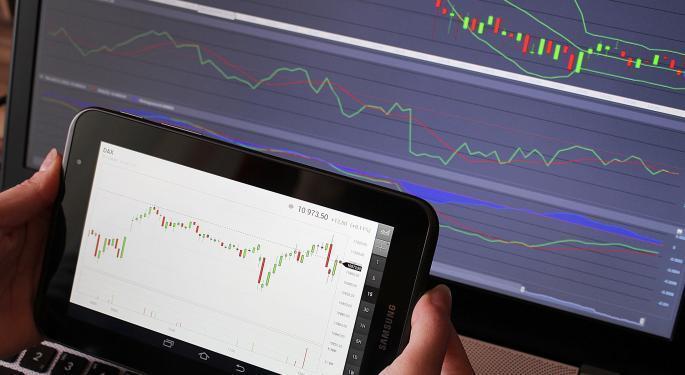 In tune with the major market indices, the October edition of TD Ameritrade's Investor Movement Index (IMX) posted its first decline since April, falling about 2.1 percent from 6.23 to 6.10. This puts the index square in the middle of its historical range since its inception in January 2010
Despite the rise in volatility and slight drop in investor sentiment over October, TDA clients were again net buyers of equity for the 21st month in a row.
Buy The Dip Persists
In the midst of heightened market volatility as well as a slew of Q3 earnings reports, October saw TDA clients focusing on the latter while wagering the former would be short-lived.
Prime examples of this hopeful investing include major tech components of the Nasdaq composite, which fell into correction territory over the course of the month.
TDA clients added Apple Inc. (NASDAQ: AAPL) and Microsoft Corporation (NASDAQ: MSFT) to their portfolios as each fell a respective 7 percent and 11 percent from month highs but also posted top and bottom line earnings beats. Amazon.com, Inc. (NASDAQ: AMZN) was also a popular addition, with the stock trading at six-month lows, although another negative surprise in the company's revenue statement kept the stock from rebounding from its 20-percent deficit off its all-time high back in September.
Negative and mixed earnings reports from Ford Motor Company (NYSE: F) and AT&T Inc. (NYSE: T) were also a strong theme among investor purchases. While AT&T remains in the negative since reporting a 4.26-percent EPS miss, Ford actually came out of October at a month-high with the help of an upgrade from Goldman Sachs.
One stand out among TDA clients' popular stocks is Tesla Inc. (NASDAQ: TSLA). Unlike the previously mentioned stocks, Tesla is the only net bought equity that both beat on top and bottom line expectations and also emerged from the month higher than it started it. The stock was still trading nearly 35 percent off of its 2018 high.
Chipmakers Slip And Social Media Loses Followers
Another overriding theme that roiled markets in October was the persistence of the U.S.-China trade war. As far as its impact on equity, there's few more potent examples of the conflict's fallout are U.S. chipmakers like Advanced Micro Devices Inc. (NASDAQ: AMD) and Qualcomm Inc. (NASDAQ: QCOM). Both stocks were net sold by TD Ameritrade investors over October after AMD and Texas Instruments Incorporated (NASDAQ: TXN) both missed quarterly revenue expectations, a trend many chalk up to increased overhead from U.S. tariffs on Chinese semiconductor components.
Another earnings catalyst that prompted selling from TDA investors came from less than stellar signals in Twitter Inc. (NYSE: TWTR) and Facebook, Inc. (NASDAQ: FB). Investors seemed quick to take profits after Twitter jumped 25 percent following strong numbers in both top and bottom lines, but it also reported a loss of 9 million users over the quarter, a similar phenomenon that showed up in the Snap Inc. (NYSE: SNAP) report. Facebook, on the other hand, delivered its second revenue miss in as many quarters while also showing a 1 million drop in U.S. users.
Other net sold stock included Gilead Sciences Inc. (NASDAQ: GILD) and Starbucks Corporation (NASDAQ: SBUX) — which both saw recent highs over the course of the month on strong earnings — as well as Exxon Mobil Corporation (NYSE: XOM), which fell in tandem with crude prices to within a few cents of a six-month low.
For a complete breakdown of TD Ameritrade's IMX as well as a historical look at the index, you can read the full report here.
View Comments and Join the Discussion!
Posted-In: IMX Investor Movement Index TD AmeritradeEarnings News Markets Best of Benzinga