Eli Lilly Gets Ready For First Report Post-Elanco IPO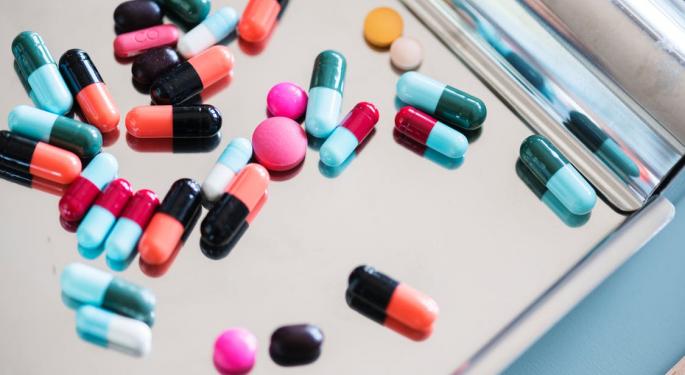 Judging by the stock's performance in 2018, investors seem to be happy with Eli Lilly and Co. (NYSE: LLY) CEO David Ricks' progress on restructuring and delivering growth. Shares are up just over 26 percent year to date, beating the S&P 500's (SPX) 1 percent increase and the S&P Healthcare Select Sector's (IXV) 6.7 percent climb.
The next update for investors and analysts is LLY's third-quarter earnings, scheduled for before market open on Tuesday, Nov. 6.
For Q3, LLY is expected to report adjusted EPS of $1.35 on revenue of $6.1 billion, according to third-party consensus analyst estimates. In the same quarter last year, the company reported adjusted EPS of $1.05 on revenue of $5.66 billion. LLY has met or beat earnings estimates in the past six quarters, with the company beating by the widest margins in its two latest reports.
Analysts and investors are again likely to be looking for ongoing progress in CEO Ricks' progress on increasing manufacturing efficiencies and cutting costs. In Q2, operating expenses decreased 1 percent to $2.99 billion.
Within those costs, the company said it had cut marketing, selling and administrative expenses by 4 percent, while research and development expenses were up 5 percent, so management is clearly shifting focus to developing new drugs.
Pipeline and New Drugs
In Q2 2018, LLY's newer drugs Trulicity, Basaglar, Taltz and Verzenio were the main drivers of growth. As it takes time for newer drugs to ramp up, analysts and investors are likely to be looking to see how these drugs have continued to perform.
Just this morning, LLY announced that Trulicity, a type 2 diabetes treatment, demonstrated superiority in the reduction of cardiovascular events in its REWIND study. As many saw the results from this trial as a short-term risk for the company, and a potential driver for Trulicity sales, management is likely to provide some more information about this study on tomorrow's call.
Trulicity has been the company's best-selling drug lately and generated sales of $780 million in Q2 2018, up 62 percent year over year. Many of the LLY's other new drugs are designed to address different aspects of diabetes. Basaglar, a long-acting insulin, had $201.8 million in sales, a 133 percent year-over-year increase. Jardiance's, another diabetes-related drug, growth slowed down in the second quarter, up 43 percent year over year to $147 million.
Immunology has been another area of medicine LLY has said it's committed to. LLY's blockbuster drug within this category is Taltz, which treats plaque psoriasis and psoriatic arthritis. Sales of this drug increased 59 percent year over year in Q2 2018, to $220 million. Management said it plans to run head-to-head trials with competitor Johnson & Johnson (NYSE: JNJ) Tremfya to try to demonstrate superiority. If it succeeds, that would be one factor that would help sway doctors when writing prescriptions.
Loss of Exclusivity on Cialis
Loss of exclusivity (LOE) has always been a concern for drug makers and LLY has had a series of drugs that have lost protections in recent years. In Q2 2018, the LOE for Effient, Strattera, Cymbalta, Zyprexa, Evista and Axiron negatively impacted volume growth by 4.5 percent, according to the company.
Cialis is one of the latest of LLY's blockbuster drugs that is currently looking at more competition. Management had attributed some loss of sales to Teva's (TEVA) generic sildenafil coming on the market in December 2017. That loss of sales is a trend the company expects to continue as generic tadalafil, the same compound as Cialis, was launched at the end of September by TEVA.
With very little time between TEVA's launch and the end of the quarter, analysts have indicated they aren't expecting a significant impact at this time. However, they might be looking for more information from management now that they've seen a few weeks of sales.
In 2017, LLY reported that Cialis generated $2.32 billion in sales, roughly 10 percent of the company's revenue and its second-highest selling drug at the time. In the first half of 2018, Cialis sales declined 11 percent year over year to $1.03 billion.
Elanco IPO
Tomorrow's report will be the first one since LLY spun off its animal health unit Elanco (ELAN). The IPO has been one factor for analysts' positivity towards LLY lately. ELAN was initially priced at $24 per share in its IPO and shares are now trading around $33. LLY sold 20 percent of its stake in ELAN in the offering, and management said it plans to divest the rest of it over time.
Originally, they had indicated they might look to divest the stake as early as 2019, so analysts are likely to be looking for more information about how LLY plans to go about exiting that business.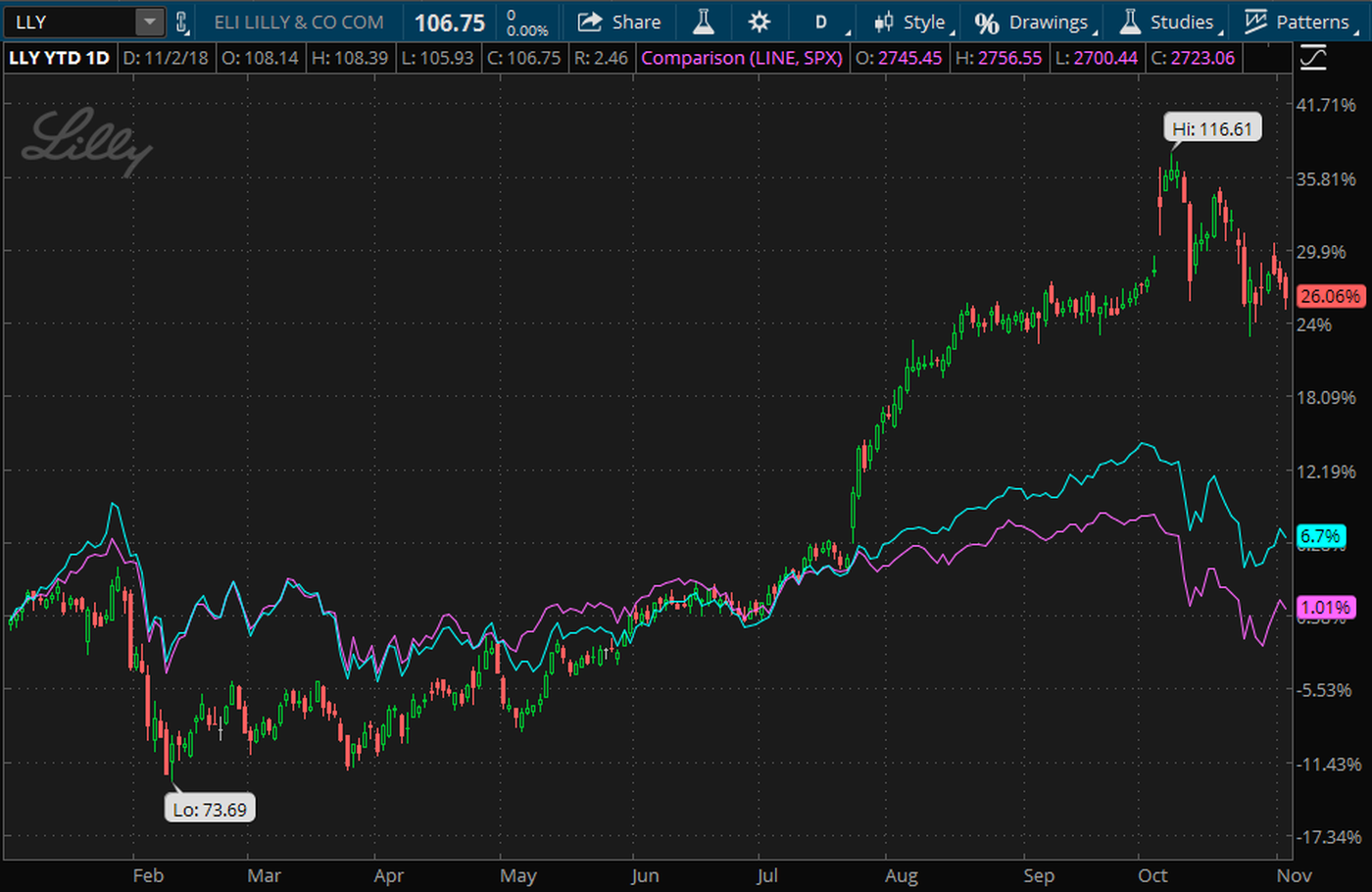 2018 Break Out. After trading sideways for several years, LLY has had a big breakout in 2018 and is up 26 percent year-to-date. The stock is sitting close to $104, a level of support the stock has been bouncing off of since the end of August 2018. LLY is compared to the S&P Healthcare Select Sector Index (IXV, teal line) and the S&P 500 (SPX, purple line). Chart source: thinkorswim® by TD Ameritrade. Not a recommendation. For illustrative purposes only. Past performance does not guarantee future results.
Eli Lilly Options Trading Activity
LLY has had a big run in 2018. The stock went from a February low of $73.69 to hit a new all-time high of $116.61 at the start of October. Shares were up $4 early on today after the company announced study results this morning, putting the stock about $6 away from its all-time high.
Around tomorrow's earnings release, options traders have priced in a 3 percent stock move in either direction, according to the Market Maker Move indicator on the thinkorswim® platform. Implied volatility was at the 76th percentile as of this morning.
In short-term trading at the Nov. 9 weekly expiration, there hasn't been a whole lot of activity that stands out. At next week's Nov. 16 monthly expiration, calls have been active at the 110 strike price, a level the stock has been trading around for much of October. Recent volumes have been heavier for puts and concentrated at the 105 strike.
Looking at the Dec. 21 monthly expiration, both the 110 and 115 strike price on the call side have been more active, while the 105 strike has seen the heaviest trading on the put side.
Note: Call options represent the right, but not the obligation, to buy the underlying security at a predetermined price over a set period of time. Put options represent the right, but not the obligation to sell the underlying security at a predetermined price over a set period of time.
Posted-In: Earnings News Health Care Previews Options Markets Trading Ideas General
View Comments and Join the Discussion!