A Historical Look At How Facebook Shares Trade After Earnings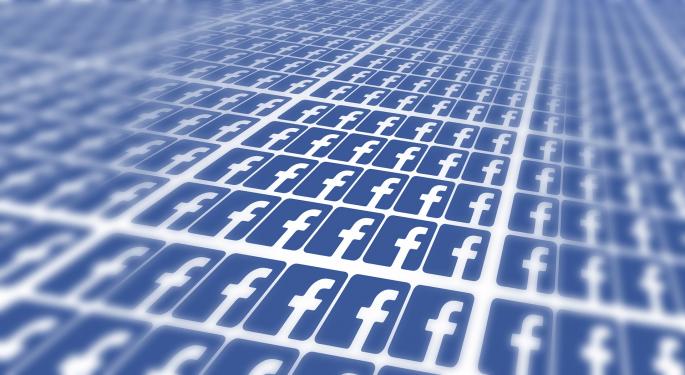 Facebook Inc. (NASDAQ: FB)'s third-quarter earnings report due out after Tuesday's close will be the company's seventh third-quarter report as a publicly traded company.
Can investors and traders use historical perspective to consider potential price action in Facebook shares following the report? Here is how Facebook's stock traded the day after its third-quarter reports:
Q3 2017 - shares fell 2 percent the day following the report
Q3 2016 - down 5.6 percent
Q3 2015 - up 4.6 percent
Q3 2014 - down 6 percent
Q3 2013 - up 2.4 percent
Q3 2012 - up 19 percent
Related Link: Facebook Misses Q3 Sales Estimates, But Users Continue To Grow
Considering volatility around earnings reports in general -- not just the third quarter -- Facebook shares saw their largest single-day percentage gains occur within a 1-2 days of the earnings release. The stock saw its largest single-day percent declines on only three out of eight days within 1-2 days of the release.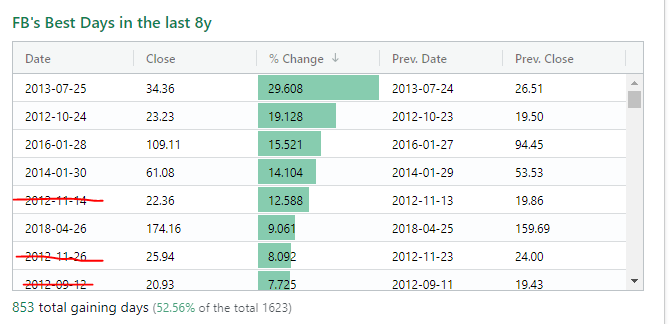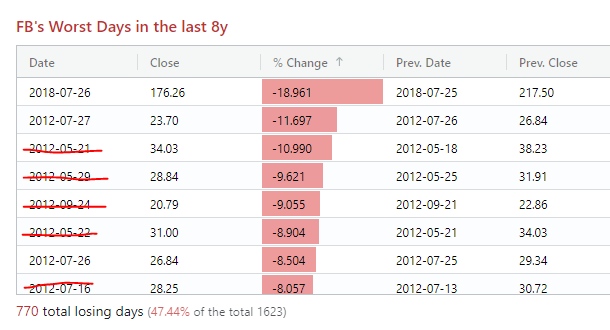 Some possible conclusions from this look at a Facebook chart:
Facebook shares, on average, have moved about 6 percent to 7 percent in either direction following third-quarter earnings.
Removing the outlier large gain after the third-quarter 2012 report, Facebook shares are relatively quiet following earnings, moving up or down about 4 percent.
Investors generally react more favorably to Facebook's earnings: The two most favorable reactions to earnings (July 24, 2013 and Oct. 24, 2012) compared to the largest single-day decline (July 26, 2018).
"Facebook options are pricing in a potential move of about 9.5 percent...suggesting that traders don't expect a repeat of last quarter's historic plunge," according to Bloomberg.
Heading into Tuesday's close, Facebook's stock was up about 2.7 percent on the day to $145.94.
For investors looking to receive news on Facebook's third-quarter release, try out Benzinga's real-time news platform, Benzinga Pro.
Posted-In: Earnings Education Top Stories Trading Ideas General Best of Benzinga
View Comments and Join the Discussion!