These Are The Biggest Stocks Reporting Earnings This Week, And Their Recent Track Records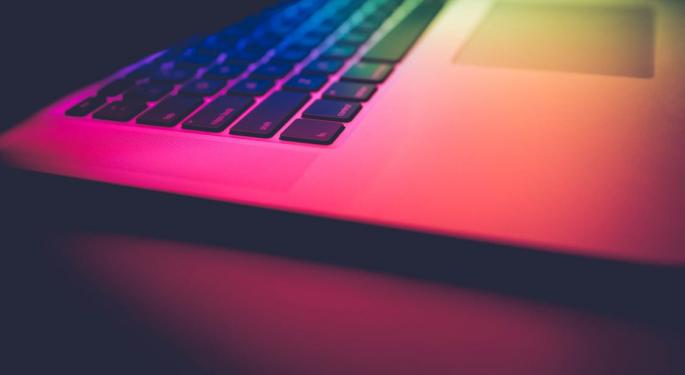 The reporting window for quarterly earnings is already a traditionally volatile few weeks on the stock market, but 2018's Q3 reports have been met with an especially rough reception thanks to the ongoing sell-off in the equity markets. Even top- and bottom-line beats from strong performers like Caterpillar Inc. (NYSE: CAT), Lockheed Martin Corporation (NYSE: LMT) and Biogen Inc. (NASDAQ: BIIB) were not able to resist the current physics at play on the street.
With a couple more weeks left in earnings season and no end in sight for the current negative market trend, traders would do well to stay abreast of those companies with reports on the horizon. With the help of the Finscreener research platform's earnings tools, we can see what the forecast is for upcoming reports and try to glean what reaction some of the bigger name reports might have on the market following their delivery. To keep things simple, let's take a look at the week ahead, filtering for mega-cap stocks in the S&P 500 that could provide insight into a particular segment of the market.
Given the lofty criteria, our list of seven will populated with some of the biggest companies in the world. Still, we can take a look at some of the insight Finscreener's earnings calendar can provide

Alongside the reporting date and ticker information on our mega-cap calendar, Finscreenser also provides stock ratings heading into the reports, estimate revisions from the previous quarter as well as historical earnings data and even growth projections over the next 5 years.
You can see that outlook is fairly rough for energy giants like Exxon Mobil Corporation (NYSE: XOM) and Chevron Corporation (NYSE: CVX), which follows from the poor reception Halliburton Company (NYSE: HAL) and Schlumberger Ltd. (NYSE: SLB) received on their revenue beat last week. A large part of this drop is likely those companies lowered FY guidance, which you can see by clicking to the earnings pronouncements tab in Finscreener's earnings section.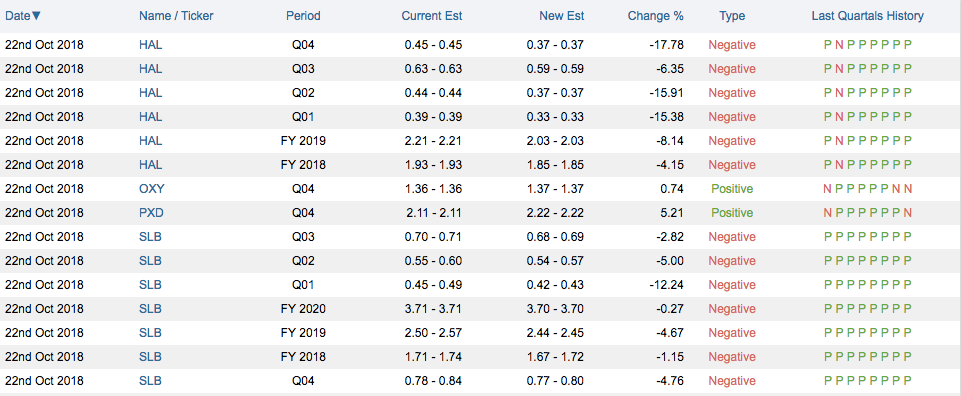 Facebook, Inc. (NASDAQ: FB) stands as the other odd company out, likely a result of the previous quarter's EPS miss. You can see the downward trend in analyst estimates for Facebook by checking out Finscreener's earnings estimate tab.

Among the Buy recommendations are companies in sectors that have been pretty well flush with extra cash throughout most of the year.
While financials have acted as something of a drag the first weeks of the season due largely to poor outlook and weakening debt portfolios, Mastercard Inc's (NYSE: MA) stellar history of surprising investors on the upside of their bottom line might likely be keeping estimates optimistic. The same could be said for Apple Inc. (NASDAQ: AAPL), another stock with a strong history of positive earnings surprises in a recently faltering sector.
To explore how this trend of positive earnings surprises translates to a larger pool of companies that have already reported this season, we can filter out any names that have missed expectation over the past eight quarters and just look at those with a history of surpassing expectations.

Healthcare and financial sector stock dominate the list. That bodes well for Pfizer Inc. (NYSE: PFE) given the resilience of UnitedHealth Group (NYSE: UNH), Johnson & Johnson (NYSE: JNJ) and Procter & Gamble Co. (NYSE: PG) stocks following the delivery.
It may be less positive for Berkshire Hathaway Inc. (NYSE: BRK-B), Warren Buffett's famed holding company. While Berkshire's top-line could benefit from its exposure to the food and transportation industries, which have shown strong results so far this season, its insurance and financial holdings may drive traders away even if the company has a positive surprise this Friday.
Finscreener is a content partner of Benzinga
View Comments and Join the Discussion!
Posted-In: FinscreenerEarnings Previews Markets Trading Ideas General