BNSF's Second Quarter Operating Revenue Comes In Weakest Of The Class 1 Railroads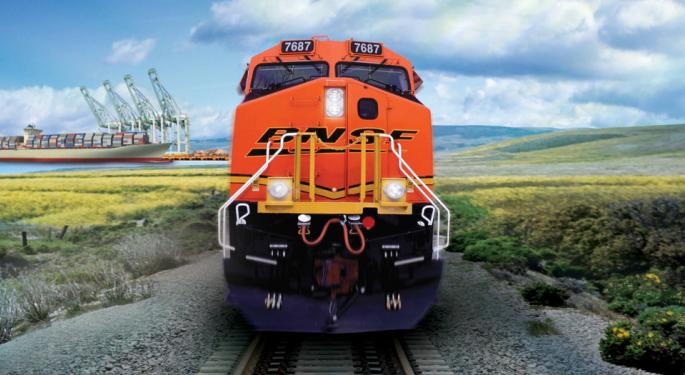 BNSF saw a slight improvement in its operating ratio between the first and second quarter this year, but it was higher than that of 2017 and in a range that drew criticism for other companies.
BNSF is part of Berkshire Hathaway Inc. (NYSE: BRK-A) (NYSE: BRK-B), so it does not have traditional standalone quarterly earnings per se. But a statement on the company's financial performance is released each quarter following the release of Berkshire Hathaway earnings.
For the second quarter of this year, the operating ratio posted by BNSF was 66.8 percent. That was worse than the 65.3 percent of the second quarter of 2017, but was an improvement over the 67.9 percent posted in the first quarter of this year. Virtually every railroad posted an improved OR between the first and second quarters of this year, as the tough weather of winter 2018 faded away to the milder conditoins of spring and early summer.
The BNSF statement does not discuss management's views of the OR. But an OR of 63 percent posted by Union Pacific (NYSE: UNP) brought a decidedly negative reaction when posted a few weeks ago, particularly in comparison to those of CSX and Canadian National, which were both sub-60 percent. Other class 1 railroads--Kansas City Southern (NYSE: KSU), Norfolk Southern Corp. (NYSE: NSC) and Canadian Pacific Railway Limited (NYSE: CP)--were all around 64 percent, and Canadian Pacific's number was negatively impacted by labor disruptions that resulted in just a small strike but the disruption created by two shutdowns.
The OR for BNSF was recorded on just a 6 percent increase in operating income, on a jump in total revenues of 12 percent and a 15 percent increase in operating expenses compared to the second quarter of 2017. Net income rose 37 percent. That sharply higher rate of growth in net income is probably attributable to a significantly lower income tax rate for BNSF. In its 10-Q report with the SEC, Berkshire Hathaway said BNSF's effective income tax rate for the quarter was 20.9 percent, compared to 37.7 percent a year ago.
Among other data reported by BNSF:
Higher intermodal volumes were reported as a key driver in a 5 percent increase for the Consumer Procucts segment in the second quarter and the first half of 2018. "The increases were driven by economic growth and tight truck capacity leading to conversion from highway to rail, as well as strength in imports and containerized agricultural product exports," the BNSF report said.
Industrial product volumes were up 10 percent for the quarter compared to 2017, with the railroad citing strength for sand, petroleum products, steel and plastics.
Agricultural products were up 9 percent for the quarter and 8 percent for the year. Coal was flat for the quarter and down 1percent for the first half of the year.
Compensation and benefits expenses were up 6 percent for the quarter and 4percent for the half, "primarily due to wage inflation, increased volumes and higher training costs."
Trucking companies aren't the only ones reporting higher purchased transport costs. That category for BNSF was up 17 percent in the second quarter and 14 percent for the half, with various trucking services cited as the reason. The higher numbers were "as a result of higher purchased transportation costs of our logistics services business, which are offset in other revenues, as well as increased intermodal ramping, drayage, and other volume-related activities."
Posted-In: FreightEarnings News
View Comments and Join the Discussion!