Upcoming Earnings: Alphabet's $5 Billion Fine to Weigh on Results
Alphabet Inc. (NYSE: GOOG) (NYSE: GOOGL) reports second-quarter earnings after market close on Monday, July 23.
The big news ahead of the report was the EU slapping the company with a $5.07 billion antitrust fine related to its Android mobile operating system. Even though Alphabet said it plans on appealing the fine, it is still going to include it in this quarter's results.
Prior to the fine, analysts had expected GOOGL to report adjusted EPS of $9.59 on revenue of $32.19 billion, according to third-party consensus analyst estimates. Including the fine, analysts have been expecting around $2.25 per share. In the same period last year, the company reported adjusted EPS of $5.01 and revenue of $26.01 billion.
When GOOGL last reported, Google Advertising revenues were $26.64 billion, up 24.4% year over year. Management cited continued strength in YouTube, mobile search, as well as desktop growth, which had been pressured in past quarters.
Traffic acquisition costs, payments paid to affiliates for directing traffic to its properties, grew at a faster pace and increased 35.8% to $6.29 billion, which management primarily attributed to higher costs associated with programmatic and mobile search. Higher traffic acquisition costs have been a small headwind for GOOGL's bottom line in recent quarters, a trend that analysts have said they expect to continue.
While the advertising business still makes up the vast majority of the company's revenue, the Google Other segment has continued to grow and make up a larger portion of sales. In Q1, Google Other revenue grew 35.7% year over year to $4.4 billion. Analysts expect Google Other revenue of around $4.5 billion this quarter. Google Other includes the Google Cloud Platform, Android app store, Nest and other products and services.
Analysts are expecting Alphabet's smallest division, Other Bets, to generate revenue of $176 million in Q2. The division contains the company's more ambitious investments: Waymo, Verily, Fiber and others.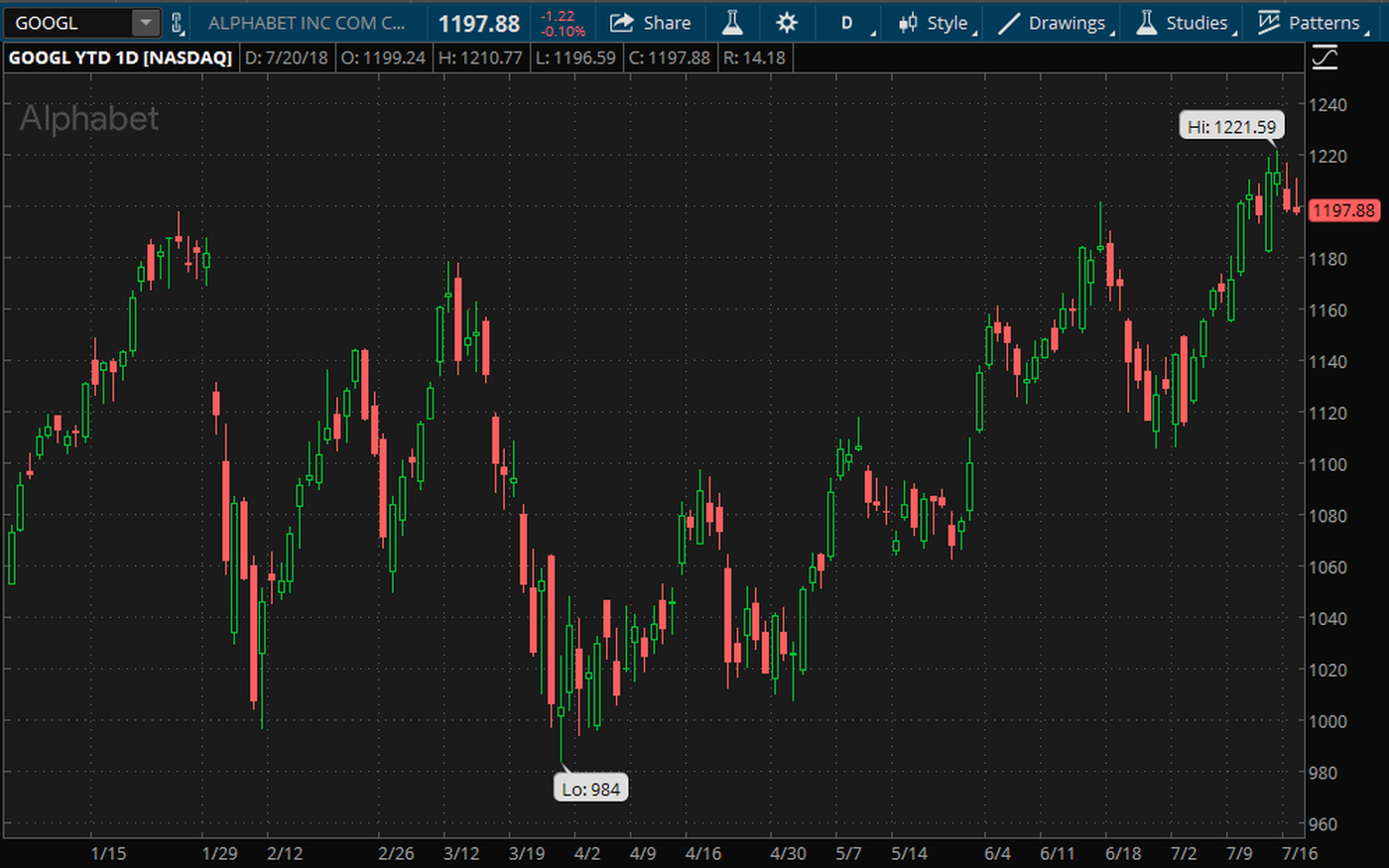 Alphabet 2018 Stock Chart. Alphabet's Class A Shares (GOOGL) are charted above. The stock is up 11.62% year to date and just hit a new all-time high of $1221.59 on July 18. It's pulled back slightly from that high ahead of its Q2 earnings report. Chart source: thinkorswim® by TD Ameritrade. Not a recommendation. For illustrative purposes only. Past performance does not guarantee future results.
Options Trading Activity
The stock has rallied well off its 2018 low of $984 on March 28. Heading into earnings, GOOGL has been trading right around $1200. Shares did drop when the news of the EU's antitrust fine broke, but overall it was a pretty insignificant decline.
Around the upcoming earnings release, options traders have priced in a 3.9% stock move in either direction, according to the Market Maker Move indicator on the thinkorswim® platform. Implied volatility was at the 62nd percentile as of this morning.
In short-term trading at the July 27 weekly expiration and the August 17 monthly expiration, there has been some activity at the 1200 strike call. Other than that, most of the other trading has been spread out across a range of strikes. Recent trading was pretty split down the middle too, with a put/call ratio of 0.848 during Friday's session.
Note: Call options represent the right, but not the obligation, to buy the underlying security at a predetermined price over a set period of time. Put options represent the right, but not the obligation to sell the underlying security at a predetermined price over a set period of time.
What's Coming Up
GOOGL kicks off a busy stretch of company reports this week. These are some of the notable names scheduled to report:
• Verizon (NYSE: VZ) before market open Tuesday, July 24, and AT&T (NYSE: T) after the close the same day
• Coca-Cola (NYSE: KO), Boeing (NYSE: BA) and General Motors (NYSE: GM) report before market open Wednesday, July 25
• Ford (NYSE: F) and Facebook (NYSE: FB) report after the close Wednesday, July 25
• Amazon (NYSE: AMZN) and Intel (NYSE: INTC) report after market close Thursday, July 26
• Chevron (NYSE: CVX) and ExxonMobil (NYSE: XOM) report before the open Friday, July 27
For a look at what else is going on, check out today's Market Update if you have time.
Posted-In: earnings preview The Ticker TapeEarnings News Markets
View Comments and Join the Discussion!