Volvo Q2 Sales Exceed 100 Billion Kronor For The First Time As Sales Figures Rise Up By 18% Globally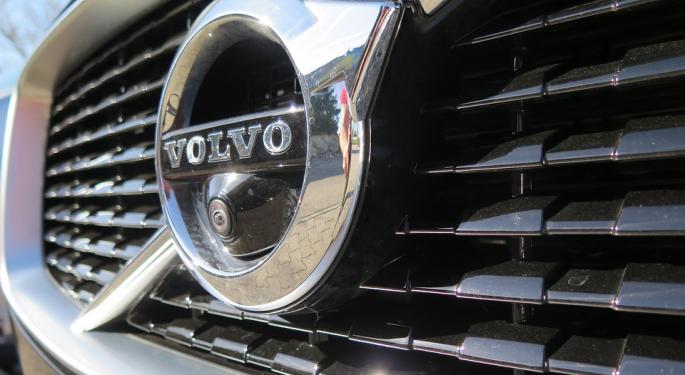 The VOLVO AB/ADR (OCTMKTS:VLVLY) Q2 earnings began with President and CEO Martin Lundstedt announcing a good increase in net sales, with the company exceeding 100 billion Swedish kronor (SEK) in sales for the first time ever. The sales figures are up by 18 percent and the net sales have gone up by 15.8 billion SEK. The company also witnessed solid numbers in its two business areas of trucks and construction equipment, with adjusted operating margins growth of 11.1 percent and 15.1 percent respectively.
The company kept up with the usual trend of seeing consolidation in the European market and showing double-digit growth numbers in markets across the rest of the world. The overall volume development for the group in the trucks segment stood at +15 percent. This was driven primarily by the North American market which grew by 32 percent. The South American market ballooned up with a 43 percent growth, which however Lundstedt was quick to point out that the numbers were much smaller compared to its northern counterpart. Europe showed a modest 3 percent growth, reflecting a saturated and stabilized market.
Machine deliveries showed impressive gains, with a 38 percent overall growth. Volvo registered a 19 percent growth, while SDLG, the Chinese subsidiary corporation of Volvo Construction Equipment contributed a major chunk of the total growth by showing 66 percent gains year-on-year.
Lundstedt mentioned that the various bottlenecks that the company had in the European supply chain have gradually been removed over the year and is now witnessing stabilization. Then again, he agreed that the European market was still a bit of a stretch, as it rallied between high-demand on the consumer side and high-volume output from the continent's production system. The North American market had its own issues, mainly with regard to labor shortage this year. "We see that this is something that is not Volvo-specific and not even industry-specific, but more of a general thing that is happening in North America for the time being," he said.
Volvo is now joining hands with FedEx Corporation (NYSE: FDX) in fleet platooning research operations along with North Carolina Turnpike Authority. This would be done on Volvo trucks with the vehicle-to-vehicle communication systems that were developed in-house, and also with open interfaces to encourage the use of mixed fleets going forward. Lundstedt believed that this would pave the way for higher safety, optimized fuel consumption, and improved business models to suit autonomous vehicles of the future.
The global order intake and delivery percentages have been on point, with 12 percent and 15 percent respectively. The numbers were skewed in North America, with a strong order intake of 64 percent but about 32 percent in deliveries, which again highlighted the problem in the auto industry with labor shortage.
On the negative side, South American truck order intake slid down by 5 percent which Lundstedt explained to be fully tied to Argentina. The country had an extremely strong order intake in Q2 2017, which took a hit over the currency situation and the IMF program uncertainty, leading to a number of cancellations. "The delta there made it seem like we had a decline in South America, which is absolutely not the case for other markets. Brazil, for example, was up by 30 percent in order intake and that continues at a standard pace," said Lundstedt.
Volvo sees great market activity, with customers having high fleet utilization and a burgeoning order intake rate. That said, the Mack trucks segment has shown tipping numbers, with it reporting 12 percent growth in Q2, which Lundstedt considered to be because of an extensive order book. The company has been working closely with dealers and customers of Mack, to have a clean order book which could inject balance and reduce risks of order book speculation.
During the Q&A session, a question came up about the steps that Volvo would take in keeping up the increase in its demand in the North American market. Lundstedt answered by mentioning that while growth was paramount to the company, it was also important to maintain stability - with quality, price realization, and keeping up with the customer promises.
Jan Gurander, the deputy CEO and CFO at Volvo, took on a question raised about operating leverage as it was noticeable that the company had a cautious overlook to it. Gurander explained that Volvo was concentrating on getting its customer mix right, and it was focused on certain areas like bigger fleets. The idea moving into the future, he said, would be to look into medium-sized fleets, small fleets, and retail customers while keeping a tab on price realizations.
When queried about the steel tariffs and its effect on production, Lundstedt explained that the company cannot afford to absorb it, and would be pushing it further downstream into the delivery chain and with the positive market situation prevalent today, the company could fancy its chances of not getting stung by the move.
Stay up-to-date with the latest commentary and insights on FreightTech and the impact to the markets by subscribing.
Posted-In: FreightEarnings News
View Comments and Join the Discussion!