Tech Sector Earnings: What's Been Going on Ahead Of Q2 Reports?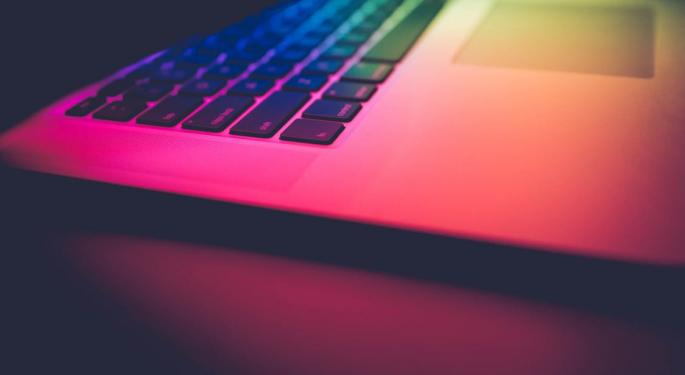 Despite heightened volatility and a few rapid drops in the first half of the year, the information technology sector has remained one of the strongest performers of 2018. So far, the tech sector is up 10.87 percent year to date, lagging only the consumer discretionary sector.
The sector's continued outperformance was supported by strong Q1 results a few months back. Last earnings season, the tech sector led the pack with the highest number of companies that beat analyst estimates. 90 percent ofthe tech companies in the S&P 500 beat earnings estimates and 94 percent of them beat revenue estimates, according to FactSet.
As companies prepare for Q2 earnings reports, analyst expectations are still on the high end. The tech sector is projected to report 24.6 percent year-over-year earnings growth and 13.4 percent revenue growth for the quarter,according to FactSet. At the industry level, Internet Software and Services is expected to report the highest earnings and revenue growth, with estimates that they will increase 58 percent and 26 percent, respectively.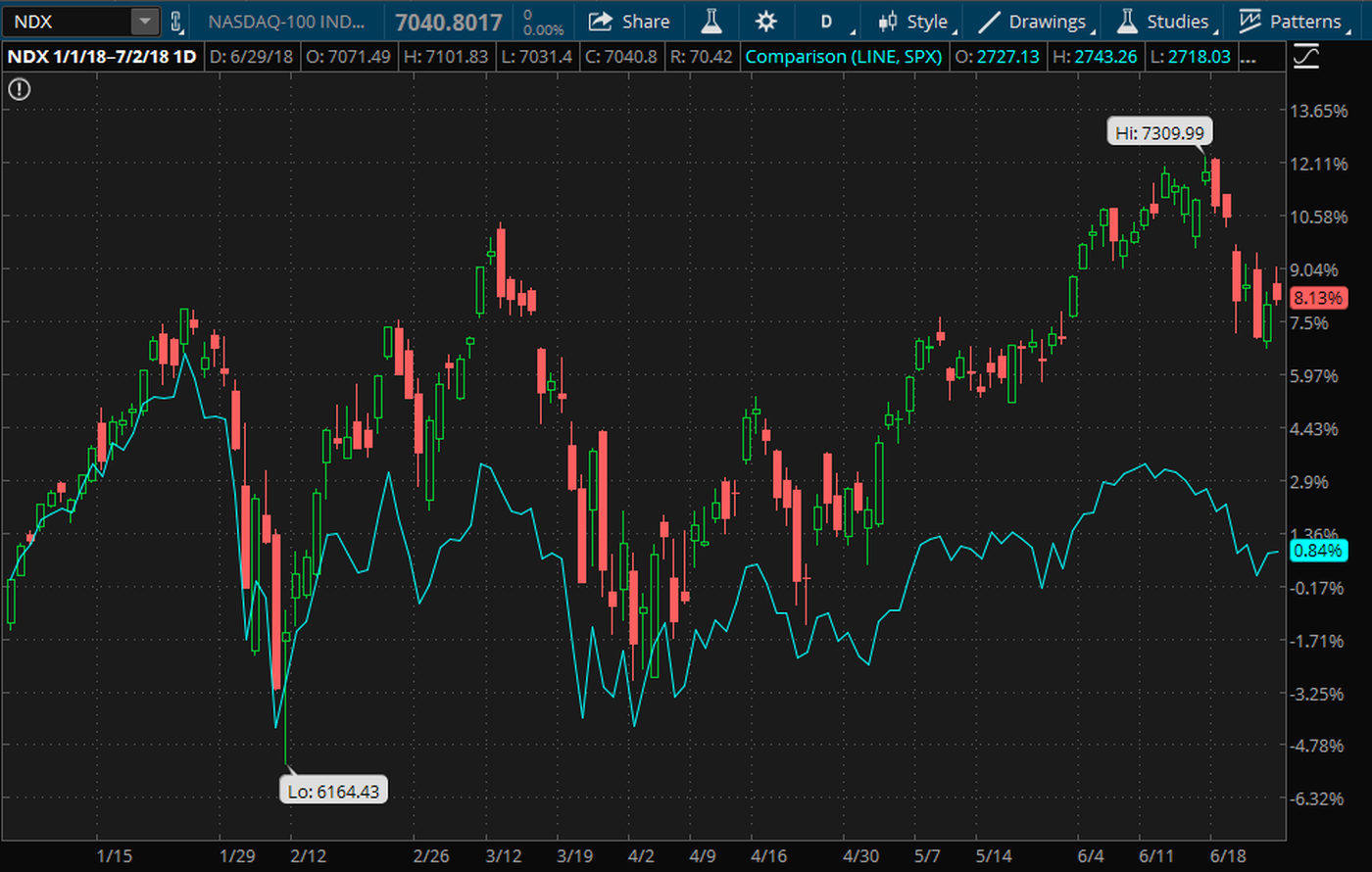 TECH IN 2018. The tech heavy Nasdaq 100 Index's (NDX) performance from January 1 to June 29 is charted above, compared to the S&P 500 (SPX, teal line). Year-to-date performance as a percentage is on the right hand side of the chart. Chart source: thinkorswim® by TD Ameritrade. Not a recommendation. For illustrative purposes only. Past performance does not guarantee future results.
Valuations and the Tech Bubble of 2000
There have been a growing number of comparisons between the tech sector today and the tech bubble in the late 1990s that burst in 2000; however, some perspective is in order.
While it is true that the sector has surpassed the levels seen at the height of the dot-com craze, it's been almost two decades and a lot has changed in that time. Take Microsoft Corporation (NASDAQ: MSFT) for example. In fiscal 1999, MSFT generated net income of $7.78 billion on revenue of $19.75 billion. In Q1 2018 alone, it generated $7.42 billion in net income on $26.82 billion in revenue.
The tech sector's forward P/E peaked at close to 50 at the height of the dot-com bubble, whereas it's been recently trading around 18.7, according to Thomson Reuters. There are certainly parts of the sector where valuations seem stretched, but all of tech shouldn't be written off as a bubble.
GDPR and Regulations
There has been growing concern among some analysts that the tech sector could continue to face more regulations worldwide.
The EU recently implemented the General Data Protection Regulation (GDPR). GDPR regulates how companies collect, store and use personal data gathered from EU citizens. The regulations became enforceable on May 25 and failure to comply can result in companies being fined as much as 4 percent of their worldwide annual revenue.
Although the U.S. hasn't enacted any regulations as sweeping as GDPR, Congress has increasingly called on U.S. tech executives to testify regarding data breaches, privacy concerns and other issues taking placeon their platforms.
Some politicians in the U.S. and abroad have expressed concerns that big tech companies have gotten too large and powerful, and that parts of the sector have grown more monopolistic. There doesn't seem to be any major pushes to break up any companies or impose sweeping regulations yet. Nevertheless, the topic has been popping up more regularly and could pose potential risks.
Trade Spats Weighing
There's a school of thought that suggests there are many tech stocks that might not be hurt as much by a tariff war because their products are difficult to replicate, or already have been, making them tough to put tariffs on. Again, we'll have to wait and see, but so far most of tech has weathered the storm pretty well.
Chinese tech stocks, on the other hand, have been hit harder than their American counterparts as investors wait to see how the back-and-forth between the U.S. and China plays out.
Regardless of the headlines, whether it's trade tariffs or something else, stick to your trading plan and don't overreact to the news. Base your decisions on the facts, not the speculation and rumors.
Major Earnings Dates
So far, these are some of the confirmed earnings reportdates for major companies in the tech sector:
Netflix, Inc. (NASDAQ: NFLX) reports after market close on Monday, July 16
IBM (NASDAQ: IBM) reports after market close on Wednesday, July 18
Microsoft Corporation (NASDAQ: MSFT) reports after market close on Thursday, July 19
Advanced Micro Devices, Inc. (NASDAQ: AMD) reports after market close on Wednesday, July 25
Intel Corporation (NASDAQ: INTC) reports after market close on Thursday, July 26
NVIDIA Corporation (NASDAQ: NVDA) reports after market close on Thursday, August 16
Information from TDA is not intended to be investment advice or construed as a recommendation or endorsement of any particular investment or investment strategy, and is for illustrative purposes only. Be sure to understand all risks involved with each strategy, including commission costs, before attempting to place any trade.
Posted-In: TD AmeritradeEarnings News Previews Markets Tech Trading Ideas
View Comments and Join the Discussion!