Stock Market Gets Lift From Earnings As Geopolitical Fears Wane
Investors appear to be focusing on earnings season and letting their worries about Syria and trade recede.
Equity futures are stronger this morning, as yesterday's optimism continued. The stock market rallied Monday as worries about tensions over Syria eased and investors shifted focus to earnings season, which is now in full swing. All three major U.S. indices were higher, and the S&P 500 managed to close above the key 2,670 level.
Now, with earnings season in full swing, investors are getting some actual numbers to sink their teeth into rather than the ups and downs that come with trading emotionally off of geopolitical headlines.
Initial View into Big Tech Earnings
Adding to positive sentiment, Netflix, Inc. (NASDAQ: NFLX) reported earnings after the market closed Monday, and said it added 7.4 million subscribers in Q1. The streaming company's shares were up about 7 percent in premarket trading Tuesday. Much of Netflix's subscriber growth came internationally, and that sort of growth could bode well for what we might see with other tech company earnings. The subscriber growth in general also offers a potentially optimistic picture for U.S. consumer discretionary spending.
And More from Financial
This morning Goldman Sachs Group Inc. (NYSE: GS) reported better than expected earnings, helping to boost Wall Street optimism, but its shares in pre-market trading were only up modestly. This is perhaps a reminder that, with expectations high going into earnings season, the bar has been raised in terms of earnings surprises.
Although banks have been posting decent numbers, we haven't seen a huge rally in financial shares. After exceeding Wall Street analysts' earnings-per-share expectations on Friday, shares of Wells Fargo & Co. (NYSE: WFC), Citigroup Inc. (NYSE: C) and JP Morgan Chase & Co. (NYSE: JPM) stumbled. On Monday, Bank of America Corp. (NYSE: BAC) reported earnings that beat expectations, but its shares gained only modestly along with the general financial sector.
In this atmosphere, beating high expectations doesn't mean companies will get rewarded. That might also mean they could get pounded if they have an earnings miss.
Tensions Easing; Housing Forges Ahead
As Wall Street's worries eased, volatility fell Monday, with the VIX dropping more than 4.8 percent to its lowest close since March 16. And as the rally in equities has carried on, the VIX has remained under pressure, falling below 16 in early trading today.
Housing starts in March rose to a seasonally adjusted annual rate of 1.319 million units compared to a consensus expectation provided by Briefing.com that had forecast housing starts at 1.268 million units. Building permits hit 1.354 million units, ahead of a forecast of 1.315 million units.
Crude oil prices fell more than $1 a barrel Monday as Middle East tension ebbed. The commodity remained under pressure this morning, and if prices keep heading down, that could bode well for transportation companies. (See more about trucking below.)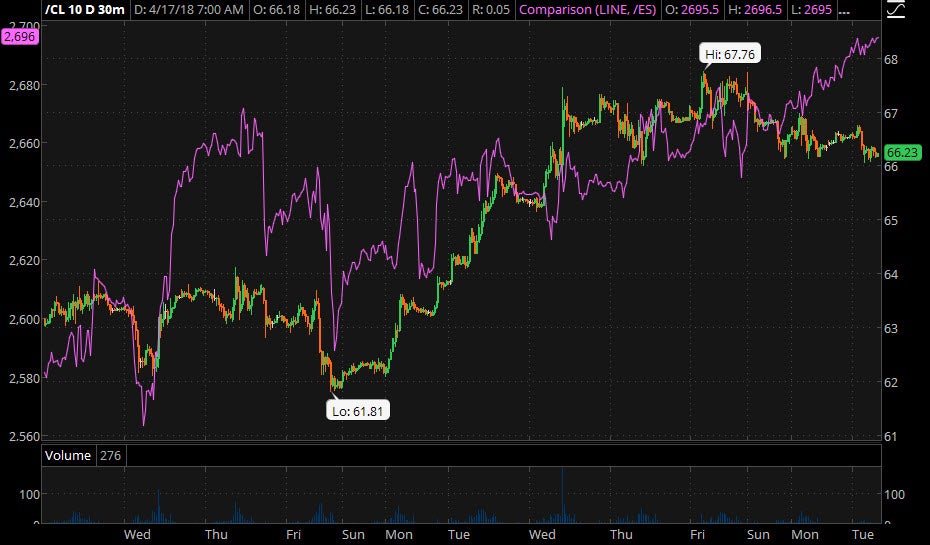 FIGURE 1: DIVERGENT PATHS. Easing geopolitical tensions amid a robust start to earnings season, has put crude oil futures (/CL, candlestick chart) on a divergent path than the S&P 500 Index (purple line). Data source: CME Group, S&P Dow Jones Indices. Chart source: The thinkorswim® platform from TD Ameritrade. For illustrative purposes only. Past performance does not guarantee future results.
Color Commentary Comes in Beige
Most of the big economic reports come in the form of data points—typically a headline number and a host of supplemental data to slice and dice. In other words, they're quantitative. However, 8 times a year (including a fresh one Wednesday afternoon) the Federal Reserve publishes a qualitative report—the Beige Book—chock full of anecdotal information from each of the 12 Fed districts. While there's no big headline number for the Beige Book, as there is in Nonfarm Payrolls, CPI or other big economic reports, taking some time to read the report can give investors a national and regional "narrative" on trends in employment, wages, prices, consumer spending, manufacturing, and more.
Keep on Trucking
The Dow Jones Transportation Average ($DJT) also had a good day Monday, outpacing percentage gains in the overall Dow Jones Industrial Average. Almost all its components were in the green, but transportation companies C.H. Robinson Worldwide Inc. (NASDAQ: CHRW) and J.B. Hunt Transport Services Inc. (NASDAQ: JBHT), which both operate trucking fleets, were the biggest gainers. Shares of JBHT rose more than 6 percent as the company reported better-than-forecast revenue. C.H. Robinson was up more than 3.5 percent after UBS upgraded it from neutral to buy. Overall, "the trucking industry is having a moment," according to an editorial in Transport Topics. Demand for trucking services is up, and capacity is being further stretched by the government's electronic logging device mandate, the trade publication said. Meanwhile, sales of new trucks are on the rise, and many transport companies see tax reform as a tail wind, the publication said.
Pharma in Focus
Monday was an interesting day for pharmaceuticals. Shares of drug distributors and drug stores jumped as CNBC reported Amazon.com, Inc. (NASDAQ: AMZN) has shelved a plan to sell pharmaceuticals to hospitals, removing a potential competitive headwind. It might have gotten underplayed yesterday given all the other news. Separately, Merck & Co., Inc. (NYSE: MRK) shares surged after it released positive trial results on its Keytruda lung cancer drug. Meanwhile, competitor Bristol-Myers Squibb Co. (NYSE: BMY) also released positive results on its lung cancer drug combo Opdivo and Yervoy, but, according to some analysts, its effectiveness may be limited to a narrower group of patients. BMY shares fell nearly 8 percent Monday.
Posted-In: JJ Kinahan TD Ameritrade The Ticker TapeEarnings News Commodities Markets
View Comments and Join the Discussion!