Piling On: After Tariff News Chills Stocks, Retailer Woes Add To Pain
After President Trump's tariff announcement on Thursday, stocks quickly sold off amid "trade war" speculation. Disappointing earnings from big retailers look like they might add to the pressure early Friday as stocks fell sharply in pre-market trading and volatility picked up.
Speaking of which, VIX jumped back above 24 early Friday and is now near three-week highs. VIX began climbing early this week, and the footing appears to remain treacherous for those venturing into the market. Anyone making short-term trades is likely subject to more volatility than those investing for the long term, so investors might want to be prudent about getting into and out of the market as long as this rockiness persists.
On the home front early Friday, both Foot Locker, Inc. (NYSE: FL) and J C Penney Company Inc (NYSE: JCP) missed Wall Street analysts' revenue estimates. If you recall, we noted recently that the market is likely to punish retail companies that miss revenue estimates during the recent period of solid economic growth. It looks like it's coming true, as both FL and JCP suffered 9% to 10% losses in pre-market trading. The question is whether this weakness spills over into the rest of the retail sector. Keep in mind that several big retailers reported solid earnings earlier this week.
Markets took a dive Thursday after President Trump announced plans to implement tariffs on steel and aluminum imports next week. The U.S. will set tariffs of 25% for steel and 10% for aluminum, President Trump said, though he didn't explicitly call out which countries these would apply to. Early Friday, in a tweet, he appeared to double-down, saying, "Trade wars are good, and easy to win." The tariffs Trump is implementing could pose real challenges to some industries, including ones you might not immediately think of. Consider, for instance, soda and beer makers that rely on cans.
Molson Coors Brewing Co. (NYSE: TAP) blasted Trump's tariff decision. "We buy as much domestic can sheet aluminum as is available, however, there simply isn't enough supply to satisfy the demands of American beverage makers like us," the company said in a tweet. "American workers and American consumers will suffer as a result of this misguided tariff."
Automakers also spoke out against tariffs, TheStreet.com reported, saying aluminum and steel are "crucial to the production of cars and trucks sold in America today" and the tariff "would raise the sale prices of those vehicles substantially."
What also might be spooking people here is the prospect of faltering economic relations between the U.S. and China. Remember, U.S. stocks took a brief dive back in January after a media report that China might consider slowing or halting its purchases of U.S. Treasuries. China denied that report. If the two countries tangle over tariffs, however, that could lead to renewed fears about China's interest in U.S. Treasuries. Even rumors about China backing off from its Treasury purchases would likely feed into the rate worries that already dog the U.S. market. The benchmark 10-year yield was steady near 2.82% early Friday, down from highs above 2.9% earlier this week and near three-week lows.
The trade fears aren't just about China. On Thursday, Canada, the European Union and other countries said they might have no choice but to retaliate in response, The New York Times reported. The president of the European Commission, Jean-Claude Juncker, called Trump's measure "blatant intervention to protect U.S. domestic industry" and said the European Union had been a close security ally of the United States for decades. Chrystia Freeland, the Canadian minister of foreign affairs, called any measure that deemed Canadian trade a national security threat "entirely inappropriate," according to the newspaper.
The prospect of a possibly wider trade war affecting more industries and additional countries could help explain why Dow Jones Industrial Average ($DJI) futures fell more than 300 points with about an hour to go before the opening bell. Free trade has been a hallmark of U.S. and world economic growth over the last two decades, and any sign of a change in that paradigm could send a chill through global markets.
Looking ahead to next week, the non-farm payrolls report a week from today looms large, but before next week even begins, there's possible market-moving news from overseas. Italian voters go to the polls Sunday to elect a new government, and elections can create uncertainty as market participants try to anticipate what a leadership change might look like. There is already much uncertainty in the eurozone due to Brexit, and anything further has the potential to upset a quickly growing but somewhat fragile economy.
Investors may want to consider recent media reports citing polls that the populist, anti-European Union Five Star Movement (M5S) is likely to emerge as the single largest party from the Italian election. Anti-Europe often means "anti-euro," raising questions about potential impact on the common currency should this party gain power.
The euro had been under pressure ahead of the election, but got a bit of a bounce against the dollar early Friday after the tariff announcement. The dollar fell more than half a percent vs. a basket of currencies, while the yen surged as investors piled into the currency that some see as a safe haven. European and Asian stocks fell sharply overnight, and oil came under increasing pressure. Gold, however, has moved higher in recent sessions.
As Friday's session dawns, the only economic data on the calendar is Michigan sentiment a bit later this morning. Over the last three days, a lot of the market action has occurred in the last hour of the day, so the question heading into Friday is whether any "buy the dippers" might show up at that time. Stay tuned.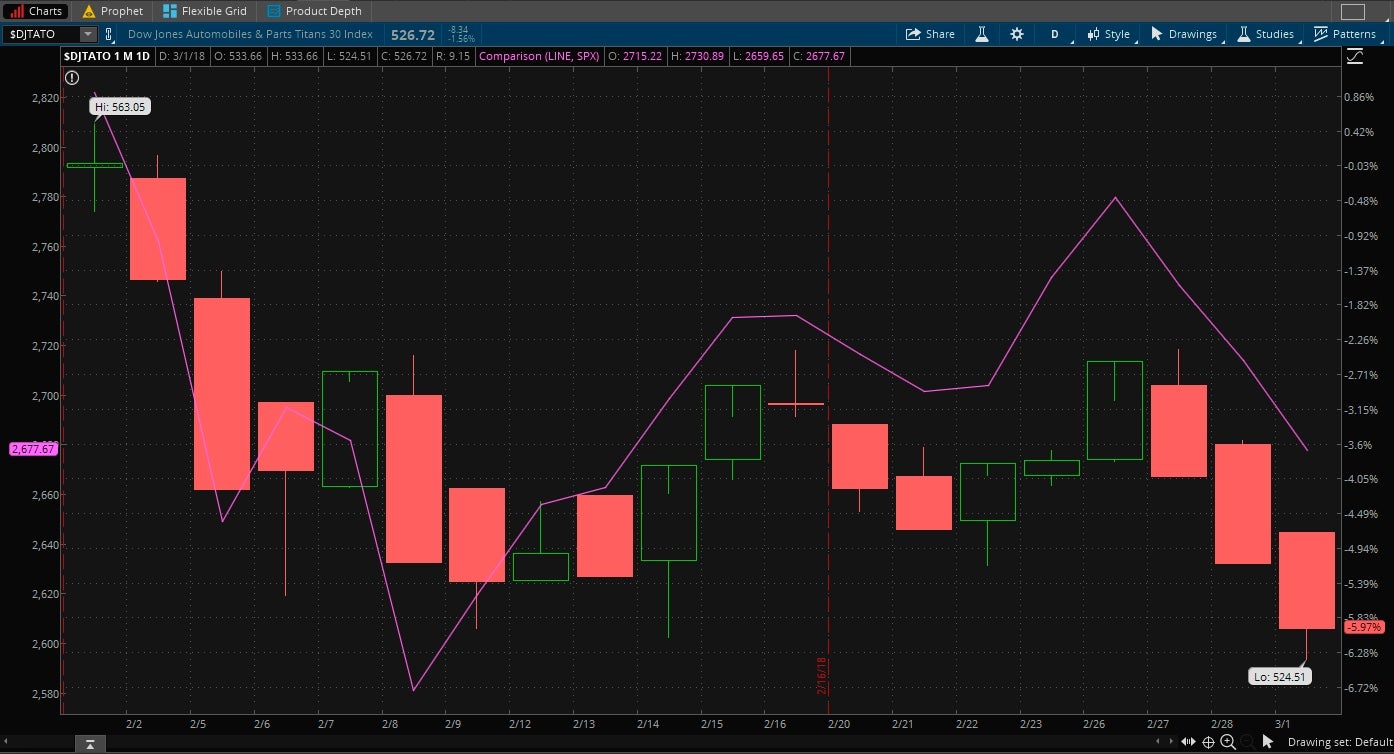 FIGURE 1: CARS STALLING. A Dow Jones index that tracks automobile and auto parts makers (candlestick) is under-performing the broader S&P 500 Index (SPX - purple line), over the last month. The tariffs announced by President Trump Thursday, along with February's weak sales figures, could possibly help extend the damage for auto makers. Data sources: Dow Jones & Co., Standard & Poor's. Chart source: The thinkorswim® platform from TD Ameritrade. For illustrative purposes only. Past performance does not guarantee future results.
Earnings Season Comes in For a Landing
With 95% of companies reporting Q4 earnings to date, average earnings per share growth for S&P 500 companies is projected at 14.7%, according to S&P Capital. That compares with the firm's prediction for 10.6% EPS growth back in late December, meaning we've seen a lot of companies beat earnings projections. So far, 10 of 11 sectors are expected to post positive comparisons in Q4, S&P Capital said, with only real estate left out. Leading sectors to date include energy, materials, and info tech.
Not many big companies are in the wings waiting to report after this week's retail sector bonanza, but stay on the lookout for Target Corporation (NYSE: TGT) before the open Tuesday and Costco Wholesale Corporation (NASDAQ: COST) after the close Wednesday. Kroger Co (NYSE: KR) is scheduled before the open Thursday, as retail continues to dominate the late innings.
Stocks Looking Cheaper?
When it comes to stock values, "cheap" can be a relative term. From a historic perspective, stocks still look pretty pricey, even with February's losses factored in. Still, between the stronger earnings and February's market downturn, the average forward price-to-earnings (P/E) ratio for the S&P 500 as a whole was down to 17.6 by the middle of this week, from 18.5 at the end of last year. The long-term average is closer to 16, to put things in perspective. Still, the air feels a little less thin now than it did for much of 2017.
Year of the Dog Starts on a Leash
Not long ago, the economic news out of China was surprisingly strong. This week — soon after the Chinese Year of the Dog began — things seemed to turn south a little, raising some concerns about the world's third-largest economy after the U.S. and European Union. China's official manufacturing Purchasing Managers' Index for February was 50.3, below analysts' expectations of 51.2 and a bit lower than the 51.3 in January. It's just one data point, though, and China's economy grew 6.9% last year — above analysts' expectations.
China had a few hiccups back in the middle of the current decade, likely contributing to the world-wide market weakness of late 2015 and early 2016. Since then, China has been like the little engine that could, as it keeps churning out strong growth. It's unclear if things are changing, but some economists told CNBC that the government's crackdown on polluting industries and high debt levels could cool growth down a bit this year.
Information from TDA is not intended to be investment advice or construed as a recommendation or endorsement of any particular investment or investment strategy, and is for illustrative purposes only. Be sure to understand all risks involved with each strategy, including commission costs, before attempting to place any trade.
Posted-In: JJ Kinahan TD Ameritrade The Ticker TapeEarnings News Commodities Markets
View Comments and Join the Discussion!