Tesla Reports Q4 Earnings Beat, Record Vehicle Deliveries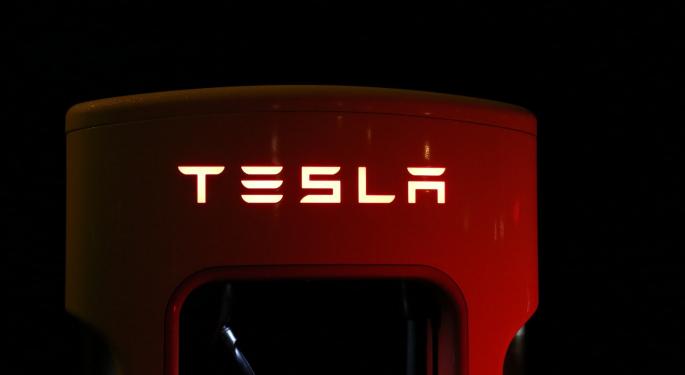 Tesla Inc (NASDAQ: TSLA) popped more than 2 percent post-market Wednesday on top- and bottom-line beats.
The firm's fourth-quarter adjusted earnings per share came in at $(3.04) and revenue at $3.29 billion against consensus estimates of $(3.12) and $3.28 billion.
Q4 Highlights
The end-of-quarter cash balance sat at $3.4 billion.
Energy generation and storage revenue decreased 6 percent sequentially.
Model 3 deliveries came in at 1,542, well below early Street estimates of 5,200.
Model S and X deliveries increased 10 percent sequentially and 28 percent year-over-year to a total of 28,425.
Model S and X orders fell short of the third-quarter's all-time high but increased year-over-year.
"As we indicated heading into Q4, production of Model S and Model X during the quarter was limited to 22,137 vehicles due to reallocation of some of the manufacturing resources to Model 3 production," the report read. "This enabled us to reduce our finished-goods inventory to the lowest level in about 18 months."
The third quarter was also characterized by increases in solar and Powerwall sales, the unveiling of the Semi and next-generation Roadster, as well as the opening of 12 new stores and service locations. Next year is seen to hold similar catalysts.
Q1 And 2018 Guidance
Management targets weekly Model 3 production rates of 2,500 by the end of the first quarter and 5,000 by the end of the second, resulting in 25-percent gross margins.
Management targets 100,000 Model S and X deliveries in 2018.
Capex is expected to increase in 2018 to support production and build stores, service centers and Superchargers.
"2018 will be a transformative year for Tesla, with a high level of operational scaling," CEO Elon Musk and CFO Deepak Ahuja wrote in the report. "As we ramp production of both Model 3 and our energy products while keeping tight control of operating expenses, our quarterly operating income should turn sustainably positive at some point in 2018."
Related Links:
Tesla's New Compensation Pushes Elon Musk To Focus On Profitability, Baird Says
View Comments and Join the Discussion!
Posted-In: Model 3 Model S Model XEarnings News Guidance Top Stories After-Hours Center Best of Benzinga