Treasury Bounce, Boeing Results Appear To Give Slumping Market New Life
The rate fear chills that helped send stocks to their biggest losses since last summer burned off slightly Wednesday amid sunny earnings reports and declining Treasury yields. President Trump's speech last night also seemed to give people confidence, and some really solid earnings from Boeing Co (NYSE: BA) added to a more positive tone.
Both BA and Eli Lilly and Co (NYSE: LLY) beat Wall Street analysts' estimates, and BA provided robust guidance. Shares of BA and LLY rose in pre-market futures trading. BA just continues to impress with its performance. Ten-year yields slipped to 2.71% early Wednesday, and earnings keep coming in strong.
The market's sharp decline so far this week shouldn't be dismissed, but it isn't necessarily a cause for huge worries, either. To put things in perspective, the losses brought the major indices all the way back to… where they were about 10 days ago. Even after its more than 1% decline Tuesday, the S&P 500 (SPX) is still up more than 5% year-to-date. That's not bad for less than one month.
Keep in mind that data continue to look good, with consumer confidence the latest positive report to show up. Friday's non-farm payrolls report looms large as the end of the week approaches, especially the wage component to see if any inflationary pressure might be shaping up. Consider the broader picture and try not to get caught up in any emotional trading.
One thing that could be interesting to watch today is whether so-called "buy the dip" action continues. In recent months, each 1% or 2% stock decline found buyers who saw lower prices as an opportunity. We might have seen some of that even on Wednesday, when the Dow Jones Industrial Average ($DJI) rebounded slightly from its lows by the closing bell after earlier falling more than 400 points.
The VIX, the market's "fear index," climbed to nearly 15 on Tuesday, near its historic average but way above anything we've seen lately. VIX slipped a bit early Wednesday.
Getting back to Wednesday's calendar, the Fed concludes its last meeting under the leadership of Chair Janet Yellen this afternoon, and that could help tame some of the wild market action and volatility we've seen over the last week or so. Typically, volatility quiets a little the morning before a Fed announcement.
Going into the day, chances of a rate hike were up a little from recent weeks, but with futures markets odds now at 5%, few expect any surprises. As always, consider reading the Fed's statement to get a sense of what Fed officials expect for the economy and any hints about how many rate hikes might happen this year. The Fed has talked about three, but some analysts predict four. There's now a 72% chance of a hike by March, according to futures.
On the earnings front, key companies later today include AT&T Inc. (NYSE: T), Microsoft Corporation (NASDAQ: MSFT) and Facebook Inc (NASDAQ: FB). With FB, it appears people might focus on the news feed changes the company said it's making as a response to community feedback saying posts from businesses, brands and media are crowding out personal notices. The centerpiece for MSFT earnings could be an update on the company's growing cloud-based systems and services.
Baseball fans sometimes refer to the California Angels' stadium as "The Big A," and Thursday brings Wall Street's version as Amazon.com, Inc. (NASDAQ: AMZN), Apple Inc (NASDAQ: AAPL), Alibaba Group Holding Ltd (NYSE: BABA), and Alphabet inc (NASDAQ: GOOG) (NASDAQ: GOOGL) all report earnings. Needless to say, it could be one of the most important days of the quarter, and a lot of focus could rest on AAPL amid widespread concern about the health of the iPhone X.
Weekly U.S. crude supply data are due this morning, and Wall Street analysts look for stockpiles to build for the first time in more than 10 weeks. Crude is down sharply so far this week, partly because there's been a general retreat from riskier investments. However, rising U.S. production could also be playing into this, too, as some analysts look for daily output to climb above 10 million barrels for the first time since Richard Nixon was president. The energy sector was the second-worst performer of all sectors Tuesday, dropping about 2% as crude slid back below $65 a barrel.
President Trump's State of the Union address offered a bit more detail on infrastructure proposals. The president is still talking about spending $1.5 trillion, though it sounds like a lot of that might come from state and local governments and maybe some private sector investment, too. Infrastructure spending can help lift stocks of building supply companies, but an overlooked factor is that technology firms can also potentially benefit, because infrastructure today is so technology-driven.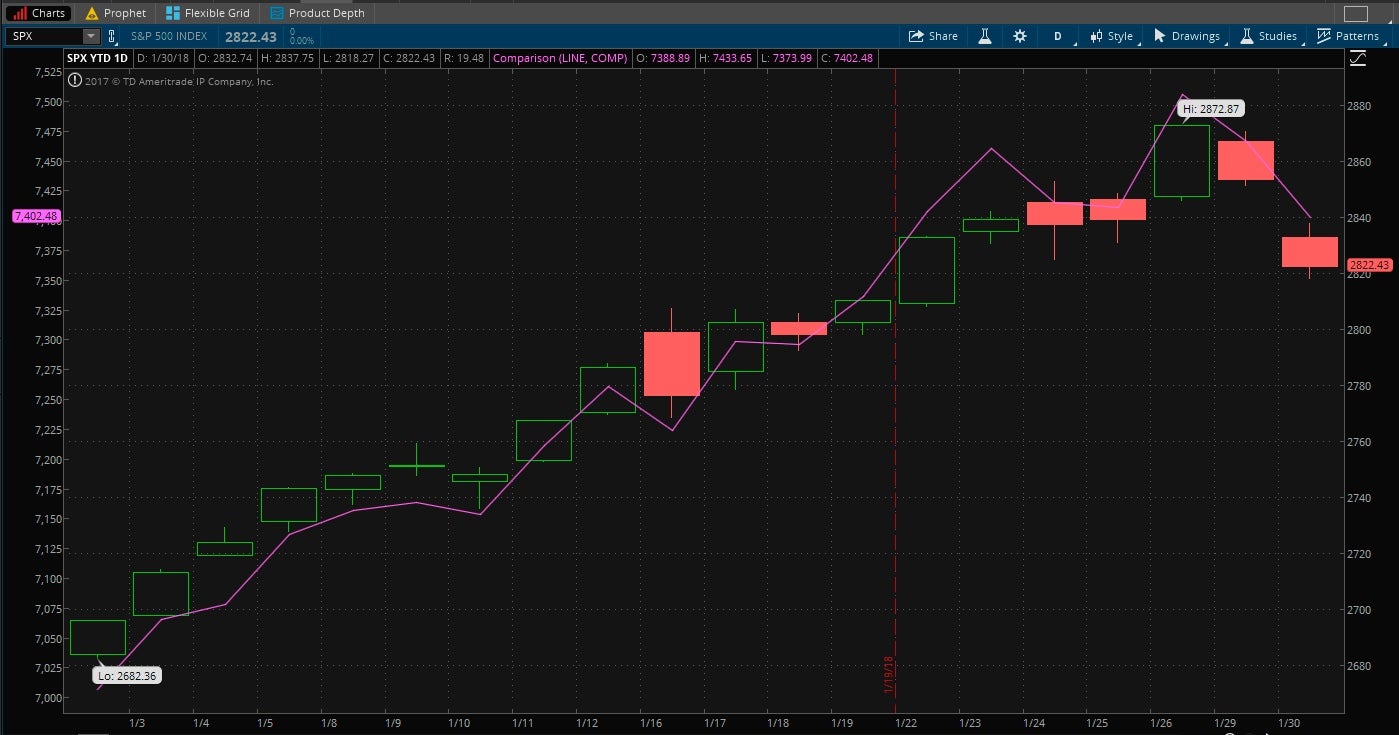 FIGURE 1: FEELS LIKE MID-JANUARY AGAIN. This year-to-date chart of the S&P 500 (SPX, candlestick chart), and the Nasdaq (COMP, purple line), reveal that the last two days of heavy selling took the indices all the way back to where they were in mid-January, just a couple weeks ago or less. That could help put things in perspective for anyone nervous about the sell-off. Data sources: Nasdaq, Standard & Poor's. Chart source: The thinkorswim® platform from TD Ameritrade. For illustrative purposes only. Past performance does not guarantee future results.
Keeping Fears In Perspective
As of the end of last week, the S&P 500 (SPX) had gone 564 calendar days since the conclusion of the last decline of 5% or more, the longest period without such a drop since 1945, according to research firm CFRA. However, many market sages might also point out that bull markets don't die of old age; they tend to die of fear. The fear stalking the market this week is higher interest rates, and that helped send the Dow Jones Industrial Average ($DJI) to its worst two-day point loss since Brexit in mid-2016.
Amid all of this, keep things in perspective. The markets are down this week, but nowhere near the 5% feared by some. In addition, a 200- or 300-point loss in the $DJI — while it may not feel like anyone's idea of a picnic — just isn't as mathematically meaningful as it was even a year or two ago when market levels were much lower. Keep percentages in focus. It's far from unusual to see a 1% or 2% drop in the middle of a strong market. Earnings remain strong, and consumer confidence is high. Unemployment is at nearly 20-year lows, and bond yields are still historically low, even if they're up from the deep canyons they'd carved over the last two years.
Still, Caution Could Be Warranted
All that said, investors should consider checking allocations. Hopefully, many people have already worked to re-balance portfolios that may have gotten stretched into bigger stock positions due to this long rally. It's certainly not too late to get started on that now, even if the market continues to fall. Prices are still near recent highs, and many investors are likely sitting on profits. Keep in mind your long-term and short-term goals, and also think about your sector allocations. If you're worried rates could keep rising, maybe it's time to re-examine holdings in rate-sensitive sectors like telecom and utilities. Those two sectors actually led yesterday, perhaps because they might appeal to people looking for more defensive places to put their money.
Amazon Disrupts Again
Last year, Amazon (AMZN) shook up the retail sector with its purchase of Whole Foods. On Tuesday, the company helped shake up the health care market by announcing it would work with JP Morgan (JPM) and Warren Buffet's Berkshire Hathaway (BRK.A) to form an independent company designed to address their workers' health care needs. Just like last summer when retailers dived on AMZN's venture into their industry, health care companies across the spectrum took a licking Tuesday when the AMZN news hit, and the health care sector fell more than 2% on the day. However, it's arguable that this was a bit of over-reaction. First, AMZN and its partners would be starting from scratch in an industry where it's very hard for new players to get a foothold. Also, it's unclear how AMZN and its partners would forge relationships with health care providers. It's not as simple as retail, where AMZN could buy a chain of grocery stores and just continue running them. Stay tuned, because the people behind this latest move have a lot of creativity and vision, but it's a little early to think established health care distributors and insurers face fierce competition from Jeff Bezos, Buffet and company. Yet.
Information from TDA is not intended to be investment advice or construed as a recommendation or endorsement of any particular investment or investment strategy, and is for illustrative purposes only. Be sure to understand all risks involved with each strategy, including commission costs, before attempting to place any trade.
Posted-In: JJ Kinahan TD Ameritrade The Ticker TapeEarnings News Commodities Markets
View Comments and Join the Discussion!