Retailers Report Earnings In The Weeks Ahead As They Gear Up For The Holiday Season
There's no denying that it's been a challenging environment for retailers over the past several years. Some companies in the industry have pivoted well to changes in the way consumers shop and the growth in e-commerce, while others haven't. Beyond those broader trends, many retailers were impacted this quarter by the series of hurricanes and storms that hit the Southern U.S. in recent months.
Initial retail sales data that came out on Friday showed there are signs of growth in some areas, and continued struggles in others. Advance estimates from the Census Bureau for U.S. retail sales in September showed a 1.6% climb from August, their biggest increase since March 2015, and August's figures were revised to 0.1% decline instead of a 0.2% decline. Sales in September got a sizable boost from automobiles, gasoline stations and building materials. Excluding those three categories, and foodservices, retail sales were up 0.4%.
Looking at year-over-year changes in retail sales that have been adjusted for seasonal variations, several types of businesses saw slow growth or declines in September:
Clothing and clothing accessories stores sales increased 1.1%
Health and personal care stores' sales increased 0.4%
Department store sales declined 0.5%
Electronics and appliance stores declined 4.4%
Sporting goods, hobby, book and music stores' sales declined 5.5%
Some of the areas that saw the greatest declines have also been the hardest hit by bankruptcies and store closures over the past year. On the other hand, several areas saw accelerating growth, partially attributed to the impact of recent hurricanes:
Motor vehicle and parts dealers' sales increased 4%
Building material and garden equipment and supplies dealers' sales increased 10.7%
Nonstore (e-commerce) sales increased 9.2%
Gasoline stations' sales increased 11.4%, which was largely attributed to a spike in gasoline prices
One thing to keep in mind is the retail sales data only gives a broad picture and September's figures are just the initial estimates. Upcoming earnings, on the other hand, can provide a clearer picture of how different companies have performed.
For the third quarter, the consumer discretionary sector in the S&P 500 (SPX) is expected to report a 2.8% year-over-year decline in earnings, according to FactSet. Granted, it's a pretty diverse sector and the automobile and automobile components industries are expected to weigh heavily on earnings, with forecasts for year-over-year declines of 23% and 13% respectively. The other two industries FactSet expects to report low-double-digit declines in earnings are textiles, apparel and luxury goods, and multiline retail.
Below we'll take a look at some of the things that have been going on in the sector as we head into retail's busiest season.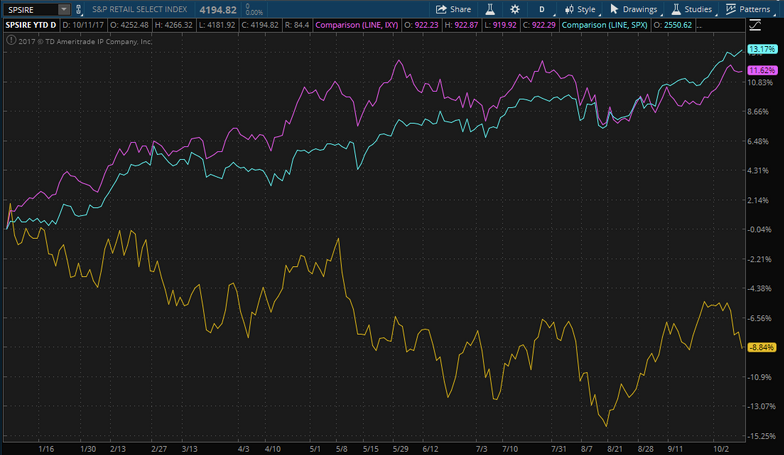 FIGURE 1: RETAIL LAGGING. The S&P Retail Select Sector Industry Index (SPSIRE), charted as the yellow line above, has substantially underperformed the S&P 500 (SPX), the teal line, and the S&P Consumer Discretionary Select Sector Index (IXY), the pink line. Year-to-date performance as a percentage, as of October 13, is shown on the right hand side of the chart. Chart source: thinkorswim® by TD Ameritrade. Data source: Standard & Poor's. Not a recommendation. For illustrative purposes only. Past performance does not guarantee future results.
A Promotional Environment
There has been a sizable number of bankruptcies and store closings in the retail industry over the past several years. Sporting goods, clothing and electronics stores have been particularly hard hit. Also, many companies in the industry have chosen to close stores to reduce expenses and subsequently focused on improving profitability at their remaining locations.
That combination, as well as increasingly more online deals, has resulted in a promotional environment where retailers and manufacturers are sometimes competing with lower prices on their own products. In recent quarters, management at many of these companies have partially attributed declines in comparable-store sales and the average selling price of their products to this promotional environment.
Death of Retail Overblown?
There are often attention-grabbing headlines about companies shuttering store locations, but the reality is there are a large number of stores being opened as well. According to research from IHL Group, the total net increase of stores planned for 2017, including retail and restaurants, is 4,080. Core retail stores, which excludes restaurants, are expected to see a net gain of 1,326 stores this year.
The three fastest growing core retail segments this year are off-price retailers and dollar stores, convenience stores and grocery retailers, according to IHL Group, while specialty apparel retailers are closing the largest number of stores.
Dollar Tree, Inc. (NASDAQ: DLTR), Dollar General Corp. (NYSE: DG), Ulta Beauty Inc (NASDAQ: ULTA) and O'Reilly Automotive Inc (NASDAQ: ORLY) are just some of the companies that have announced plans to open more than 100 stores this year.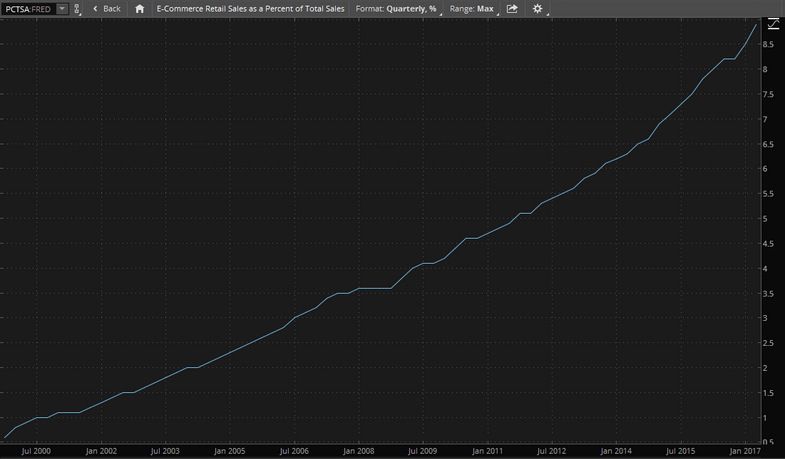 FIGURE 2: E-COMMERCE RETAIL SALES AS A PERCENTAGE OF TOTAL RETAIL SALES. The chart above from the Economic Data tab on the thinkorswim® platform from TD Ameritrade, shows the percentage of total retail sales from e-commerce, which was at 8.9% in April's quarterly report. Source: Federal Reserve's FRED database. FRED® is a registered trademark of the Federal Reserve Bank of St. Louis. The Federal Reserve Bank of St. Louis does not sponsor or endorse and is not affiliated with TD Ameritrade. For illustrative purposes only.
Holiday Shopping is Around the Corner
The busiest time of the year for retailers is right around the corner. While earnings reports from this quarter are still important, a lot of emphasis can be placed on what management has to say about their expectations for the fourth quarter. This year, holiday retail sales in November and December are projected to increase between 3.6% and 4% over last year, for a total of $678.75 billion to $682 billion, according to the National Retail Federation (automobiles, gasoline and restaurants are excluded from those figures.)
Both Black Friday and Cyber Monday, which many retailers have extended into weeklong affairs, broke new online sales records last year. Consumers spent $3.34 billion online on Black Friday in 2016 and online sales on Cyber Monday increased 12.1% year-over-year to $3.45 billion, according to Adobe Digital Insights. That was the first time Black Friday online sales exceeded $3 billion.
Not everybody is going to do all of their shopping online. According to a survey of 1000 people from Market Track, 30% of respondents said they would shop in-store on Thanksgiving and 40% said they would on Black Friday. Respondents cited Wal-mart Stores Inc (NYSE: WMT) as their top in-store shopping destination over Black Friday weekend and 80% of the 1000 respondents said they planned to shop on Amazon.com, Inc. (NASDAQ: AMZN).
Consumers are Feeling Pretty Good
Another thing investors may want to consider is that overall the American consumer is still feeling pretty good about the economy and their personal financial situations. The Conference Board's Consumer Confidence Index declined slightly in September to 119.8, but is still on the higher end. Preliminary results from the University of Michigan's October consumer sentiment survey had the sentiment index hitting 101.3, the highest since the start of 2004.
With stocks at all-time highs, low unemployment, continued economic and wage growth, there's a multitude of factors that might be at play for high consumer sentiment and confidence. If that's sustained throughout the holidays, it could potentially translate to more shopping in the fourth quarter.
Looking Ahead to Earnings
There's still several weeks before a lot of the major retailers report results. Amazon (AMZN) reports after market close on Thursday, October 26. Home improvement retailer Home Depot Inc (NYSE: HD) reports before market open on Tuesday, November 14 and Lowe's Companies, Inc. (NYSE: LOW) reports before market open on Tuesday, November 21. Big-box store Target Corporation (NYSE: TGT) reports before market open on Wednesday, November 15 and Walmart (WMT) reports on Thursday, November 16. Department store Nordstrom, Inc (NYSE: JWN) reports after market close on Thursday, November 9 and Macy's Inc (NYSE: M) is expected to report in early November.
Posted-In: JJ KinahanEarnings News Previews Retail Sales Econ #s Markets Trading Ideas
View Comments and Join the Discussion!