Deere & Co. Earnings Preview: Fiscal Q3 Results Come Out On Friday
Agricultural equipment maker Deere & Co. (NYSE: DE) reports earnings for the fiscal third quarter of 2017 before market open on Friday, August 18. So far in 2017, DE has continued to build on its 2016 rally and shares are up 21.7 percent year-to-date as the outlook in certain agricultural markets has improved.
Shares jumped in May when the company reported better-than-expected results for the second quarter and management raised its outlook for fiscal 2017. With the updated guidance, the company is now expecting net sales in equipment operations to increase approximately 9% year-over-year in fiscal 2017 when it had previously forecasted approximately 4% growth. At the same time, it also raised its guidance for net income attributable to Deere & Co. for fiscal 2017 from $1.5 billion to $2 billion.
That updated guidance was primarily due to strength in the company's South American agriculture operations and its Construction & Forestry division. The company expects 20% growth in South American agriculture sales for fiscal 2017, while it is forecasting growth of 5% in U.S. and Canada agriculture, and expects EU agriculture sales to be flat to down 5%.
According to CFRA analysts, demand for both construction and farm equipment has been slowly improving, especially in emerging markets and South America, but they also think global economic conditions and pressure on crop pricing will reduce the level of farm income in the future. Those analysts expect those trends to sharply lower demand for farm equipment in North American and European markets.
Agricultural Economic Insights has also expressed concerns that rising U.S. farm debt combined with declining farm profitability could pose concerns for farmers' ability to repay their debt obligations if the trends persist. While real estate is a major factor in U.S. farm debt, farming machinery is another component that is very expensive and frequently requires a large amount of financing for smaller farms. DE's Worldwide Financial Services division generated $103.5 million in net income in the second quarter and the company expects it to generate $475 million in net income for all of fiscal 2017.
As demand has weakened for DE's agriculture products in certain markets, the company has expanded its Construction & Forestry division. Most recently, DE announced the acquisition of Wirtgen Group, a manufacturer of road construction equipment, which the company said will add five brands to its construction lineup line-up with no overlap with its current products.
Credit Suisse analysts wrote that the road construction product lines were attractive to $DE because they are less cyclical and growing faster than some of its current products. Those analysts also highlighted the fact that Wirtgen has production facilities in Germany, China, India and Brazil, giving it the ability to localize products in different markets.
Deere & Co. (DE) stock ytd performance charted on thinkorswim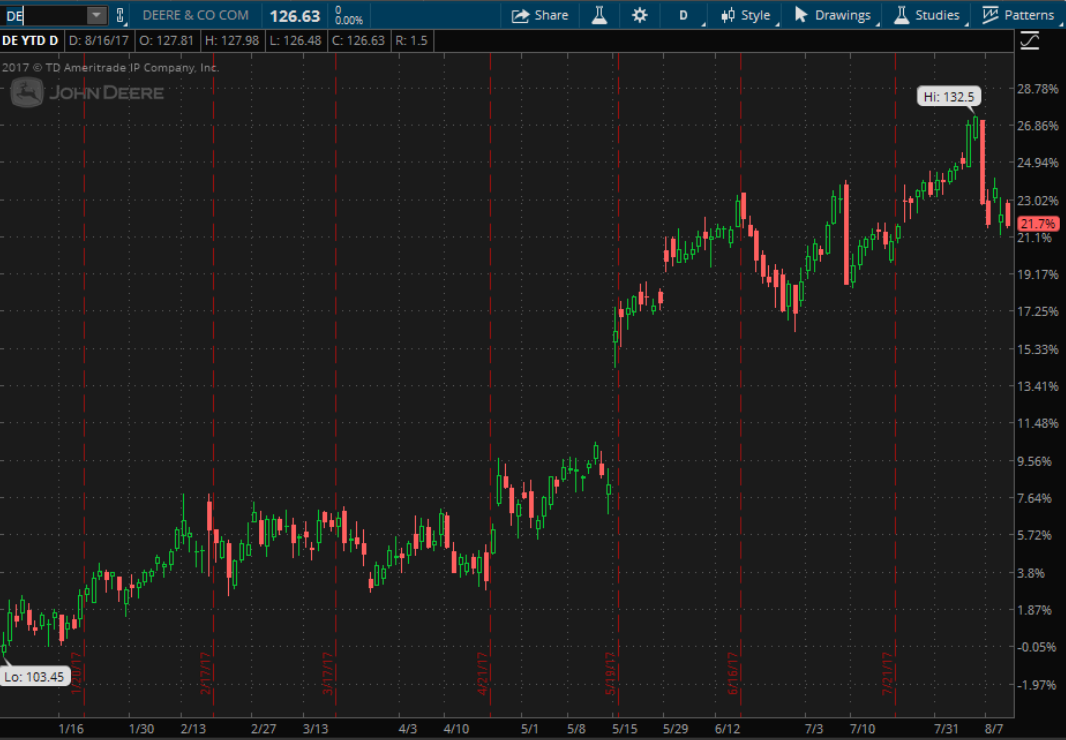 BUILDING ON 2016 GAINS. Deere's (DE) shares have continued to rally so far in 2017 and are up 21.7% year-to-date as of yesterday's close. Looking back over the past 12 months, the stock has increased 62.3% as agricultural markets have improved and investors have remained optimistic about pro-growth policies out of Washington. Chart source: thinkorswim® by TD Ameritrade. Data source: Standard & Poor's. Not a recommendation. For illustrative purposes only. Past performance does not guarantee future results.
Deere & Co. Earnings and Trading Activity
For the fiscal third quarter, DE is expected to report earnings of $1.93 per share, up from $1.55 per share in the prior-year quarter, on revenue of $6.88 billion, according to Wall Street consensus analyst estimates. Revenue is expected to increase 17.4% year-over-year from $5.86 billion reported in the same period last year.
The stock just hit a new all-time high of $132.50 on August 9, but it has since declined leading up to the earnings release and was trading at the low-$125 range this morning. Options traders have priced in about a 4.5% potential share price move in either direction around the upcoming earnings release, according to the Market Maker Move indicator on the thinkorswim® platform.
In short-term options trading at the August 18 expiration, calls have been active at the 125 and 130 strike prices, while puts have been active at the 120 and 125 strikes. As of this morning, the implied volatility sits at the 74th percentile. With major indexes trading at all-time highs and earnings being the big market driver right now, there's been heightened volatility in many stocks as nervousness grows about how long the rally will last.
Note: Call options represent the right, but not the obligation, to buy the underlying security at a predetermined price over a set period of time. Put options represent the right, but not the obligation to sell the underlying security at a predetermined price over a set period of time.
Looking Ahead
Earnings season has just about come to an end and so far nearly 74% of S&P 500 (SPX) companies have exceeded earnings estimates, according to TheStreet.com. Beyond earnings, we're back to the old debt ceiling issue with the Treasury Department telling Congress they need to raise it by September 29 to ensure the government can pay its bills. Keep an eye out for the potential of heightened volatility as that deadline approaches. And if you have time, make sure to check out today's market update to see what else is happening.
Probability analysis results from the Market Maker Move indicator are theoretical in nature, not guaranteed, and do not reflect any degree of certainty of an event occurring.
TD Ameritrade and all third parties mentioned are separate and unaffiliated companies, and are not responsible for each other's policies or services.
Inclusion of specific security names in this commentary does not constitute a recommendation from TD Ameritrade to buy, sell, or hold.
Market volatility, volume, and system availability may delay account access and trade executions.
Past performance of a security or strategy does not guarantee future results or success.
Market volatility, volume, and system availability may delay account access and trade executions.
Past performance of a security or strategy does not guarantee future results or success.
Options are not suitable for all investors as the special risks inherent to options trading may expose investors to potentially rapid and substantial losses. Options trading subject to TD Ameritrade review and approval. Please read Characteristics and Risks of Standardized Options before investing in options.
Supporting documentation for any claims, comparisons, statistics, or other technical data will be supplied upon request.
The information is not intended to be investment advice or construed as a recommendation or endorsement of any particular investment or investment strategy, and is for illustrative purposes only. Be sure to understand all risks involved with each strategy, including commission costs, before attempting to place any trade. Clients must consider all relevant risk factors, including their own personal financial situations, before trading.
TD Ameritrade, Inc., member FINRA/SIPC. TD Ameritrade is a trademark jointly owned by TD Ameritrade IP Company, Inc. and The Toronto-Dominion Bank. © 2017 TD Ameritrade.
Posted-In: Earnings News Previews Markets Trading Ideas
View Comments and Join the Discussion!