Could Thursday's Move Be The Beginning Of A GNC Short Squeeze?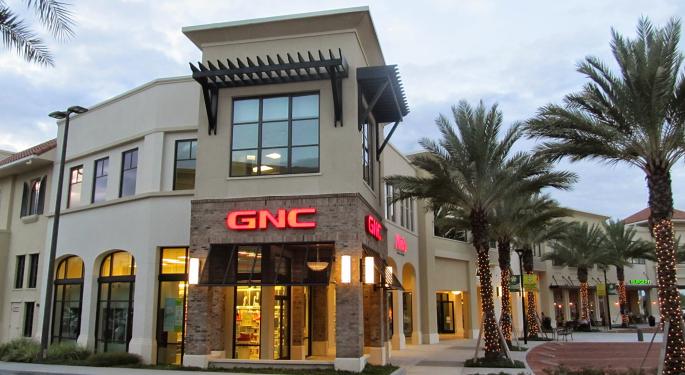 On the surface, a fourth consecutive quarter of negative revenue growth and double-digit negative earnings growth may not seem like much to get excited about. However, when expectations are low enough, even that kind of performance can drive a major bullish move in a stock.
On Thursday, GNC Holdings Inc (NYSE: GNC) shares traded higher by more than 11 percent after the company reported Q2 EPS of $0.41 on revenue of $640.9 million. While EPS was down 48 percent from a year ago and revenue was down 5 percent, the numbers topped extremely low market expectations and may have triggered a short squeeze in the stock.
According to shortsqueeze.com, GNC currently has a short percent of float of 40.9 percent. There are currently more than 27 million shares of GNC held short with 13.2 days to cover.
Related Link: GNC Shorts Get Squeezed
GNC has been a profitable trade for short sellers in the past year, and they have certainly piled into the stock. Even after Thursday's move, GNC shares are down 63.0 percent in the past year, while short interest has exploded 460 percent.
Thursday's big jump isn't the first time GNC shorts have gotten squeezed in 2017. Back in April, GNC stock jumped 17 percent after a similar earnings beat.
With GNC's share price now back over $10.30, insider purchases by CEO Robert Moran and chairman of the board Michael Hines back in February are looking very well-timed. Together, the two executives bought a total of more than 650,000 shares at prices ranging between $8.00 and $8.49 per share.
Despite the stock's big move off of its April lows, the stock remains heavily shorted. If a number of those short sellers decide to throw in the towel after the second consecutive earnings beat, GNC could have significant upside in the days ahead.
At last check, shares of GNC were up 10.57 percent at $10.36.
________
Image Credit: By Miosotis jade (Own work) [CC BY-SA 4.0 (http://creativecommons.org/licenses/by-sa/4.0)], via Wikimedia Commons
Posted-In: Short SqueezeEarnings News Movers Trading Ideas Best of Benzinga
View Comments and Join the Discussion!