TD Ameritrade Has Already Surpassed Its Best Year Ever In Terms Of Client Assets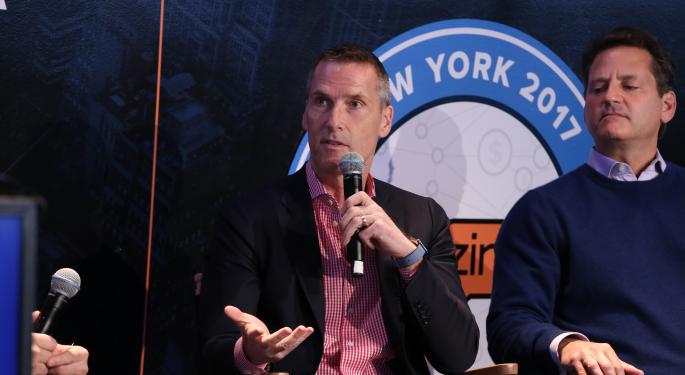 Shares of TD Ameritrade Holding Corp. (NASDAQ: AMTD) are at their highest levels of the year after reporting a strong third quarter on Tuesday. At around $46 per share, the stock is trading at its highest level since February. The stock hasn't been this high since April of 1999.
The brokerage firm reported earnings of 44 cents per share and revenue of $931 million for the quarter, both of which exceeded Wall Street's estimate. But the real story, according to CEO Tim Hockey, is new client assets.
Growth In Client Assets And Trading
The June quarter saw the addition of $22 billion in new client assets, a 62 percent year-over-year increase and a company record. In an interview with Benzinga, Hockey noted that 2017 is already their best ever in that regard.
"As of today we think we've crossed over the entire level of asset accumulation in our record year, which was 2015," Hockey said. "Our institutional business is really strong...and it's also because the RIA channel is the fastest growing channel out there."
On top of that, TDA averaged 510,000 client trades per day in the quarter, up 10 percent year-over-year despite the fact that the VIX remains at all-time lows.
"The head scratcher is the VIX is very low," Hockey said. "The level of volatility is a standard deviation or two away from the decade norms. It goes to show if you ever get volatility returning to the mean, you could get a pretty significant reading level."
Don't Expect Brokerage Price Wars To Continue
Hockey feels TDA is very well-positioned compared to its peers in the brokerage space. He said the acquisition of Scottrade, which was expected to close by the end of September, could be "anytime now."
As far as the broker price wars that briefly consumed TDA, Charles Schwab Corp (NYSE: SCHW) and E*TRADE Financial Corp (NASDAQ: ETFC) in late-February and early March, Hockey believes that's leveled out. In the first full quarter after TDA cut its trading commission fee from $9.99 to $6.95 per trade, the company only lost a penny in earnings per share year-over-year.
"There's three reasons for a price cut: if you believed you'd take share away from existing competitors...if you believe the pie itself got bigger...and if you feel like you can strategically impale a competitor. The short answer is none of those three things happened. So I think the industry in hindsight looked at it and said 'Ok, enough of that for now.'"
Hockey also believes rising interest rates will offset the losses incurred by the lowered commission fees.
"This time next year it's likely that commissions as percentage of revenue will be in the 25 percent range, where a few years ago it was 40 percent," he said.
Pictured: Tim Hockey at the 2017 Benzinga Global Fintech Awards.
View Comments and Join the Discussion!
Posted-In: Brokerages TD Ameritrade TDAEarnings News Management Top Stories Interview Best of Benzinga