Yellen Steps Up to Plate, as Investors Eye Her Testimony For Hints On Balance Sheet
The stock market's official open is at 9:30 a.m. ET, but arguably the real opening today isn't until 10 a.m.
That's when Fed Chair Janet Yellen is scheduled to begin delivering her semi-annual testimony on monetary policy to the House Financial Services Committee, and even before she started, headlines from her prepared remarks started to hit the newswires. There's more tomorrow when she heads to the Senate Banking Committee, again at 10 a.m. Investors might want to stay close to their screens to hear what Yellen has to say about inflation, the Fed's plans for winding down its balance sheet, and rate policy, among other topics. The balance sheet, in particular, could stand out as the topic du jour.
Key data to watch today include weekly U.S. crude oil inventories and the Fed's Beige Book for July. The Beige Book is never a huge event, but it is interesting to see how different regions are performing.
More data are in the cards Thursday with the June producer price index (PPI). Consensus among Wall Street analysts is for a 0.1% decline in the headline PPI and a 0.2% rise in core PPI, which strips out energy and food, Briefing.com said. The index was unchanged in May, but core PPI rose 0.3%. Cheap energy prices continue to weigh on the headline number, so watch the core data for a better sense of prices unaffected by energy's ups and downs. Consumer price index (CPI) data follow on Friday.
Crude bounced Tuesday after falling below $44 a barrel early in the day, and now it's sniffing at $46. Signs of falling U.S. supplies, along with a U.S. Energy Information Administration (EIA) forecast that pulled back on potential U.S. production both gave the market a boost. Oil's slight comeback appeared to help European stocks, which are up Wednesday and being led by energy names.
Another topic for today and this week is the consumer. Amazon.com, Inc. (NASDAQ: AMZN) "Prime Day" appeared to set new records, and that plays into something we've talked about over and over in this column. The consumer is out there, and companies just have to find them. Amazon Prime Day makes that point again. It's all about how you appeal to the consumer. Later this week, on Friday, June retail sales data could shed more light on consumer health.
Just looking at Tuesday's final stock market numbers, one might think it was a typical summer day, without much movement. As anyone who followed the action knows, however, that would be incorrect. The Dow Jones Industrial Average ($DJI) took a 100-point tumble around midday after earlier 100-point gains amid more political controversy in Washington, D.C. The market digested the news and quickly recovered, but it serves as a reminder that Washington remains in the mix and could continue to keep investors on their toes in the coming weeks.
As stocks skidded on the Washington news, bonds found some buyers and 10-year yields fell below 2.36%. The 2.4% mark looks like it remains a psychological resistance area and hasn't been hit since early May. Keep an eye on bond yields as Yellen speaks to see if there's a reaction.
Aside from the momentary excitement, Tuesday really did have a summer doldrums kind of atmosphere, with trading a little cautious ahead of today's congressional testimony from Yellen and bank earnings coming up Friday. The technology sector built on Monday's gains and now has outperformed the S&P 500 Index (SPX) over the last five days. That's quite a switch from the sector's underperformance vs. the SPX over the last month. Financials and telecom both pulled back, but most sectors danced around the unchanged mark when all was said and done.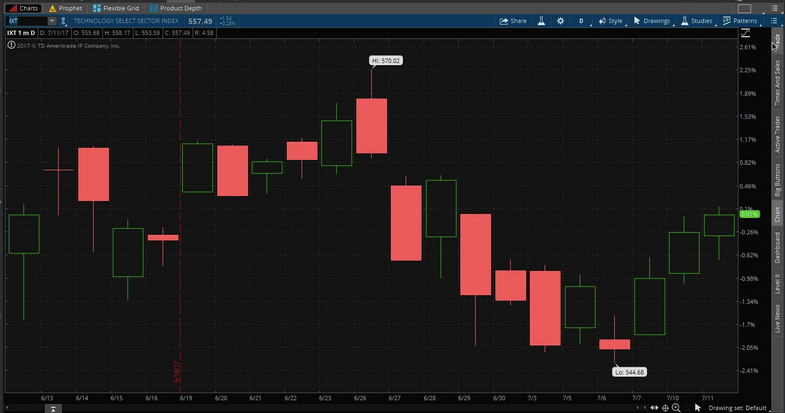 FIGURE 1: TICK TECH. The info tech sector, plotted through Tuesday on the thinkorswim® platform from TD Ameritrade, was the second-best performing sector of the day behind energy, posting gains for the third-straight session and bouncing off of last week's nearly two-month low. Tech is now up nearly 3% over the last five days. Source: Standard & Poor's. For illustrative purposes only. Past performance does not guarantee future results.
Mum Still the Word?
It wouldn't be too surprising if Yellen fields questions from Congress today about her own plans. Her term as chair expires at the end of January, but the question is whether she'd stay on as governor if President Trump chooses someone else to lead the Fed. It wouldn't be the first time this has come up recently, but so far Yellen hasn't telegraphed her plans, and it's doubtful she will this time. Yellen and Trump have had their dust-ups over the years, so there's talk that someone else might be named Fed Chair when Yellen's term ends. There've even been some rumors about who might replace her, though nothing is for certain. It's way too early to say what all this might mean for the markets going forward, but it could be a bigger story as 2018 approaches.
Pick Up The Phone
With bank earnings the marquee event starting later this week, the question is whether the sector can once again deliver a robust quarter after signs of lighter trading at times over the last few months. Low interest rates through much of Q2 might also have provided a headwind. On the plus side, the economy appears to have grown a little more quickly in Q2 after a tepid Q1, so that might have given banks a boost. Three major banks open their books Friday morning, with a number of other biggies next week. As always, it's important to listen closely to what bank CEOs say on those earnings calls, especially as they discuss the current economic environment and look ahead to the Q3 and Q4. These are things you might not get from just looking at the headlines.
Back Where We Started
The S&P 500 Index (SPX) has stalled a bit lately, and recently traded right back where it was in early June, Briefing.com pointed out. Action has been fickle, with stocks up one day and down the next. It's also notable that while the SPX is pretty flat over the last month, the Dow Jones Industrial Average ($DJI) is up slightly. These two indices normally trade in sync, but strength in the financial sector, which is heavily weighed in the DJIA, might be contributing to the DJIA's rise in recent weeks. Perhaps earnings season could provide the markets more direction in the days to come.
Posted-In: JJ KinahanEarnings News Commodities Econ #s Federal Reserve Markets Tech
View Comments and Join the Discussion!