A Preview Of An Important Upcoming Event: The William Blair Growth Stock Conference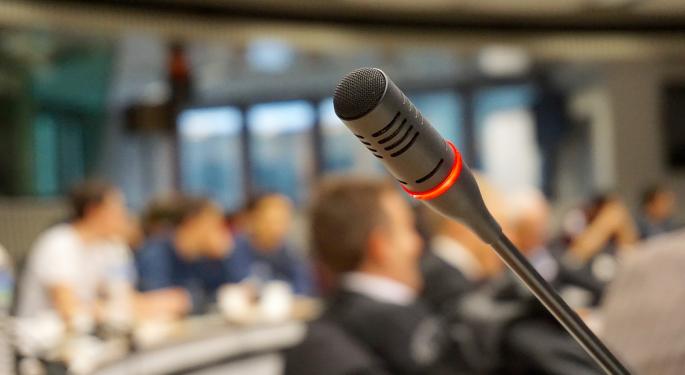 William Blair will hold its 37th Annual Growth Stock Conference next week from June 13 through June 15. The goal of the conference is "to present a variety of interesting investment ideas from [William Blair's] research universe," as described on the firm's website.
Managers from hundreds of companies will hold formal presentations, followed by breakout sessions.
The firm published an overview of what investors should look for from some of the companies it believes will be actionable following the conference.
Acacia Communications, Inc. (NASDAQ: ACIA)
Acacia will continue to see strong demand in metro, long-haul and subsea markets globally. It also has a positive setup for the second half of 2017 and beyond, thanks to the progression of its China broadband network buildout and new customers.
AlarmCom Hldg Inc (NASDAQ: ALRM)
Management is expected to comment on the acquisition of Connect from Icontrol and opportunities in international and other channels. Investors will also be concerned over increased competition from do-it-yourself security systems.
Alteryx Inc (NYSE: AYX)
Investors will be watchful for signs of increased competition from data visualization vendors, which could pose a meaningful threat to the company. They will also look out for changes in the demand drivers powering pipeline development in the second quarter.
Blackline Inc (NASDAQ: BL)
William Blair believes the company's growing partner ecosystem is an important, underappreciated part of its overall growth strategy. Investors should watch for commentary on changes in momentum or sales contributions from the company's newer Intercompany Hub product.
Callidus Software Inc. (NASDAQ: CALD)
The company will likely address traction with its SAP SE (ADR) (NYSE: SAP) and salesforce.com, inc. (NYSE: CRM) partnerships. The company will likely benefit from Vista Equity Partners' acquisition of competitor Xactly Corp (NYSE: XTLY).
Cavium Inc (NASDAQ: CAVM)
William Blair believes the next two years will be important for the company's new product ramps, given its ambitious expansion into the infrastructure market. Another focus will be the integration of recently acquired QLogic Corporation (NASDAQ: QLGC).
CommVault Systems, Inc. (NASDAQ: CVLT)
William Blair's VAR checks show that the data protection market is healthy, sales are trending upward and the company's technology is still top of the line. Of interest will be the reasoning behind management's raised first quarter and fiscal 2018 revenue outlook.
Dolby Laboratories, Inc. (NYSE: DLB)
The company's new products, including Dolby Vision, could return Dolby to double-digit growth. Investors will also be excited about the company's deal with Apple Inc. (NASDAQ: AAPL), which brings Dolby Audio into iPhones.
Gogo Inc (NASDAQ: GOGO)
Investors should look for developments in the company's deal with Alaska Air Group, Inc. (NYSE: ALK) and Airbus, and reassurance that competitor SmartSky will not be able to overcome Gogo.
Secureworks Corp (NASDAQ: SCWX)
The company's revamped sales model and new leadership should address execution challenges and boost revenue. The company may also discuss benefits from increasing cyberattack prevalence and the shortage of cybersecurity talent.
Other Presentations Worth Noting
William Blair has also expressed keen interest in the following companies:
Atlassian Corporation PLC (NASDAQ: TEAM)
Boingo Wireless Inc (NASDAQ: WIFI)
EPAM Systems Inc (NYSE: EPAM)
GTT Communications Inc (NYSE: GTT)
HubSpot Inc (NYSE: HUBS)
Paylocity Holding Corp (NASDAQ: PCTY)
Salesforce.com
Shutterstock Inc (NYSE: SSTK)
Talend SA ADR (NASDAQ: TLND)
Trimble Inc (NASDAQ: TRMB)
Veeva Systems Inc (NYSE: VEEV)
Vonage Holdings Corp. (NYSE: VG)
Viavi Solutions Inc (NASDAQ: VIAV)
VMware, Inc. (NYSE: VMW)
Workday Inc (NYSE: WDAY)
Zendesk Inc (NYSE: ZEN)
Related Links:
William Blair Coughs Up $4.5 Million In SEC Settlement
William Blair Updates Shareholders On Top SaaS Names Ahead Of Earnings Season
View Comments and Join the Discussion!
Posted-In: Connect IcontrolEarnings News Guidance Previews Tech Trading Ideas Best of Benzinga