Airline Earnings Take Off With Delta's In-Line Report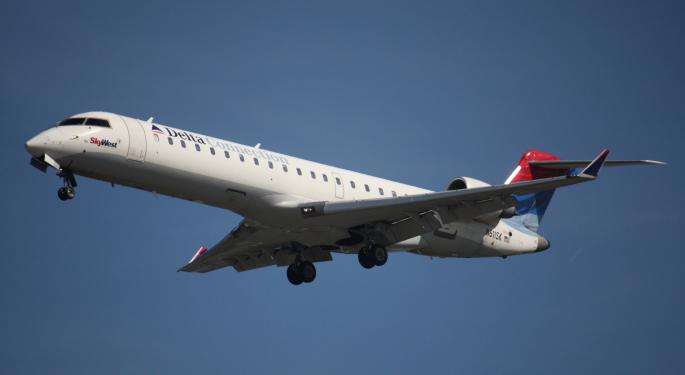 Airline earnings season is upon us, and going by Delta Air Lines, Inc. (NYSE: DAL)'s results, the carriers may have had a smooth landing in 2016 despite the many challenges. Relief came in the form of lower fuel costs, which accounted for roughly 15 percent of the total operating expenses for Delta. However, wages were a dampener. Delta expressed optimism that it is on track to improve upon this metric in the second half of 2017.
Expectations ahead of the results were optimistic, as analyst painted a bright demand picture on the back of higher demand for business and leisure travel amid the holiday travel.
Delta announced before the market open on Thursday in-line fourth-quarter earnings and revenues.
Key Metrics Meet Estimates
The airline reported fourth quarter adjusted earnings of $604 million, or $0.82 per share. This compares to adjusted earnings of $1.53 billion, or $1.18 per share, in the year-ago quarter.
Net income for the fourth quarter of 2016 totaled $622 million, or $0.84 per share, lower than $980 million, or $1.25 per share, in the year-ago period.
On an adjusted basis, pre-tax net income fell to $923 million from $1.45 billion last year.
Operating revenue edged down to $9.46 billion from $9.5 billion in the year-ago quarter, with mainline revenues accounting for roughly 70 percent; regional carriers contributed to roughly 15 percent, and cargo and others accounting for the remaining.
Expenses Rise, Squeezing Margins
Operating expenses rose roughly 8.4 percent to $8.44 billion, with operating margin slipping to 10.8 percent from 18 percent. The increase in operating expenses reflected higher salaries and related costs, while fuel expenses fell notably.
Average fuel price per gallon, on an adjusted basis, came in at $1.60 versus $1.85 a year earlier.
Total passenger unit revenues fell 2.7 percent, while capacity increased 0.9 percent.
The company also managed to trim its debt load as the metric on an adjusted basis fell to $6.14 billion from $6.7 billion last year. Adjusted operating cash flow was at $1.21 billion, lower than $1.4 billion in the fourth quarter of 2015.
Guidance, Margins Near-Term Worry
For the first quarter, Delta guided operating margin to 11–13 percent and passenger unit revenue growth to 0–2 percent year-over-year. The company expects fuel price, including taxes and refinery impact, of $1.68 to $1.73. Capacity is expected to remain flat or decline 1 percent.
The company said it expects pressure on margins in the March quarter, as the rate of increase in unit revenue will not be concomitant with the impact of higher fuel prices and employee wage increases. However, after peaking in the second quarter, the company expects margins to expand in the second half of the year.
"Delta had a year of record-breaking performance in 2016 — financially, operationally and for our customers — and it's an honor to recognize our employees' efforts this year with over $1 billion in profit sharing," said Ed Bastian, Delta's chief executive officer. "As we move into 2017, we are seeing our unit revenues turn positive which should return the company to margin expansion by the back half of the year. This will allow us to produce the solid returns and cash flows that investors rely upon from Delta."
Other Airline Earnings On Tap: EPS/Revenue Estimates, Earnings Date
Posted-In: Earnings News Guidance Previews Travel Movers Trading Ideas General Best of Benzinga
View Comments and Join the Discussion!