Bank of Japan Raises Economic Views, Giving Markets An Early Lift
The holidays may be almost upon us, but that doesn't necessarily mean things get boring.
The Bank of Japan (BOJ) decided to hold interest rates steady early Tuesday, and upped its views on the economy for the first time in a while. The BOJ raised its estimate for economic growth to 1.5% from an estimated 1.3%, media reports said. Additionally, market participants seemed to shake off several unfortunate events that occurred around the world Monday, and a number of companies report earnings both before and after today's session.
The news out of Japan helped Asian markets, and that appeared to carry over to European markets and U.S. futures. The European economy also shows signs of new life, with construction output up 0.8% in October, wages growing by 1.6% in Q3, and a German measurement of business activity on the rise, data showed Monday. Still, the dollar continued to rally against the euro early Tuesday, remaining near 14- year highs.
Early strength in the dollar and yen might reflect some safety trading after the assassination Monday of Russia's ambassador to Turkey and a truck attack on pedestrians in Germany. In general, however, stock market momentum seems higher early on, and sometimes, barring any major new developments during the day, that early momentum can carry the market.
There isn't a whole lot of other economic news, but earnings from General Mills, Inc. (NYSE: GIS), BlackBerry Ltd (NASDAQ: BBRY), Darden Restaurants, Inc. (NYSE: DRI) all appeared before the bell, with GIS missing expectations. After the close come earnings from FedEx Corporation (NYSE: FDX) and Nike Inc (NYSE: NKE).
There's a bit of debate among analysts about NKE's possible performance, with different reports coming out over the past few days offering both positive and negative projections. It may be helpful for investors to pay attention to NKE's international sales, which could serve as a good barometer of whether the strong dollar may be beginning to weigh on overseas demand. FDX is another one worth watching, because it can often be a good derivative of consumer demand.
Back home, the Fed stayed in the news early this week. Speaking Monday, Fed Chair Janet Yellen continued her upbeat tone about the economy, saying the job market is the strongest in a decade, according to media reports. That follows comments she made after last week's Fed meeting expressing confidence in U.S. economic performance, as well as the Fed's new stated goal of three rate hikes next year. And over the weekend, another Fed speaker, Richmond Fed President Jeffrey Lacker, said the Fed will likely need to raise rates more than three times next year.
With trading expected to be in a holiday mode this week and next, this could be a good time for investors to review portfolios and make sure they're appropriately positioned. Quiet periods in the market often lend themselves to this sort of review.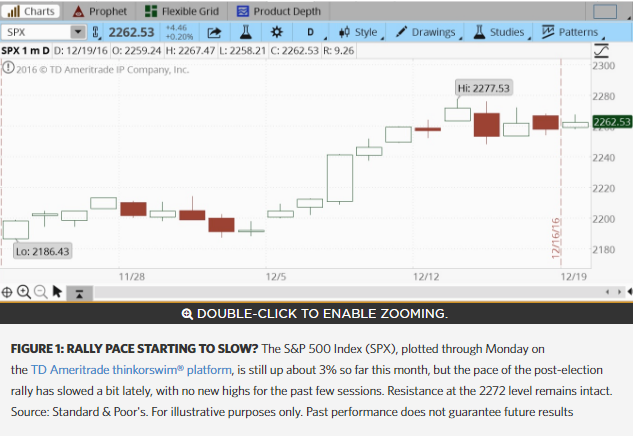 Watching 2.5% in the 10-Year: Where will 10-year U.S. Treasury yields wind up by Dec. 31? From a technical stance, the finish line could have some importance. The number to look for is 2.5%, a mark the yield is already above. The question is whether it could hold those gains over the next two weeks to close out 2016 at that level or higher. What's interesting is that the 10-year yield fell below last year's low earlier this year when it dropped to around 1.3%, and now is above last year's 2.5% high. That sort of performance is often seen as a bullish technical signal, one analyst told CNBC on Monday, and ability to hold 2.5% through year-end could point the way toward a test of the next psychological resistance level of 3%.
Existing Home Sales Coming Up Next: Last week saw somewhat disappointing housing starts data, but the housing market gets a second chance to impress ahead of the holidays Wednesday morning with the release of November existing home sales. Wall Street analysts' consensus expectation is for sales of 5.5 million homes on a seasonally-adjusted basis, according to Briefing.com, down a tad from 5.6 million in October. One metric to watch is the percentage of homes purchased by first-time buyers, which stood at 33% in October, up from 31% a year earlier. When more first-time buyers are in the mix, it's often a hopeful sign for continued strength in the housing market, as that increases the capability of existing homeowners to move up to higher-priced homes and/or to relocate geographically if desired.
Volatility Taking a Holiday Break? Anyone looking for exciting market moves may be trading in the wrong week, at least if the VIX is any indication. Volatility, as measured by VIX, fell back below 12 on Monday, down from last week's peak above 13. While past isn't necessarily prologue, it's interesting to note that VIX roared back from December lows each of the last two Januarys. Right now, though, it doesn't seem like the market's reacting much to outside events that often might inject some volatility, such as the weekend's battle of words between China and the U.S. over a captured drone, the Monday shooting of the Russian ambassador to Turkey, and what appeared to be a terror attack in Berlin.
Posted-In: Earnings News Previews Treasuries Global Economics Markets Trading Ideas
View Comments and Join the Discussion!