Surprise Post-Election Rally Continues On Hope For Improved Economic Growth
The incredible post-election rally that began yesterday and continues today is the opposite of what most investors expected, and there are two reasons for it: First, there's optimism about the overall economy. Second, bond yields are increasing. Why are yields increasing? Go back to reason number one.
Some economists adjusted growth estimates significantly higher after Donald Trump's victory based on hopes for deregulation and tax cuts as the country comes back under Republican control. There's talk that parts of the Dodd-Frank financial reforms could be repealed, perhaps opening the door for financial stocks to do really well.
Trump's promises to spend more money on infrastructure and cut taxes appear to have convinced bond investors that stronger economic growth and possibly more inflation may be coming. Those expectations helped lift benchmark 10-year Treasury yields to their highest levels since mid-January at 2.1% early Thursday.
Inflation and growth expectations carried over to Fed funds futures trading, where odds of a December rate hike climbed to 85% early Thursday, the highest odds for December seen yet. Rate hike expectations initially fell a bit after Trump's victory, but pretty quickly turned higher.
It's a big earnings week for department stores, and Kohl's Corporation (NYSE: KSS) kicked things off by surpassing analyst's consensus for profit and sales. The story was different over at Macy's Inc (NYSE: M), which missed Wall Street's consensus estimates. Earnings per share came in at 17 cents, way below the 41-cent consensus. Shares of M rose in pre-market trading despite the miss, as the company raised its sales outlook.
Oil prices slumped early Thursday, falling back below $45 a barrel after the International Energy Agency announced that OPEC output increased by 230,000 barrels a day last month. The correlation between equities and crude oil seems to have ticked a little higher.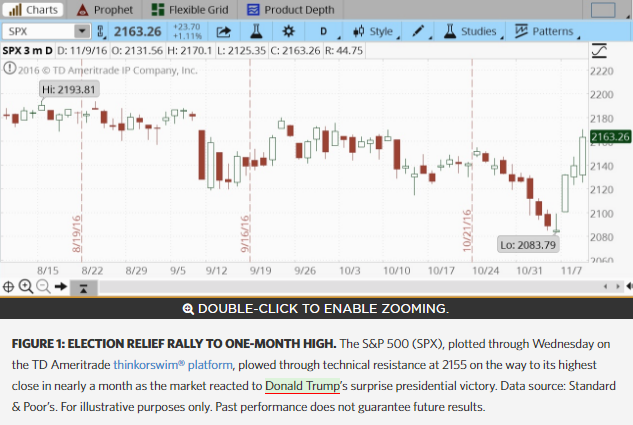 Did Stock Market Predict Trump Win? Anyone who believes the stock market can forecast political events now has something else to hang the proverbial hat on. There is a definite long-term pattern in the S&P 500 Index's (SPX) performance during presidential election years and who gets elected. When August-through-October stock market performance slumps during an election year, a new party tends to win the White House that November. That again held true this year, as it has every election starting in 1984. For reference, the SPX closed at 2173 on July 29, the last trading day that month, and at 2126 on Oct. 31. It was a very slight fall, but a fall nonetheless. Though past performance doesn't necessarily lead to future reality, maybe it's something to keep in mind looking ahead to 2020, for those who believe in such things.
Sectors To Watch in a Trump Economy: There's an assumption that the banks, the major oil companies, the biotech and major pharmaceutical companies, and companies with large cash holdings overseas (which includes many mega-cap technology companies) could fare well under a Trump administration, Briefing.com said. Other groups, like the managed care and hospital management companies, may not do so well based on the assumption that the GOP will move to repeal the Affordable Care Act. And export oriented companies could get pinched by worries about potential protectionist trade policies. Emerging market stocks may be another area to watch for possible weakness based on Trump's calls for a review of current trade agreements. The Mexican peso was among the hardest hit currencies after Trump won.
Wednesday's Huge Market Reversal: After falling more than 800 points late Tuesday, the Dow Jones Industrial Average (DJIA) soared by 300 at one point Wednesday, one of the sharpest reversals many have seen. Strength in the financial and health care sectors helped drive the rally, based on investor expectations of possible friendly Republican policies that might benefit those sectors' companies.
The preceding article is from one of our external contributors. It does not represent the opinion of Benzinga and has not been edited.
Posted-In: Earnings News Events Global Econ #s Economics Markets Reviews
View Comments and Join the Discussion!