TASER Dominated Body Cam Rival Digital Ally In Q3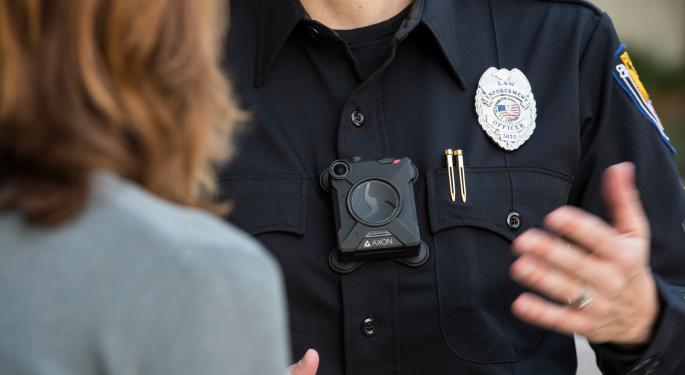 TASER International, Inc. (NASDAQ: TASR) was the clear Q3 winner in a head-to-head battle with body camera rival Digital Ally, Inc. (NASDAQ: DGLY) on Wednesday evening. Both stocks reported Q3 earnings, and TASER put its rival to shame.
Digital Ally reported EPS of -$0.50 on revenue of $4.3 million, both well short of consensus Wall Street estimates of -$0.23 and $6.0 million, respectively.
TASER, on the other hand, reported EPS of $0.07 on revenue of $71.9 million, both convincingly beating analyst estimates of $0.05 and $59.1 million, respectively.
Even without knowing the numbers, the market is telling the story on Thursday. Digital Ally shares are down 2.0 percent in early trading, while TASER shares are soaring 15.9 percent.
The companies provide body cameras and storage products to law enforcement, military, corrections officers and private security personnel.
The battle between the two companies extends beyond friendly competition. Digital Ally has sued TASER over allegations that the latter has infringed upon its design patent for Axon body cameras. In addition, the lawsuit accuses TASER of bribing government officials for contracts.
"TASER has been very successful in defending litigation and we have prevailed in all previous patent lawsuits with competitors," TASER said in a statement. "We believe we will prevail in this litigation as well."
TASER certainly prevailed in Q3 and has dominated Digital Ally in 2016. TASER stock is now up 55.5 percent this year, while Digital Ally is down 21.7 percent. At last check Thursday mid-morning, TASER was up 11.62 percent on the day.
Posted-In: Body CamEarnings News Movers Tech Best of Benzinga
View Comments and Join the Discussion!