Trader's Guide To Volatility: Automakers Vs. Auto Suppliers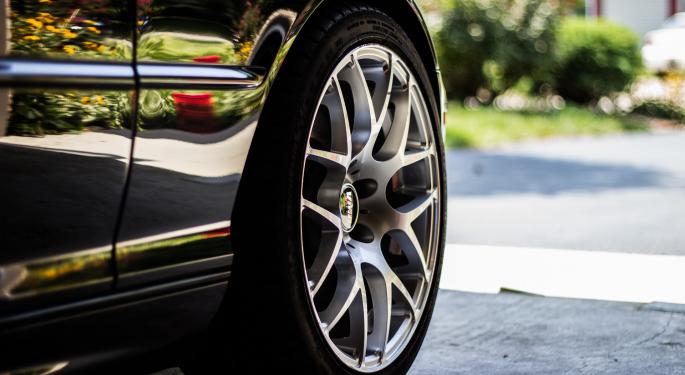 Volatility is the name of the investment game, and all investments have some degree of volatility built into them, with only the degree varying. A look into how stocks of automakers fared relative to auto parts suppliers in the sessions following the release of their quarterly results reveals greater volatility for auto parts suppliers.
Automakers In Focus: GM, Ford And Fiat
Automakers were mostly in the fast lane in the third quarter, posting forecast-beating results. And auto parts suppliers weren't laggards either, with most posting strong results and issuing upbeat outlook, as the U.S. economy savors a vibrant consumer spending environment and easy credit market conditions.
Among the Big Three, General Motors Company (NYSE: GM) reported on October 25 third-quarter earnings of $1.72 per share on revenues of $42.8 billion, both metrics ahead of estimates.
Notwithstanding the stellar results, the stock ticked down 4.4 percent and has yet to reclaim its post-earnings level since. The stock was down by the same percentage levels in the five sessions following its earnings, thus making a loss of 4.4 percent over the five sessions.
Ford Motor Company (NYSE: F) followed up with double beats, with third-quarter adjusted earnings per share and revenues coming in at $0.26 and $35.91 billion, ahead of the consensus of $0.20 and $33.15 billion. Nevertheless, the company's earnings fell year-over-year.
On October 27, the day the company reported results, Ford saw a decline of 1.2 percent and fell a little over 4 percent over the five sessions after the results.
Fiat Chrysler Automobiles NV (NYSE: FCAU), which completes the Big Three, ringed in earnings per share of $0.47, ahead of the $0.39 consensus. Strong sales of high-margin Jeep and Ram brands boosted results. The company reported its quarterly results on October 25.
The stock, in fact, rose 6.3 percent on the day of the earnings release and has notched up roughly 12 percent gains over the five sessions post-the results.
Automakers: One Other
Japanese auto giant Toyota Motor Corp (ADR) (NYSE: TM), which reported its fiscal first-quarter 2017 results on August 4, also reported above-consensus results.
Toyota rose a little over 2 percent on August 4 and over the week (five trading sessions) following the results, it gained 6.25 percent.
Auto Suppliers
American Axle & Manufact. Holdings, Inc. (NYSE: AXL) reported Thursday, November 3, better-than-expected third-quarter bottom-line results, but revenues were shy of estimates. The company also announced a deal to buy Metaldyne Performance Group for $13.50 per share.
The stock is down 17.86 percent since.
Delphi Automotive PLC (NYSE: DLPH) reported Wednesday, November 2, above-consensus adjusted earnings per share and revenues.
Delphi shares rose 1.3 percent on the day of the release but declined steadily Thursday, making modest improvements throughout Friday's trading.
Lear Corporation (NYSE: LEA) reported better-than-expected third-quarter results on October 26, and it also raised its guidance.
The stock jumped 5.7 percent on the day and was up a steeper 7.7 percent over five sessions following the earnings.
On October 27, BorgWarner Inc. (NYSE: BWA) reported above-consensus third-quarter results.
The stock just edged up 0.1 percent on the day, but lost roughly 1.8 percent over the five sessions.
At Friday's Close
American Axle was down 0.22 percent at $13.65.
BorgWarner closed down 0.41 percent at $34.09.
Delphi was up 0.63 percent at $66.76.
Fiat Chrysler was down 0.59 percent at $6.75.
Ford was slightly off Friday's open, down 0.09 percent at $11.34.
General Motors was up 0.29 percent at $31.16.
Lear was up 0.31 percent at $120.43.
Toyota was down 2.31 percent at $110.56.
View Comments and Join the Discussion!
Posted-In: Earnings News Education Technicals Travel Movers Trading Ideas General Best of Benzinga