Is It 2014 Again? European Bank Concerns Back In The Forefront As Month Ends
The sky isn't falling, though Thursday's market plunge amid concerns about Deutsche Bank AG (NYSE: DB) might have made it seem that way at times.
The DB situation brought back memories of where things were about 24 months ago, when European bank concerns kept jumping from country to country. First it was Greece, then Italy, then France, and now Germany. However, DB's balance sheet appears to be solid, and investors may end up taking a wait-and-see attitude as the situation continues to develop. What this may represent is a tough political conundrum for the German government, which, if things continue to spiral, would possibly have to decide whether to bail out the bank.
Financials, along with health care, led the march downward on Thursday. Financial stocks on the SPX fell nearly 1.5%, pinned down by DB and Wells Fargo & Co (NYSE: WFC). The immediate source of pressure on DB came from news that a number of hedge funds had limited their exposure to the bank, while WFC's CEO had another day in front of Congress on Thursday, testifying about the recent scandal involving the creation of unauthorized banking accounts.
The banking issue helped put a charge into the bond market, which was already rallying even before Thursday. What appears to be a renewed flight to safety helped send 10-year Treasury yields to one-month lows below 1.55% early Friday.
After taking a hammering Thursday, can the stock market recover on the last day of the quarter?
That remains to be seen, but one thing is certain: For the S&P 500 Index (SPX) to post a positive September would take a big about-face Friday, as the SPX fell Thursday to nearly 20 points below its Aug. 31 close of 2170. To claw back to that level in one day seems a herculean task.
On the other hand, a positive Q3 is almost assured, barring a calamitous sell-off, as the SPX finished the Q2 at around the 2050 level, about 100 points below where it now stands.
Amid all the selling Thursday, volatility made something of a comeback, with the VIX index rising to above 14 by early Friday from 12.5 just 24 hours before. At one point Thursday, VIX rose 25%, though it didn't hold all those gains. The VIX had been pretty subdued early this week, but concerns about the banking sector seemed to awaken investors to the possibility of choppy trading ahead. And Thursday's action served as a reminder that when volatility is as low as it's been lately, any kind of event can get things going.
Overseas Friday, China reported its September Caixin manufacturing PMI at 50.1, about as expected. Any number over 50 indicates growth. Markets in China are closed until Oct. 10 for a holiday. Most European and Asian stock markets fell earlier Friday.
Costco Wholesale Corporation (NASDAQ: COST), which many investors watch closely for what its results potentially say about consumer activity, reported better than expected fiscal Q4 earnings late Thursday but missed analysts' revenue expectations.
On the data front, August personal income and personal spending numbers, as well as core personal consumption expenditures (PCE) data, all of which are metrics the Fed says it watches for signs of inflation, came out early Friday. Personal income was up 0.2%, personal spending was flat, and core PCE was at 0.2%. Wall Street analysts' consensus had been for all three to climb 0.2%, according to Briefing.com, so no major surprises here. Chicago PMI is also due a little later, and the consensus Wall Street estimate is for a reading of 52.0, compared with 51.5 the previous month. Any reading above 50 is a sign of growth.
Psychological support for the SPX is at about 2150, but a more important number to watch is 2138 on the downside. Resistance is still up at 2177. And remember, the last day of the quarter sometimes brings additional volatility due to last-minute sector rotation by fund managers, so investors may want to get ready for what could be a bumpy ride.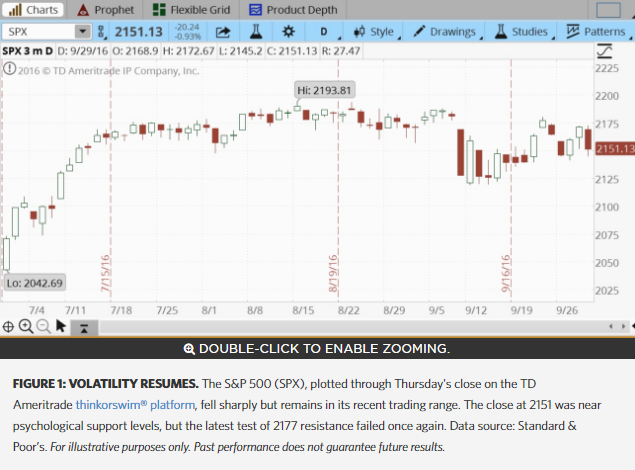 Could OPEC Agreement Turn on U.S. Oil Taps? Well, the gloves are off. OPEC has taken on the challenge of trying to cut oil production, something it hasn't done since 2008. Assuming the group can actually come to a final agreement, never a given, this potentially sets up a battle between OPEC and U.S. oil producers. During the last year, U.S. producers took a huge amount of production off line as oil prices sagged, but seem to stand ready to add rigs back if prices climb much higher. U.S. rig counts remain well under year-ago levels, but have increased steadily the last few weeks, rising by five to 511 last week, according to Baker Hughes. That's down 39% from a year ago but well above lows near 400 earlier this year. The updated count is due later Friday. Many questions remain about the volatile oil market, which closed near one-month highs Thursday: Can OPEC finalize a deal? Can it stick to production goals? Will that make prices rise? Will higher prices encourage more U.S. drilling? Stay tuned, as this could all play out over the next few months.
Q4 Often Strong for Stocks: The stock market has a good historic track record in Q4, according to S&P Global, with the S&P 500 Index (SPX) posting an average gain of nearly 4% in Q4 since 1945 and rising in 70% of those years. This year could test that, however, with more than a month left in a turbulent U.S. election cycle and the growing possibility, according to the futures market, of a December Fed rate hike. Add that to the fact that Q3 earnings are widely expected by analysts to post another negative reading and that stocks remain relatively high priced, and the recipe is potentially there for a challenge to that long-term Q4 trend.
Are there reasons for optimism entering the new quarter? Sure. The expected number of Fed rate hikes this year and next has come down, analysts said, and earnings over the last few quarters have tended to come in better than expected, so we'll see if that trend continues. Also, the stock market has been remarkably resilient this year, perhaps in part because with interest rates so low, stocks seem to continue drawing investors who seek yield. Yield on the 10-year U.S. Treasury note, which climbed to nearly 1.75% before the recent Fed meeting, has fallen back below 1.6%, which remains well under the yield of the SPX.
Rough Day For New Kid on the Block: The real estate sector, which had been off to a rip-roaring start since joining the S&P 500 as the newest official sector earlier this month, ran into some trouble on Thursday. Though pretty much the entire stock market took a beating, the real estate sector did worse than the SPX as a whole, falling nearly 1.3% on the day. It's hard to pinpoint exactly why any one sector performed worse than others on a day when all sectors fell, but some of the pressure on real estate came from a much worse than expected August pending home sales number reported Thursday morning by the U.S. government. Pending home sales fell 2.4% in August, well below the Briefing.com consensus for a 1% rise. It was the third time in the last four months in which pending sales have dropped, and analysts blamed higher home prices and dwindling supplies. That followed news earlier this month that existing home sales have fallen two months in a row.
And things could get even worse, the National Association of Realtors warned in a press release Thursday, saying, "There will be an expected seasonal decline in new listings in coming months, which could accelerate price appreciation and make finding an affordable home even more of a struggle for would-be buyers."
The next major data point to watch for those trading the real estate sector is next week's monthly jobs report, which could provide clues about how well equipped people might be to purchase a home.
TD Ameritrade and all third parties mentioned are separate and unaffiliated companies, and are not responsible for each other's policies or services.
Inclusion of specific security names in this commentary does not constitute a recommendation from TD Ameritrade to buy, sell, or hold.
Market volatility, volume, and system availability may delay account access and trade executions.
Past performance of a security or strategy does not guarantee future results or success.
Options are not suitable for all investors as the special risks inherent to options trading may expose investors to potentially rapid and substantial losses. Options trading subject to TD Ameritrade review and approval. Please read Characteristics and Risks of Standardized Options before investing in options.
Supporting documentation for any claims, comparisons, statistics, or other technical data will be supplied upon request.
The information is not intended to be investment advice or construed as a recommendation or endorsement of any particular investment or investment strategy, and is for illustrative purposes only. Be sure to understand all risks involved with each strategy, including commission costs, before attempting to place any trade. Clients must consider all relevant risk factors, including their own personal financial situations, before trading.
TD Ameritrade, Inc., member FINRA/SIPC. TD Ameritrade is a trademark jointly owned by TD Ameritrade IP Company, Inc. and The Toronto-Dominion Bank. © 2016 TD Ameritrade IP Company, Inc. All rights reserved. Used with permission.
Posted-In: Earnings News Commodities Movers & Shakers Events Economics Markets ETFs
View Comments and Join the Discussion!