Will Macy's Continue to Struggle amid Department Store Departure from Consumers?
It's likely to be a consumer-spending tale of two retailers, among others, when Macy's Inc (NYSE: M) and Alibaba Group Holding Ltd (NYSE: BABA)—at opposite ends of the retail machine and the world—turn in quarterly results ahead of the bell Thursday. Are consumers spending, and if so, on what?
M and Investors Look to the Future
Given the move out of apparel and department stores, some analysts aren't pinning high hopes on M's results. In Q1, M blamed the stronger dollar for the glitch in tourism sales at some of its flagship Bloomingdales and Macys stores in cities like New York, Las Vegas, Chicago, and Los Angeles. And then there's the so-called "Amazon effect" that some retail analysts insist is behind the shift in consumer shopping behavior, shifting to online and away from brick-and-mortar stores in places like shopping centers and malls. But analysts are also bracing for news of deep discounts and, of course, steamy weather that may have kept shoppers indoors. Any good news is likely to come in the form of sales projections for the back-to-school season, the second most important shopping period of the year.
What some analysts want to hear about is the future, both in the near-term and long-term. Long-time Chief Executive Terry Lundgren has said he's grooming his successor at a time when activist shareholders are urging M's board to maximize the value out of its real estate. Since January, M also has closed a number of stores and consolidated some operations. Has that helped improve margins?
On the Q1 conference call, M executives warned that sales guidance for the year would likely be weak and that Q2 same-store sales, an important industry metric of growth, would likely fall or improve only slightly.
Analysts reporting to Thomson Reuters are at a consensus forecast of per-share profits of $0.40, 28% below the year ago results. M has turned in five straight quarters of diminishing bottom-line results. Revenues, too, have dropped in the five last quarters and are projected to again, to $5.7 billion from $6.1 billion a year ago.
Short-term options traders have priced in a 6.75% potential share price move in either direction around the earnings release, according to the Market Maker Move™ indicator on the thinkorswim® platform by TD Ameritrade.
Options activity has been light with some puts trading at the monthly 33-strike and 32.5-strike and calls trading at the 35-strike line. The implied volatility is in the 45th percentile. (Please remember past performance is no guarantee of future results.)
Note: Call options represent the right, but not the obligation, to buy the underlying security at a predetermined price over a set period of time. Put options represent the right, but not the obligation, to sell the underlying security at a predetermined price over a set period of time.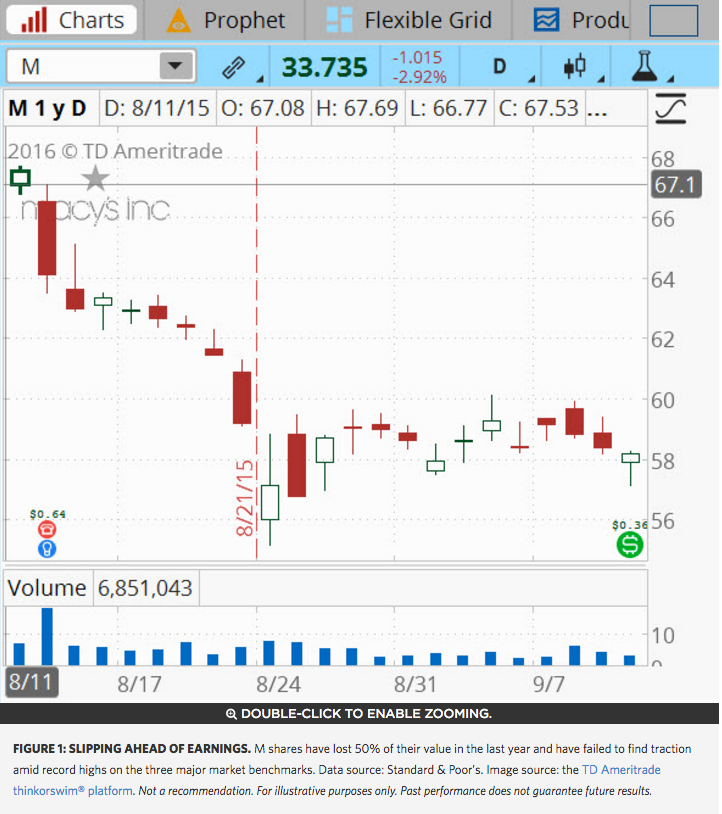 BABA on the Run
BABA, meanwhile, is a retail bird of a different feather, given its e-commerce and mobile payments platforms, not to mention its home turf in China, where it generates almost 73% of total revenues.
BABA has appeared to sidestep China's economic woes, mostly owing to the relative absence of bricks-and-mortar stores on the mainland, according to analysts. And though it's facing stepped-up competition on both the e-commerce and payments platforms in China, it has taken aggressive steps to stem the tides, such as its increased investment in Ant Financial, the affiliate that operates Alipay, analysts note.
To that end, analysts reporting to Thomson Reuters are looking for gains in both sales and profits, though they note that investments have taken a bite out of earnings. For the quarter, the consensus sits at $0.63 a share in earnings, a 7% gain in local currency over the year-ago results, while revenues are expected to grow nearly 47% to $4.5 billion.
Short-term options traders have priced in a 4.25% potential share price move in either direction around the earnings release, according to the Market Maker Move indicator.
Options trading has been active in puts at the weekly 84-strike and the monthly 80-strike. On the call side, options trading has been active at-the-money at the 85-strike as well as the monthly 90 strike. The implied volatility sits at the 8th percentile.
International investments involve special risks, including currency fluctuations and political and economic instability.
TD Ameritrade and all third parties mentioned are separate and unaffiliated companies, and are not responsible for each other's policies or services.
Inclusion of specific security names in this commentary does not constitute a recommendation from TD Ameritrade to buy, sell, or hold.
Market volatility, volume, and system availability may delay account access and trade executions.
Past performance of a security or strategy does not guarantee future results or success.
Options are not suitable for all investors as the special risks inherent to options trading may expose investors to potentially rapid and substantial losses. Options trading subject to TD Ameritrade review and approval. Please read Characteristics and Risks of Standardized Options before investing in options.
Supporting documentation for any claims, comparisons, statistics, or other technical data will be supplied upon request.
The information is not intended to be investment advice or construed as a recommendation or endorsement of any particular investment or investment strategy, and is for illustrative purposes only. Be sure to understand all risks involved with each strategy, including commission costs, before attempting to place any trade. Clients must consider all relevant risk factors, including their own personal financial situations, before trading.
TD Ameritrade, Inc., member FINRA/SIPC. TD Ameritrade is a trademark jointly owned by TD Ameritrade IP Company, Inc. and The Toronto-Dominion Bank. © 2016 TD Ameritrade IP Company, Inc. All rights reserved. Used with permission.
Posted-In: Earnings News Futures Economics Markets Analyst Ratings Reviews General
View Comments and Join the Discussion!