Express Shares Plunge Over 17% After Q1 Results And Outlook Fall Short Of Expectations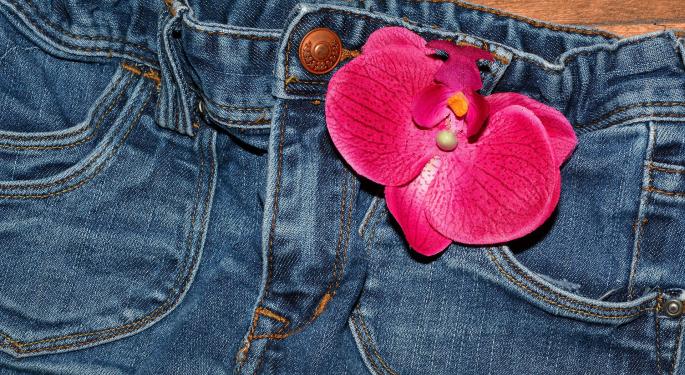 Express, Inc. (NYSE: EXPR) announced 1.5 percent fall in net income for the first quarter while EPS grew 6.7 percent on lower share count. Its top line remained flat. As a result, both adjusted earnings and revenue fell shy of the estimations. On top of it, the outlook provided by it also came in short of the predictions. These factors were enough to drag down the stock by over 17 percent in the pre-market trading on Wednesday.
The company said that its first quarter net income was $12.9 million or $0.16 per share compared to $13.1 million or $0.15 per share in the first quarter of 2015. On an adjusted basis, it would have earned net income of $19.8 million or $0.25 per share, up from $19.0 million or $0.22 per share in the previous year quarter. However, this is short of analysts' estimations of $0.27 a share.
Related Link: Goldman Concerned Over Retail Stocks, Where To Park The Money
Express' net sales of $502.9 million in the first quarter were essentially flat compared to net sales of $502.4 million in the year-ago quarter. Street estimated revenue of $521.10 million for the same period. Its comparable store sales witnessed a drop of three percent including e-com sales.
The company's president and CEO, David Kornberg, commented, "In the first quarter, we delivered increased merchandise margin, expansion in gross margin, and higher diluted earnings per share in line with our guidance through the disciplined execution of our strategy. We believe that our product is on trend and we are providing customers with engaging experiences across each of our channels. That being said, our second quarter and full year guidance reflect the challenges presented by the current retail environment."
He continued, "Looking ahead we remain focused on our key initiatives: delivering great fashion; acquiring new customers; optimizing inventory; implementing systems; and maintaining our balanced financial architecture. We believe these initiatives will position Express to move beyond current challenges and deliver increased sales, strengthen profitability, and enhance value for all Express stakeholders."
Moving ahead, Express expects earnings of $0.15–$0.19 a share for the second quarter with comparable store sales predicted to be negative mid-single-digit percentage. Analysts' expect the company to deliver $0.29 a share.
Similarly, for the full year, the company sees adjusted earnings of $1.41 - $1.54 a share with comparable sales expected to fall in the low-single-digit percentage. Street predicts the company to earn $1.66 a share.
Following the combination of negative reports, the stock plunged 17.16 percent in the pre-market trading on Wednesday.
Posted-In: David KornbergEarnings News Guidance Movers
View Comments and Join the Discussion!