EXCLUSIVE: Intralinks CEO Explains Why Company Hiked Guidance, Talks Promising Client Pipeline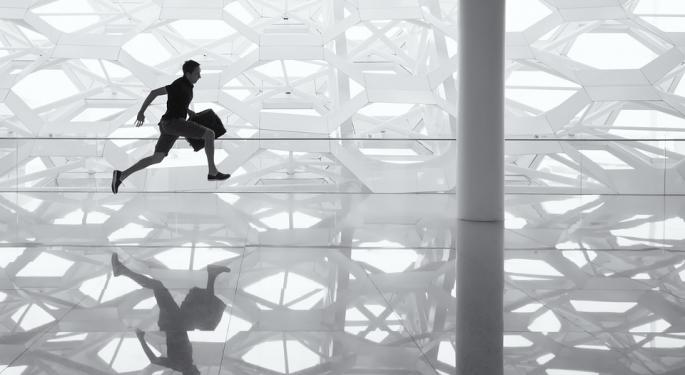 Intralinks Holdings Inc (NYSE: IL) shares are having a good week after the SaaS company reported forward looking guidance far above analyst estimates on Wednesday. Benzinga spoke with Intralinks President CEO Ron Hovsepian about the company and what investors can look forward to.
Benzinga: Aside from your top and bottom line results, you increased your fiscal year 2016 guidance pretty significantly, compared to the Street's estimates of just over $290 million. What was the catalyst for this upward revision?
Ron Hovsepian: Sure. There were a couple of pieces that went into the catalyst for the revisions. One, we continue to see our overall business perform in both our M&A market, our mergers and acquisitions, as well as our enterprise market. And when we put together our guidance for 2016, we felt very strongly that we could achieve that $300 million to $306 million range, and we wanted to make sure that we sent the signal that we saw both of the key pieces of our business operating the way we wanted it to.
BZ: Gotcha. Going off of that, I saw that you also initiated a buyback as well, showing a lot of confidence in the company. Do you see further capital returns happening throughout the year, maybe, in terms of an increased buyback or maybe initiating a dividend?
Hovsepian: Right now, at these levels, I think the board did the right thing by looking to take advantage of the value of the company at these levels. It does reinforce the confidence that we see in the company and in the market that we're attacking. So, we'll work through this, and then we'll see what's next.
BZ: For services and software providers in general, I wanted to get your thoughts on the macroeconomy. There's a lot of things going on with interest rate hike uncertainty as well as some interesting job numbers. How much do you guys look at those metrics?
Hovsepian: Great question. We do look at all those macro-factors. One of the things that we do focus on is highly-regulated industries as well. So, things like financial services, life sciences, some of those types of players. People who have IP-intensive issues with the way they manage and hold their data, and how they manage and hold that data.
So, from that perspective, some of those macro-market effects, we tend to prioritize higher, because we're reducing the risk of the enterprise that's buying [our products], because we have the controls there.
So, even though we're seeing some of the data you're looking at, we're not spooked at this point in time in the market.
BZ: You talked about some of your enterprise deals. What sector do you see growth coming from? What sectors do you really see using your products?
Hovsepian: I do see software-as-a-service continuing to grow. We're in a mega-trend right now that's going to carry the next 10-15 years of us migrating across all vertical industries, with the exception of maybe some government ones, where people are going to continue to migrate to the cloud. There'll be different models within the cloud, and different derivatives of what cloud gets used. But this is an inevitable force that's moving right now.
The second part is, in terms of which ones we focus on, we focus on financial services, energy, life sciences/healthcare and then IP-intensive manufacturing. Those would be the airline-type companies, automotives, people that really focus on protecting their intellectual property.
BZ: Of those that you just listed, which one do you really see taking off?
Hovsepian: Where we see our integrated platform really taking hold initially is in the financial services sector. We had good response, good reaction from those customers as we look into that marketplace. That's where we've had the best initial response, followed by, probably, life sciences would be next.
BZ: Interesting. Have you seen any lag in the energy industry, given sector weakness?
Hovsepian: Our most popular use case is mergers and acquisitions. So, obviously, we're very active with energy companies, prior to things twisting, and actually post things twisting, right? Because--buying assets, that was very active, and now, there might be sale of assets--which is active. Either way, we benefit from that.
BZ: Are there any future enterprise deals with any big names, or any companies that investors should get excited about for Intralinks going forward, maybe in Q1 or fiscal year '16?
Hovsepian: I think for fiscal year '16, we built a plan that includes us winning some very large deals in order to make that plan of growth that I laid out. Therefore, it's going to take some good brand names as we go through the year to get there. When I look at the pipe, I do see some of those brand names in there. So I'm very excited about what '16 brings for us.
BZ: To round it all out, is Interlinks focused more on organic growth right now? Or are you looking into any M&A? Have you been approached by anything in the M&A space?
Hovsepian: In terms of what we're seeing organically, we are seeing good organic growth. We just finished the year and our enterprise backlog grew 18% on a constant currency basis. So, that's great performance by the team. We guided to be in the 15-20% zone, so we were right where we'd hoped to be for the year at 18%.
In terms of people approaching us, as you can imagine, in some of the collaboration markets that we're playing in, there's been a lot of consolidation and fallout activity. In particular, we're seeing a lot of fallout activity in the file sync and share market, as that business model has been eroded from both a value perspective, from being just storage.
We're hearing a lot of chatter along those lines. In terms of our core strategy, we're really focused on driving that organic growth. And then, we'll look for particular technologies that would accelerate that growth for acquisition, or revenues that align for us to help drive our business faster in the market.
View Comments and Join the Discussion!
Posted-In: Earnings M&A News Guidance Top Stories Economics Exclusives Markets Best of Benzinga