Will China's Woes Emerge In Amazon, Alibaba Earnings Commentary?
Traders will get a look-see into big retailers on different sides of the world this week. Amazon.com Inc. (NASDAQ: AMZN) and Alibaba Group Holding Ltd (NYSE: BABA), e-commerce powerhouses in the U.S. and China, respectively, are on the earnings docket Thursday. What insight on consumer spending could these key retail disruptors reveal?
A Thomson Reuters survey of analysts pegs AMZN's per-share earnings at $1.63 on top-line sales of $36 billion. Results are due out after the market's close. Holiday-anchored Q4 earnings are historically AMZN's strongest. Still, the Street's projected profit would represent a 266% vault from the year-ago quarter. And if revenue projections are correct, they'll be up 23% from the comparable quarter. Some of that growth is boosted by Amazon Prime membership, according to Consumer Intelligence Research Partners, which on Monday said Amazon's Prime membership surged 35% in Q4 over the same period last year.
If AMZN—which industry analysts like to call one of the key disruptors in the retail space—falls short of earnings expectations, some industry analysts think it will be an orchestrated move; Chief Executive Jeff Bezos often manages AMZN as close to breakeven as possible to reinvest in the company.
As for the conference call, industry analysts say they'll be listening to how Bezos plans to maintain growth in Prime membership. Prime members, according to CIRP, spend as much as $700 more a year than non-Prime members.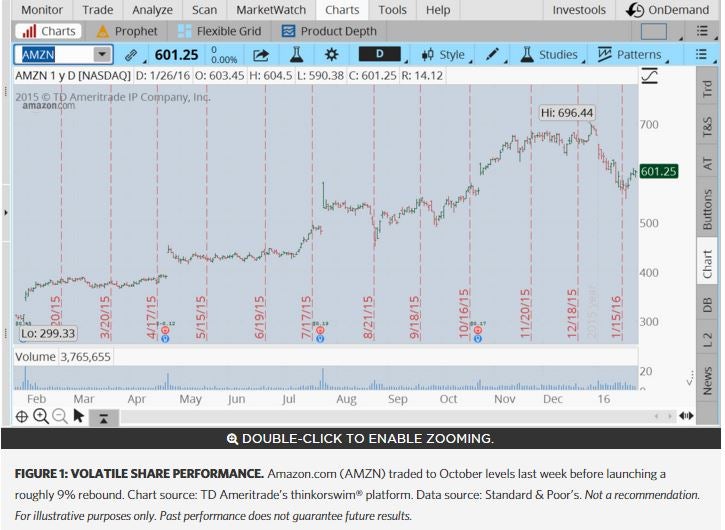 What About the Competition?
Will BABA's earnings, hitting ahead of the bell on Thursday, reflect continuous online shopping migration, or be a proxy for China's economic lumps? Perhaps a bit of both.
Industry analysts believe that BABA could ultimately weather China's shaky economy of late, mostly because of a growing middle class. But some investors don't seem to believe it; they knocked down the stock nearly 22% last year and chipped another 14% off so far this year.
BABA revenue for its fiscal Q3 2016 is expected to swell some 26% from the year-ago comparable, if analysts have it right. The Thomson Reuters average estimate puts earnings per share at $5.77, up 14.7% from the year-ago period, on revenue of $33.18 billion.
As with many stocks during this earnings season, implied volatility is elevated at the 79th percentile for BABA. Short-term option traders are looking at a potential 7% stock move in either direction around the earnings release, according to the TD Ameritrade thinkorswim® platform's Market Maker Move indicator. Buyers are snapping up weekly put options at the 65 strike and weekly call options are at the 75 strike.
Note: Call options represent the right, but not the obligation, to buy the underlying security at a predetermined price and over a set period of time. Put options represent the right, but not the obligation, to sell the underlying security at a predetermined price over a set period of time.
Also Reporting: UA, F, CAT
As with BABA and AMZN, another stock under the retail-meets-tech heading releases results this week. Under Armour Inc (NYSE: UA), the athletic apparel and gear company, recently unveiled its own connected digital fitness system called Healthbox, including a wearable device that it calls UA Band. The company has publicly said it hopes the launch is the beginning of a bevy of wearable technology for athletes of all stripes. As part of its earnings announcement Thursday, industry analysts will be listening to how UA plans to step up marketing on the new tools.
Meanwhile, on a per-share basis, earnings are forecast in the Thomson Reuters survey at $0.47, up 17.5% compared with Q4 last year. That's on revenues of $1.12 billion, a 25% jump over the year-ago period.
UA implied volatility is running at its highest peak, the 100th percentile. Short-term options traders are pricing in a potential 9% move in either direction in the stock's price around earnings, according to the TD Ameritrade thinkorswim® platform's Market Maker Move indicator.

Also on the docket this week, two goods makers that could shed light on economic strength, too: Ford Motor Company (NYSE: F) and Caterpillar Inc. (NYSE: CAT).
F kicks off the earnings pageant for automakers ahead of the bell Thursday. The company revised its full-year guidance to the upside earlier this month because of an accounting change. F said it will post "record" pre-tax earnings in the "upper half" of the $10 billion to $11 billion range. That has analysts guessing that Q4 pre-tax profit could be at least $2.3 billion, up to $2.8 billion. On an after-tax basis, analysts reporting to Thomson Reuters forecast a profit of $0.46 per share, up 77% from the year-ago comparable, on sales of $36.32 billion, higher by 1.2%.
F shares have lost some mojo over the last year-plus: almost 9% in 2015 and another 13% this year. The implied volatility ahead of the earnings release is slightly raised at the 66th percentile and short-term option traders are looking for a potential 2.5% move in either direction on the stock, according to the TD Ameritrade thinkorswim® platform's Market Maker Move indicator.
Caterpillar (CAT), the heavy-equipment maker, has been caught on the short end of the downturn in mining and energy. It's also been nipped by economic woes in China, Brazil, and South Africa, industry analysts note. As a result, Street analysts have been pulling down expectations. The Thomson Reuters survey calls for EPS of $0.69, plummeting 48% from last year, on a 20% drop in revenues to $11.5 billion.
CAT shares have been bulldozed, pushed down 28% in 2015 and bulldozed another 15% this year, just off 16-year lows. Implied volatility is at a high 90th percentile and short-term option traders are looking for a potential 4.5% move in either direction on the stock, according to the TD Ameritrade thinkorswim® platform's Market Maker Move indicator.
TD Ameritrade and all third partied mentioned are separate and unaffiliated companies, and are not responsible for each other's policies or services.
Inclusion of specific security names in this commentary does not constitute a recommendation from TD Ameritrade to buy, sell, or hold.
Market volatility, volume, and system availability may delay account access and trade executions.
Past performance of a security or strategy does not guarantee future results or success.
Options are not suitable for all investors as the special risks inherent to options trading may expose investors to potentially rapid and substantial losses. Options trading subject to TD Ameritrade review and approval. Please read Characteristics and Risks of Standardized Options before investing in options.
Supporting documentation for any claims, comparisons, statistics, or other technical data will be supplied upon request.
The information is not intended to be investment advice or construed as a recommendation or endorsement of any particular investment or investment strategy, and is for illustrative purposes only. Be sure to understand all risks involved with each strategy, including commission costs, before attempting to place any trade. Clients must consider all relevant risk factors, including their own personal financial situations, before trading.
TD Ameritrade, Inc., member FINRA/SIPC. TD Ameritrade is a trademark jointly owned by TD Ameritrade IP Company, Inc. and The Toronto-Dominion Bank. © 2016 TD Ameritrade IP Company, Inc. All rights reserved. Used with permission.
Posted-In: Earnings News Previews Tech Trading Ideas
View Comments and Join the Discussion!