Intel: Will Q4 Earnings Reflect New-Look Chipmaker's Efforts?
It's been a tough year for the worldwide semiconductor industry, which could challenge Intel Corporation's (NYSE: INTC) Q4 results due post-close Thursday.
The report could show Wall Street just how rough-and-tumble it's been in the "traditional tech" space amid weakening demand for the personal computer (PC)—that's demand lost to nimbler notebooks, tablets, and other smaller devices. Industry analysts say that leaves INTC's push into data centers and the Internet of Things (IoT)—embedding products with automatic data-transfer—most likely to draw stronger interest in a post-earnings conference call.
According to financial media, at least one JP Morgan Chase and Co. (NYSE: JPM) analyst upped his outlook on the chipmaker earlier this week based on strength in these two new businesses; he argues that data and IoT could offset the ongoing lackluster performance of the PC sales.
Check out more earnings coverage here.
There's more. Industry data shows growing demand for security software; such demand can boost hardware upgrades, too. Remember that INTC chips are not only in computers but in mobile devices and tablets. Its chips are making their way into automobiles, aviation, and other venues, the company has reported.
Another Quarter, Another Currency Hit?
Like many global giants, INTC earnings could potentially take another hit from currency valuations. A strong dollar cuts into global profits, and the U.S. currency is trading at multi-year highs.
Still, analysts reporting to Thomson Reuters (NYSE: TRI) are looking for a Q4 profit at Intel of $0.63 a share on topline sales of $14.81 billion. That represents a 1% increase in revenue over the year-ago comparable, but a 12% drop in profit.
Intel has surpassed Street expectations in each of the last two quarters. That followed a tough Q1, when the company issued a profit warning and actually pulled its full-year guidance, unable at the time to fully anticipate the potential hit from a larger-than-expected decline in PC sales.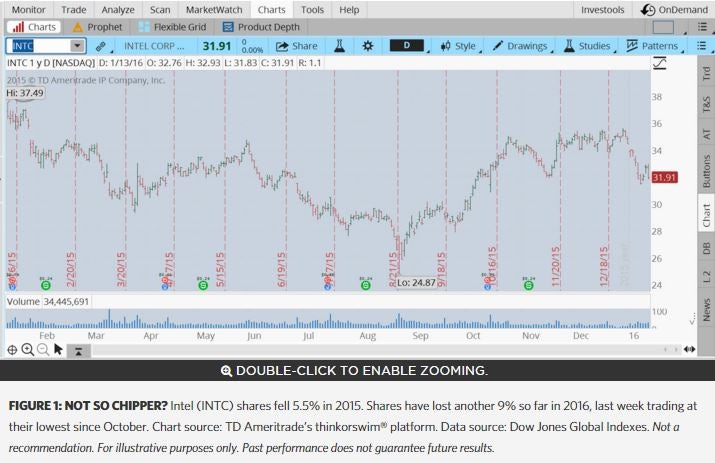 Options and Share Action
INTC shares suffered a 5.5% decline in 2015, and pulled back another 9% with last week's broader technology rout (figure 1).
Share movement of significance could continue. A roughly 4% potential INTC share move in either direction around the earnings release is priced in, according to the TD Ameritrade thinkorswim® platform's Market Maker Move indicator. Implied volatility in these shares is in a respectable 61st percentile.
In the lead-up to earnings, three times the typical amount of call options traded in the January 33.5 strike price. Conversely, there's only been a smattering of put option trading, with little action tied to a particular strike price.
Note: Call options represent the right, but not the obligation, to buy the underlying security at a predetermined price and over a set period of time. Put options represent the right, but not the obligation, to sell the underlying security at a predetermined price over a set period of time.
Probability analysis results from the Market Maker Move indicator are theoretical in nature, not guaranteed, and do not reflect any degree of certainty of an event occurring.
TD Ameritrade and all third partied mentioned are separate and unaffiliated companies, and are not responsible for each other's policies or services.
Inclusion of specific security names in this commentary does not constitute a recommendation from TD Ameritrade to buy, sell, or hold.
Market volatility, volume, and system availability may delay account access and trade executions.
Past performance of a security or strategy does not guarantee future results or success.
Options are not suitable for all investors as the special risks inherent to options trading may expose investors to potentially rapid and substantial losses. Options trading subject to TD Ameritrade review and approval. Please read Characteristics and Risks of Standardized Options before investing in options.
Supporting documentation for any claims, comparisons, statistics, or other technical data will be supplied upon request.
The information is not intended to be investment advice or construed as a recommendation or endorsement of any particular investment or investment strategy, and is for illustrative purposes only. Be sure to understand all risks involved with each strategy, including commission costs, before attempting to place any trade. Clients must consider all relevant risk factors, including their own personal financial situations, before trading.
TD Ameritrade, Inc., member FINRA/SIPC. TD Ameritrade is a trademark jointly owned by TD Ameritrade IP Company, Inc. and The Toronto-Dominion Bank. © 2016 TD Ameritrade IP Company, Inc. All rights reserved. Used with permission.
View Comments and Join the Discussion!