Tough Q4 for Banks Expected, But What About Look Ahead?
For some, there's a sense of gloom clouding Wall Street heading in this still-young earnings season. Next up in the reporting queue is a rash of banks whose stocks mostly ended 2015 in the red. And they've been mostly battered by the instability that rattled the markets in the first week of 2016 trading.
Overall, industry analysts are bracing to hear about weaker fixed-income trading and challenging environments that dominated the last quarter of 2015.
"The world has changed for this business," Gerard Cassidy, a bank analyst at RBC Capital Markets, told the International Business Times. "Throw on top of that the increased volatility in global markets, and expectations are for a rough fourth quarter."
But what really matters now could be bank forecasts. That's because these banks, most of which are global giants wrapped in nearly every facet of business, could paint a broader picture of what's really going on in the world. Top-of-mind issues like China's economy and markets, mortgages and housing, the financial health across diversified industries, and the future of further Federal Reserve interest rate hikes could be given more clarity courtesy of the banks.
First Up: JPMorgan Chase
JPMorgan Chase & Co. (NYSE: JPM) will kick off the banking sector's earnings season with its Q4 results on Thursday morning. It will follow Goldman Sachs Group Inc's (NYSE: GS) lead last year and release its report on its own website to avoid hacking. Wells Fargo & Company (NYSE: WFC) and Citigroup (C) report on Friday before trading commences.
Analysts reporting to Thomson Reuters expect JPM's earnings to rise 6.7% to $1.27 a share compared against the year-ago period, while revenues are expected to have dropped 2.4% to $23 billion.
A 3.5% potential share move in either direction around the earnings release is priced in, according to the TD Ameritrade thinkorswim® platform's Market Maker Move indicator. There are some buyers in speculative trades on the weekly 62 call options that expire Friday. In fact, there's been notable interest for some time in the call options, which are trading at two times their normal volume. But the implied volatility on JPM is only at the 52nd percentile.
Strong interest also has been evident in the 57 and 55 put options, likely because these options have been on the board for a long time. The January LEAPS®, of course, will come off the board.
Note: Call options represent the right, but not the obligation, to buy the underlying security at a predetermined price and over a set period of time. Put options represent the right, but not the obligation, to sell the underlying security at a predetermined price over a set period of time.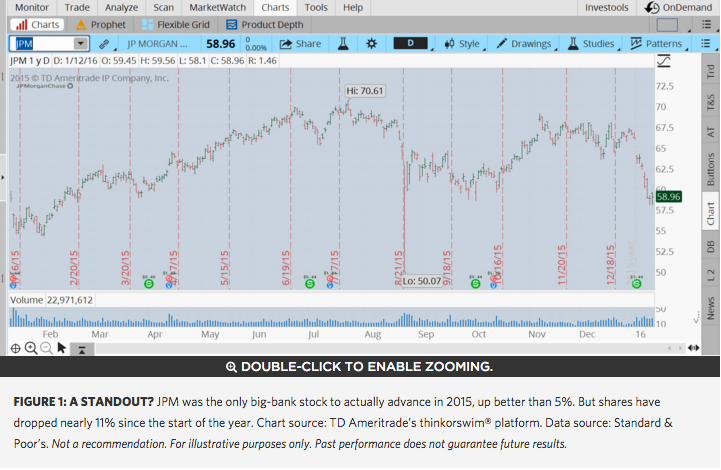 Wells Fargo's Got Mortgages
Street analysts are forecasting that WFC, a leader among U.S. mortgage lenders, could deliver relatively robust results thanks mostly to its domestic-market roots. At Thomson Reuters, analysts are pegging an average per-share profit of $1.03, a penny higher than the year-ago result. Revenue could inch up, too, to $21.9 billion, up 0.8%.
There's notable put option buying in WFC at the 47 strike. There's also been a smattering of calls purchased, but nothing over the last few days tied to one strike. The implied volatility in these shares is at the 55th percentile with a historically low 1.75% potential share move anticipated in either direction, according to the TD Ameritrade thinkorswim® platform's Market Maker Move indicator.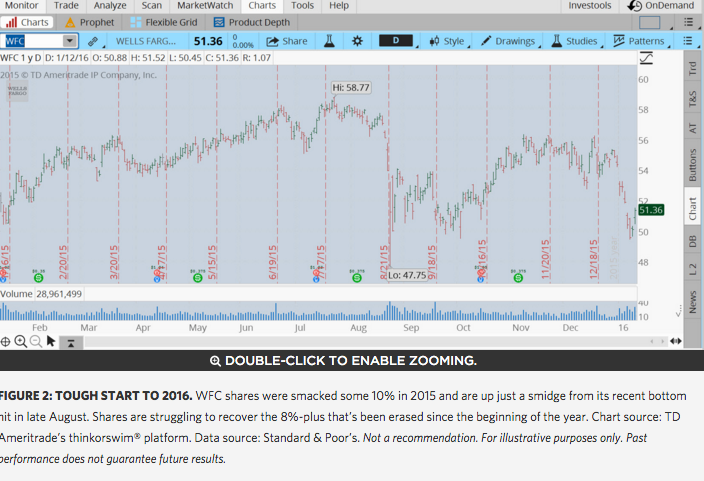 Clobbered Citi Primed For Big Leap?
Street analysts have been trimming Citigroup, Inc. (NYSE: C) earnings expectations for the better part of the last three months, leaving them now at about $1.18 a share. That's a big leap from the year-ago period when profits were just $0.06 a share. But revenue won't likely jump at quite the same level, the analysts say. The average forecast is for $18.02 billion, up 0.08%.
Short-term traders are looking at C in much the same way they are other banks, with implied volatility at the 56th percentile and a 3.5% potential move in the stock price in either direction priced in, according to the TD Ameritrade thinkorswim® platform's Market Maker Move indicator.
Like its counterparts, there's been some activity from call option buyers, in this case at the weekly 50 strike line and from put option buyers at the weekly 43.
If option trading tells us anything it's that the market has priced in a virtually across-the-board short-term trading outlook on the banks no matter the expectations for individual earnings reports.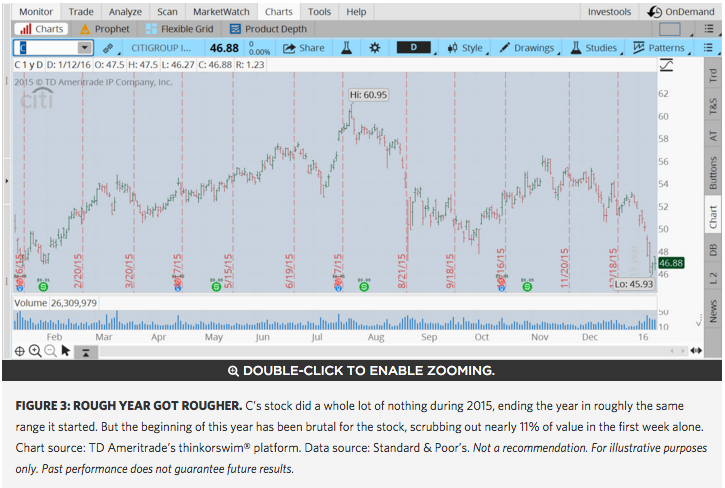 Probability analysis results from the Market Maker Move indicator are theoretical in nature, not guaranteed, and do not reflect any degree of certainty of an event occurring.
TD Ameritrade and all third partied mentioned are separate and unaffiliated companies, and are not responsible for each other's policies or services.
Inclusion of specific security names in this commentary does not constitute a recommendation from TD Ameritrade to buy, sell, or hold.
Market volatility, volume, and system availability may delay account access and trade executions.
Past performance of a security or strategy does not guarantee future results or success.
Options are not suitable for all investors as the special risks inherent to options trading may expose investors to potentially rapid and substantial losses. Options trading subject to TD Ameritrade review and approval. Please read Characteristics and Risks of Standardized Options before investing in options.
Supporting documentation for any claims, comparisons, statistics, or other technical data will be supplied upon request.
The information is not intended to be investment advice or construed as a recommendation or endorsement of any particular investment or investment strategy, and is for illustrative purposes only. Be sure to understand all risks involved with each strategy, including commission costs, before attempting to place any trade. Clients must consider all relevant risk factors, including their own personal financial situations, before trading.
TD Ameritrade, Inc., member FINRA/SIPC. TD Ameritrade is a trademark jointly owned by TD Ameritrade IP Company, Inc. and The Toronto-Dominion Bank. © 2016 TD Ameritrade IP Company, Inc. All rights reserved. Used with permission.
View Comments and Join the Discussion!