Nautilus CEO Talks Earnings And Growth Outlook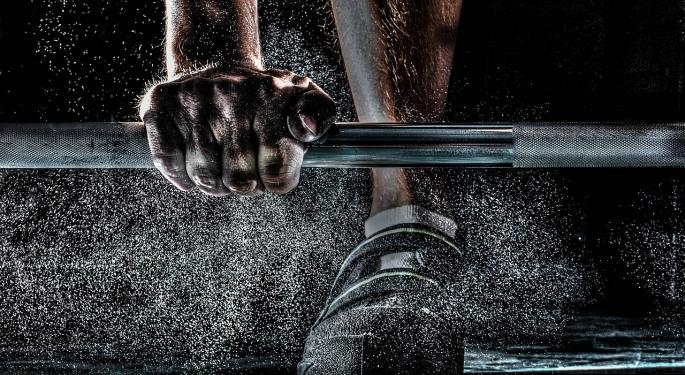 Nautilus, Inc. (NYSE: NLS), a home fitness equipment manufacturer, reported its Q2 earnings after the closing bell on Monday. The company posted revenues of almost $60 million, a 4 percent beat on consensus estimates and a 23 percent improvement over Q2 of 2014.
EPS came in at $0.07, in line with expectations and a 40 percent year-over-year increase.
Despite the seemingly good report, investors weren't satisfied. By market close on Tuesday, Nautilus' stock was down 22 percent to $16.26 per share.
Benzinga sat down with Nautilus CEO Bruce Cazenave to get his thoughts on the company's earnings, the market reaction and prospects for the future.
Related Link: 3 Reasons Why Fitbit Is Trading Down After Blowout Earnings
Two Pillars
According to Cazenave, the strong sales were driven by both the direct-to-consumer and retail components of the business.
In fact, the direct-to-consumer side has been performing well for the past several quarters, said Cazenave. This quarter in particular, the Bowflex Max Trainer – which has been a hot seller since its release in January 2014, has seen great performance. Another cash-generator was the Bowflex SelectTech Dumbbells, which previously had been declining over past quarters.
Retail sales jumped substantially year-over-year from $15 million in 2014 to $17.4 million this year – a 16 percent increase. "Bikes, ellipticals and strength items" were the main force behind the improvement, Cazenave said. "We feel good about where we are from a momentum standpoint."
High Standards
Despite the healthy numbers, which had company executives initially pleased, Nautilus' stock plummeted during the following trading session.
"We're a little puzzled," Cazenave admitted. And the signals that management has gotten from conversations analysts and investors have been overwhelmingly positive, he claimed.
"It could just be because we didn't blow expectations out of the water this time, as we've done in the past."
However, Cazenave remained optimistic, saying that the downward price action has probably created an ideal investment opportunity.
When asked if the negative market reaction may have been because quarter-over-quarter results were seemingly weak – a 20 percent decline in EPS and 38 percent in revenue – Cazenave was doubtful. "Our business is very seasonal," he explained. The first quarter is typically very strong, while sales normally fall off in Q2.
Related Link: NYSE Welcomes Planet Fitness
New Launches
Cazenave told Benzinga about a host of new products that Nautilus is set to launch later this year.
"The biggest one in terms of potential impact is the refresh of the Bowflex TreadClimber line." According to him, the machine will offer enhanced connectivity with other devices at the same price point as current models.
Nautilus will also be releasing an upgraded version of the SelectTech Dumbbells, which allow users to change the weight with the turn of a dial. The updated product will feature built-in sensors that will connect with smartphones and tablets to provide information and advice about workouts.
"I think it's definitely here to stay," Cazenave said of the intersection between fitness and tech. "People want to be able to track and share their activities." He explained that, while Nautilus doesn't plan on developing wearables like Apple Inc. (NASDAQ: AAPL)'s watch or Fitbit Inc (NYSE: FIT) products, the company will continue to work to enhance their products' compatibility with other digital devices.
The firm's last major release of 2015 will be the Schwinn A.D. Pro, an indoor cycle designed for CrossFit gyms.
Global Outlook
Although Cazenave admitted that Nautilus is "very small" outside of the United States and Canada, he did indicate that the company was looking at opportunities for expansion into other markets.
Particularly, he noted that management had identified China as an emerging market in fitness, given the growing discretionary income of its widening middle class as well as health concerns stemming from pollution in the country's industrial centers. He added, "There's going to be a need for health and fitness," regardless of how the stock market is performing.
"We are very confident and feel good about the momentum we have in really every corner of the business around the world," he summed up.
Image Credit: Public Domain
View Comments and Join the Discussion!
Posted-In: Bowflex Bruce CazenaveNews Emerging Markets Top Stories Markets Interview Best of Benzinga