Monday's After-Hours Movers Led By Ctrip.com, Texas Roadhouse And Tenet Healthcare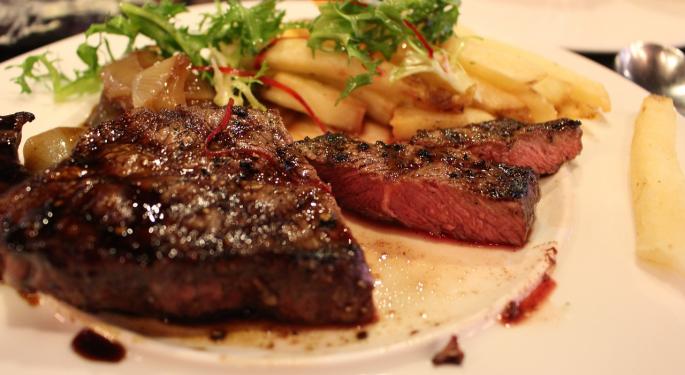 Shares of Ctrip.com International, Ltd. (ADR) (NASDAQ: CTRP) surged more than 1.5 percent in Monday's after-hours trading before falling to $71.60 (still up more than 0.2 percent since the bell rang).
The rise comes ahead of the Chinese travel services provider's second-quarter earnings call, scheduled for 8:00 p.m. EST.
According to Estimize, Ctrip.com is expected to deliver a substantial year-over-year decline in earnings. In the second quarter of 2014, earnings came in at $0.14 per share on revenue of $277.62 million; for the current quarter, the Street is modeling a net loss of ($0.03) per share on sales of $407.79 million, while the crowd is projecting earnings of $0.03 per share on revenue of $410.99 million.
Related Link: Cramer Shares Thoughts On Seadrill, Transocean...Texas Roadhouse, Denny's
Texas Roadhouse Inc (NASDAQ: TXRH) surged 3.53 percent during Monday's trading. However, after missing earnings estimates, the stock is down more than 4.3 percent after hours.
After the bell, the company reported earnings of $0.30 per share on revenue of $454.70 million. While sales beat estimates, earnings came in well below the Street and the crowd's consensus. The Street was anticipating earnings of $0.37 per share on revenue of $452.19 million, while the crowd envisioned PES of $0.38 on sales of $453.41 million.
It should be noted, however, that these results imply an increase from the earnings of $0.33 per share on revenue of $395.36 million reported a year ago.
Finally, Tenet Healthcare Corp (NYSE: THC), which gained 0.73 during the day, is up almost 1 percent in after-hours trading. The healthcare services company reported earnings of $0.75 per share on revenue of $4.492 billion, well above its guidance, which called for EPS of $0.40. The results also beat the Street's consensus estimate of $0.49 per share and $4.357 billion.
Other stocks moving in after-hours trading are:
Integrated Device Technology Inc (NASDAQ: IDTI): Up more than 10 percent.
Cognex Corporation (NASDAQ: CGNX): Down more than 24 percent.
TriNet Group Inc (NYSE: TNET): Down roughly 25 percent.
Image Credit: Public Domain
Posted-In: EstimizeEarnings News Health Care Restaurants After-Hours Center Movers
View Comments and Join the Discussion!