American Tower Corp To Continue Global Focus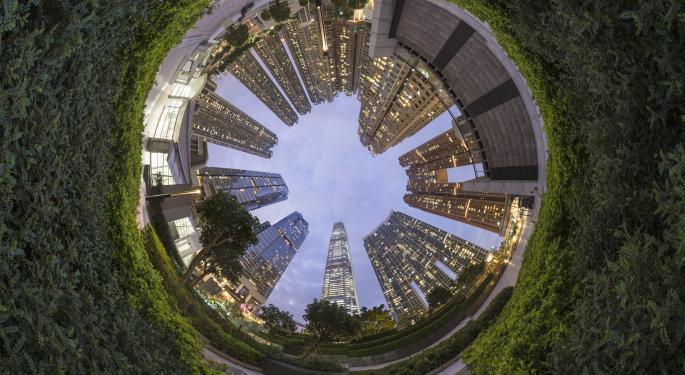 Wireless tower giant American Tower Corp (NYSE: AMT) is on track to own and operate 100,000 cell towers by the end of 2015, both U.S. and international operations.
Domestically, American Tower Corp is busy integrating its Q1 purchase of 11,500 Verizon Communications Inc. (NYSE: VZ) sites, and according to CEO Jim Taiclet, "Our experience to-date with the Verizon towers is confirming our valuation assumptions on the attractiveness of those site's locations, pent-up demand for both co-location and amendment activity and the quality of those assets."
American Tower Corp is already processing about 900 applications in its pipeline to add additional carriers to the newly acquired Verizon towers.
However, Taiclet chose to use the Q2 call as an opportunity to focus his prepared remarks more on American Tower Corp's international operations in a similar fashion to Q2 2014, as well as to add some color on small cells.
Related Link: No Hang-Ups Here: Wireless Tower REIT CCI Reports Strong Q2 Results
American Tower Corp's 2Q15 Earnings Highlights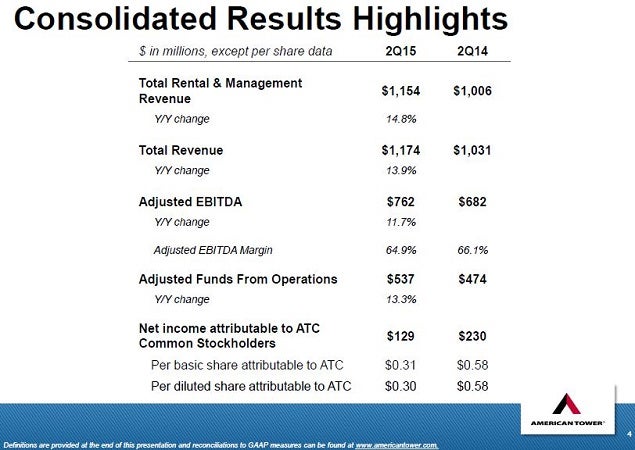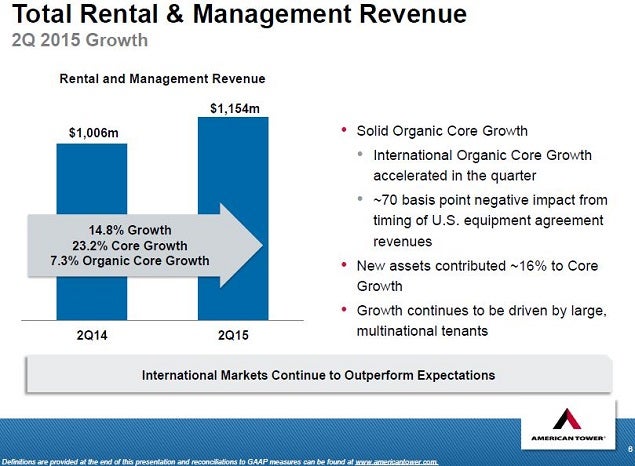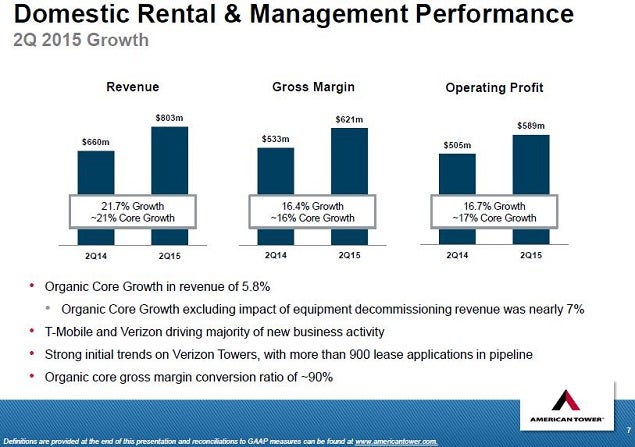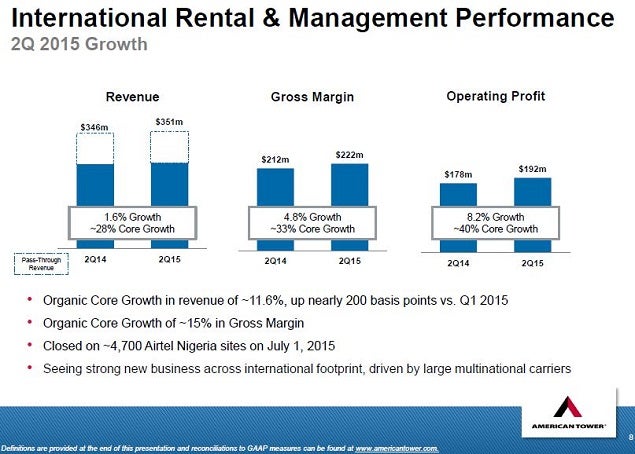 American Tower Corp Increased FY2015 Guidance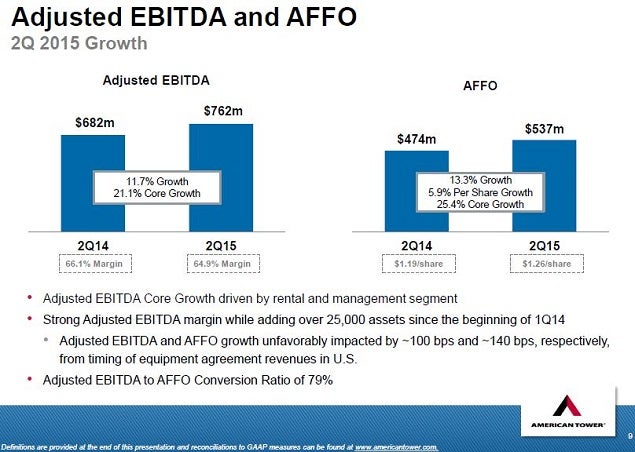 The new outlook does not include the 2,300 sites from TIM in Brazil or the 200 towers from Airtel in Nigeria yet to be closed.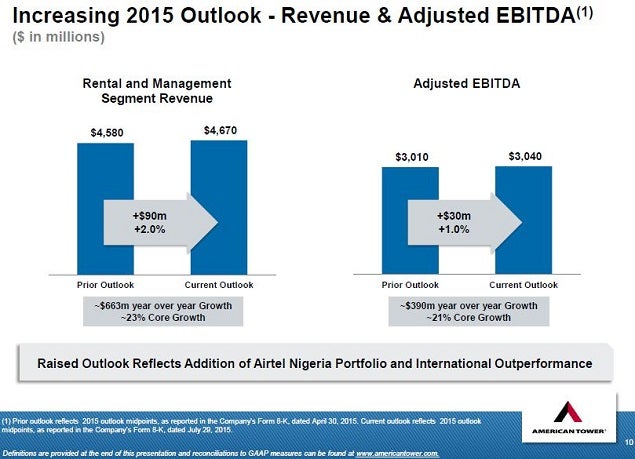 CFO Thomas Bartlett shared, "We are again raising our 2015 outlook for Rental & Management revenue, adjusted EBITDA and AFFO and, similar to last year, expect core growth in all three metrics to be above our long-term targets, all over 20 percent."
American Tower Corp Development And Capex
Bartlett also explained, "We also continue to invest in our existing markets through new tower construction and built more than 900 new towers across our international footprint in Q2. In India, we built over 600 sites during the quarter for operators such as Bharti Airtel and Vodafone."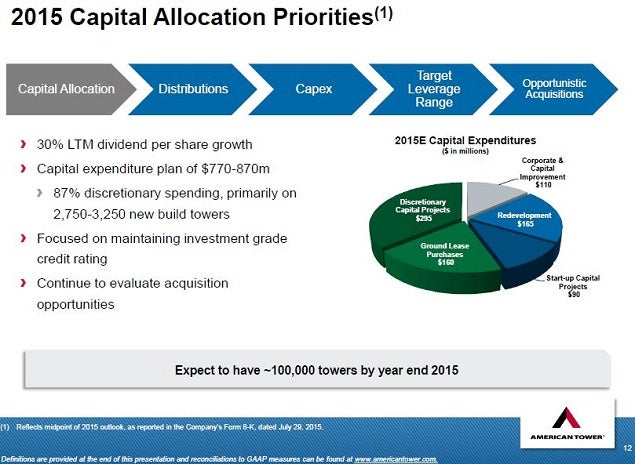 He continued, "We built over 150 sites in Brazil to support the needs of Vivo and TIM and are continuing to see new build activity ramp significantly in that market. We built an additional 61 towers in Ghana and Uganda as well during the quarter with MTN as our anchor tenant."
American Tower Corp's Global Overview
"Trends across our global footprint, particularly in our international markets, continue to be favorable. Mobile voice and data usage is increasing rapidly. Advanced handsets are becoming more affordable for more and more people and carriers are monetizing incremental usage and generating solid returns," according to Bartlett.
He added, "We acquired about 4,200 sites in Brazil from Telecom Italia at the end of April and, most recently, added around 4,700 towers in Nigeria from Airtel on July 1. We expect to acquire the remaining 2,300 or so sites in Brazil from TIM and up to an additional 200 sites in Nigeria from Airtel over the next 12 months or so."
Connecting India
"India is a prime example of a market where we believe there will be a very long runway of wireless network investment, accompanied by strong organic growth for our 14,000 site portfolio there," according to Taiclet.
"With smartphone penetration at just 10 percent, a population of over 1.2 billion people and minimal access to wireline, cable, fiber or satellite-based alternatives, mobile is poised to be the primary method of communication and entertainment for the future. Today, 85 percent to 90 percent of Indian mobile phone users are still on 2G. And there remains a significant portion of the rural population with no access at all."
He explained, "We're working with public and private sector partners in India to develop innovative concepts like the Digital Town Square, with a tower as the centerpiece. The Digital Town Square concept brings together electrical power, Internet connectivity, site security, educational kiosks connected to the Internet, and mobile service via our customers to support the Indian Government's Digital India plan."
Brazilian Economy
Taiclet shared, "Industry projections call for mobile data usage to grow approximately eightfold in Brazil over the next five years, prompting the leading mobile operators in that country to recommit significant network investment. These include the local Telefonica unit, Vivo, and Telecom Italia Mobile (TIM), from whom we recently acquired about 4,200 sites in April."
When asked about the Brazilian economy, he replied, "Who are these mobile operators? They are global multinational very well-capitalized companies with long-term views of their business. And they're stepping up their investment in this market, even while it may be sort of a downtick year on some of the in-country metrics."
Mexico
"In Mexico, AT&T's recently-announced $3 billion investment and America Movil's recently announced $6 billion investment should both be excellent opportunities for us, given our portfolio position there," Taiclet said.
Africa
"In South Africa, Vodafone, Telkom and Cell C are all actively rolling out and augmenting their 3G networks as the population continues to increasingly consume mobile data in that country. And in markets like Nigeria and Ghana, both 2G and 3G roll-outs are happening concurrently," Taiclet explained.
Nigerian Opportunity
"With the largest population in Africa, very limited fixed-line infrastructure, a competitive wireless sector and a massive need for better networks, we believe we can aggressively add tenants to our portfolio of approximately 4,700 sites there." Taiclet added, "Nigeria, even with one tenant… these assets have a NOI yield of over 8 percent, and by adding just one more tenant, we believe we can grow those yields to 17 percent or more."
Small Cells, Indoor DAS Focus
Taiclet shared, "We're the largest player, both in the U.S. and outside, to my knowledge, in the independent third-party provisioning indoor distributed antenna systems, which we think are the best-performing, fast growth, most co-locatable and highest margin types of small cells that we're aware of so far...and we're evaluating everything else."
Image Credit: Public Domain
Posted-In: Long Ideas REIT Emerging Markets Top Stories Markets Tech Trading Ideas Real Estate Best of Benzinga
View Comments and Join the Discussion!