Dollar Plagues Pharma Earnings But Did Street Get It Right?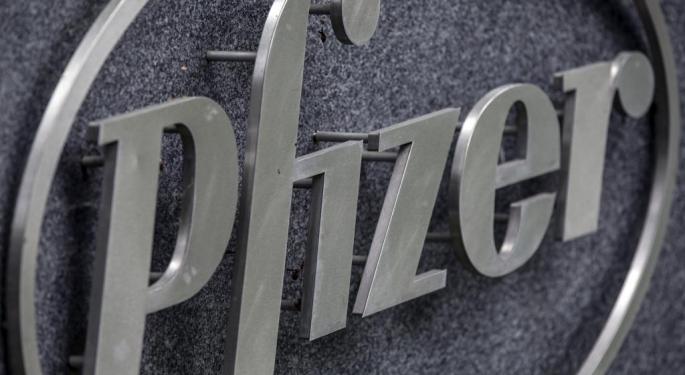 Strong dollar headwinds are likely to smack pharmaceutical giants Pfizer (NYSE: PFE) and Merck & Co., Inc. (NYSE: MRK) when they report earnings Tuesday ahead of the market's opening.
Both big pharma firms have a heavy international presence—more than half of their revenues—and like other multinationals are likely to feel the ravaging financial impact of foreign currency translations.
Ahead of earnings, these stocks tend to trade in similar fashion with volatility on both measuring in a relatively low 20th percentile range.
Pfizer Lost Celebrex, Lipitor
Kingpin Pfizer, which has a 61 percent forex exposure, is expected to turn in earnings of $0.52 a share on revenue of $11.42 billion, according to Thomson Reuters. That's below the year-ago results of $0.58 per share and $12.7 billion on the top line as the company grapples with patent losses on blockbuster treatments including arthritis drug Celebrex and cholesterol drug Lipitor, the best-selling drug of all time.
Pfizer's $17 billion purchase of Hospira, which makes generic injectable drugs and devices, is aimed at stemming the deep revenue decline. Let's see what management might say about next steps.
Check out other earnings updates here.
A Dow Jones Industrials Average component, its stock has meandered most of the past year, but has managed to gain nearly 14 percent as of Friday's close, outpacing the Dow's meager 3.5 percent gain.
Shares of Merck, also a member of the DJIA, are flat when compared with this period a year ago and have collapsed by 9 percent since reaching a 52-week high in January after it upped its annual profit projection.
As of Monday morning, short-term options traders are pricing in a 2 percent move in either direction surrounding Pfizer's report. Pfizer has outdone Street earnings expectations in 20 of the last 22 earnings reports. Also notable, we're seeing action in the weekly 32.5 puts and the August 35 calls.
Merck Forecasts Cut
Analysts are forecasting lower quarterly profits compared with last year's, at $0.80 a share from sales of $9.78 billion, partially because of its 58 percent forex exposure. In the year-ago period, Merck made per-share earnings of $0.85 and $10.9 billion in revenue. However, Wall Street hasn't been great at nailing Merck. If history repeats itself, Merck's results could beat expectations like it has in 10 of the last 11 quarters.
Like Pfizer, Merck sales are pulling back as cheaper generic drugs rush in when its patents expire; in this case it's notably the asthma medication Singulair.
But sales of Keytruda—a newer and promising cancer treatment according to industry analysts—are expected to jump again since its approval in September.
Short-term options traders have priced in a 2.25 percent share move in either direction for Merck. A pick up in buying of the August monthly 57.5 puts and weekly 58 calls is noticeable.
Posted-In: Dollar headwinds earnings preview JJ KinahanEarnings Previews Trading Ideas Best of Benzinga
View Comments and Join the Discussion!