How The Largest U.S. REIT Hit An Earnings 'Trifecta'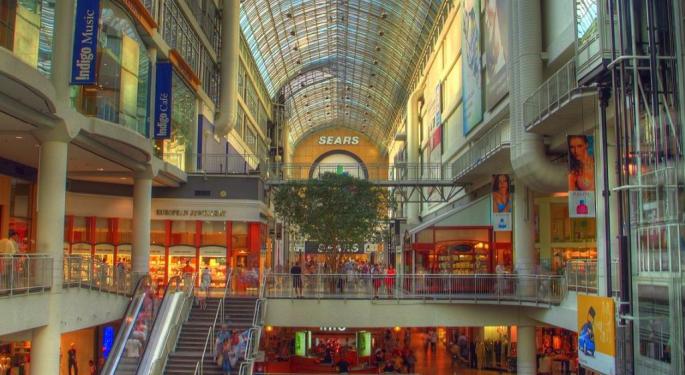 Every investor hopes to hit the earnings call jackpot -- when a company announces an earnings beat, boosts guidance and increases its dividend payout.
On Friday, the largest U.S. REIT, Simon Property Group Inc (NYSE: SPG) announced its 2Q15 earnings results and operational highlights, which included all three components of that earnings "trifecta."
Citi Research earlier last week had identified Simon as one of two REITs who have consistently beat analysts' consensus quarterly earnings estimates over the past 10 years.
Related Link: Active Traders, Grab Your Notes: REIT Earnings Season 'Cheat Sheet' Is Here
Wall St. Positive Reaction Vs S&P 500 1.07 Percent Loss
Investors who own shares in market cap weighted REIT ETFs as well as S&P 500 index funds and ETFs also benefited indirectly from the 1.8 percent rise in Simon shares on July 24, due to Simon's $57.5 billion market cap.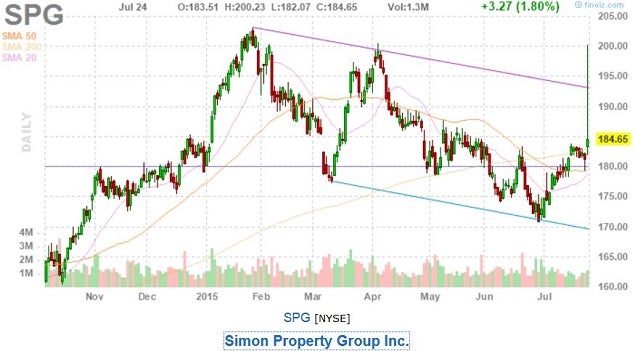 During the past 52-weeks, Simon shares have traded in a range of $158.80 - $203.16 per share.
Tale Of The Tape - Class-A Malls Vs REIT Sector
Malls that generate more than $600 per SF in sales are generally viewed as being "Class A," and encompass some of the scarcest commercial real estate on the planet. This is a result of unique locations entitled for development, combined with exceptional demographics -- high household incomes and dense populations.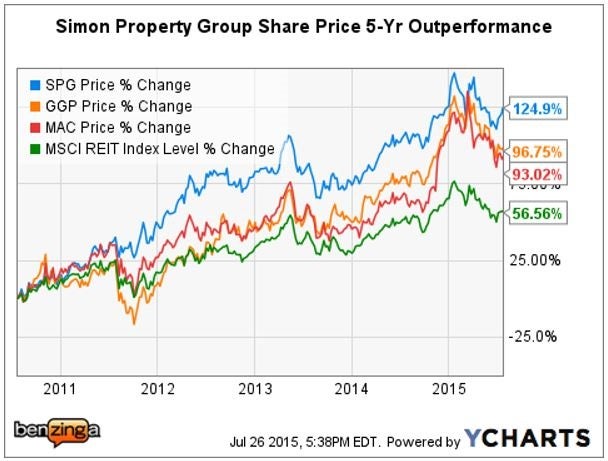 General Growth Properties (NYSE: GGP) and Macerich Co. (NYSE: MAC) are the second and third largest owners U.S. of regional malls, respectively. Macerich also reported earnings on July 24, which beat consensus and raised guidance. MAC shares closed up 1.88 percent, and GGP was also up slightly on the day.
Related Link: Macy's: To REIT Or Not To REIT?
These top mall landlords predominately lease to sophisticated retailers and department stores with evolving omnichannel retail strategies, which combine ecommerce with a strong bricks and mortar presence.
Simon - Q2 Earnings Highlights
FFO: Simon reported funds from operations of $2.63 per share for 2Q15 vs $2.16 Y/Y, and consensus of $2.35 per share. Notably, net of $0.22 per share attributed to a one-time gain on sale of securities and Washington Prime adjustments, comparable FFO was up 14.2 percent vs same period in 2014.
Guidance: The range was increased for FY 2015 from $9.65 - $9.75 per share, to $10.02 - $10.07 per share.
Base Rent: Simon reported an average base rent of $48.07 per share vs $45.83 Y/Y.
Occupancy: Down slightly Y/Y from to 96.5 to 96.1 percent.
Redevelopment: As of June 30, Simon had expansions or redevelopment underway at 28 properties.
Sales per SF: A Y/Y increase of 2 percent, from $608 to $620 per square foot.
Dividend: Simon declared a quarterly dividend of $1.55 per share, a 3.3 percent increase over the prior quarter, and 19.2 percent increase Y/Y.
Stock Repurchases: During Q2 Simon repurchased ~1.9 million common shares and 944,359 limited partnership units totaling $505.7 million, (of $2 billion authorized April, 2015).
Simon - Balance Sheet Overview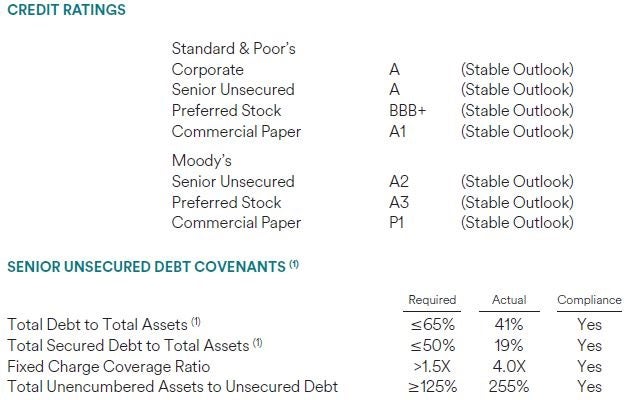 Source - SPG 2Q15 Supplemental
Simon's balance sheet remains one of the strongest of all equity REITs.
Simon - Conference Call Takeaways
Currency: The reported increase of FFO was also net of a $0.04 FX headwind, compared to the same period last year.
Capex: Chairman and CEO David Simon added some color on future capex, "…expect our redevelopment investment to be at least to $1 billion annually through 2017 substantially funded with our annual free cash flow…"
Buybacks: Regarding the recent share buybacks, Simon clarified, "I think it's a more of a signal and the belief in our business and also signal the market that were out of the big deal business." Simon used proceeds from the sale of Macerich shares which were no longer strategic after Simon's buyout offer was rebuffed.
Portfolio Assets: Simon said "…we will continue to sell what I call lower quality non-important assets to us. We don't publicize it until after it's done, but we'll continue to prune the portfolio." Simon reinforced that he has no intention of selling any high-quality assets which he believes will continue to grow free cash-flow for shareholders.
Leasing Demand: President and COO Richard Sokolov said that demand for mall space was coming from: international retailers, e-tailers looking to establish a bricks and mortar presence, new concepts from existing tenants like L-Brands and Dick's, as well as new tenants including: Frye Boots, Mont Blanc and Suitsupply.
Regional/Sales Trends: The Great Lakes, Southeast and Pacific are stronger; mountain and New England were a little weaker. The better categories were home furniture, food, personal care, jewelry, and athletic shoes," according to Sokolov.
Sears/Seritage JV: Sokolov gave color on the Seritage Growth Properties (NYSE: SRG) JV for 10 Sears locations (almost 850,000 SF of additional space), "We have developed, redevelopment plans for each of the assets they are in the process right now of being priced and as they become mature, we will announce them and proceed forward, but they include the addition of specialty stores, mall expansion, adding restaurants, adding boxes and appropriately sizing Sears."
Simon added that they are also working closely with Seritage to develop strategies to optimize Sears's locations that are not part of the JV. Notably, Simon purchased 1,125,760 Seritage shares at $29.58 per share as part of the JV agreement.
Posted-In: David SimonEarnings Long Ideas REIT Dividends M&A Trading Ideas Real Estate Best of Benzinga
View Comments and Join the Discussion!