Apple Earnings Not The Only Huge Story This Week: Watch GM, Boeing, Coke, Amazon, Microsoft & Others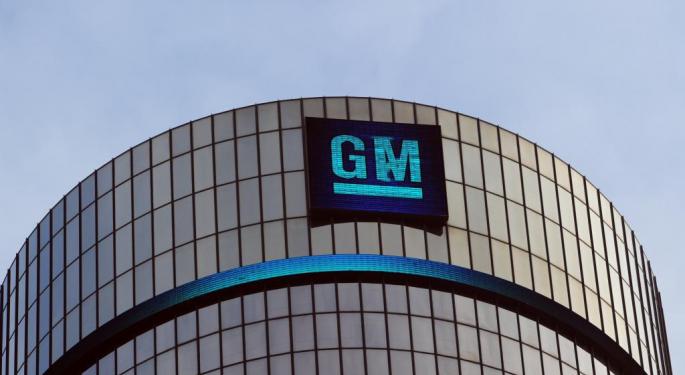 In a week crowded with big earnings reports, perhaps none is more anticipated than the most recent results from Apple Inc. (NASDAQ: AAPL). It will be the first report to show the impact of the Apple Watch, and Wall Street analysts are expecting healthy growth on the top and bottom lines.
General Motors Company (NYSE: GM) is also forecasted to post strong year-over-year earnings growth this week, but on revenue that is only marginally higher. Other than that, expectations are modest for some of the most prominent reports scheduled for this week.
Consensus estimates are for smaller earnings from Boeing Co (NYSE: BA), Caterpillar Inc. (NYSE: CAT), The Coca-Cola Co (NYSE: KO) and International Business Machines Corp. (NYSE: IBM), while the profit at Microsoft Corporation (NASDAQ: MSFT) is expected to be about the same as a year ago.
And Amazon.com, Inc. (NASDAQ: AMZN), perhaps the world's most popular money-losing outfit, is predicted to show another net loss for the most recent period.
Here is a quick day-by-day run down of what is expected from these and some of the week's other most anticipated reports.
See also: Halliburton's Results Will Paint Picture Of Oil-Rigging Recovery
Monday
The consensus of 81 estimates from Estimize indicates that second-quarter results from IBM will be earnings per share (EPS) of $3.82 on revenue of $20.99 billion when it reports late in the day. That would be down from EPS of $4.43 and $24.36 billion revenue in the year-ago period. Note that the Wall Street EPS forecast is just $3.78.
Also, Wall Street is looking for earnings growth in Morgan Stanley's report Monday, but EPS declines from Halliburton and Hasbro.
Tuesday
After the regular trading session wraps up, all eyes turn to Apple. The consensus forecast of 346 Estimize respondents calls for $1.85 EPS and $49.24 billion in revenue. That would be up more than 30 percent on both the top and bottom lines, relative to the year-ago period. Wall Street analysts expect a nickel per share less, but they have handily underestimated EPS in the past four quarters.
Microsoft also is scheduled to report late in the day. Some 63 Estimize estimates have earnings at $0.56 per share, the same as what Wall Street anticipates. And both see revenue lower than in the same period of last year. Estimize is more optimistic with a forecast of $22.59 billion.
Also on Tuesday, look for earnings growth from GoPro, Travelers and Verizon but smaller bottom line results from Harley-Davidson, Lockheed Martin, United Technologies and Yahoo, if Wall Street forecasts come to pass. A net loss is predicted for Baker Hughes.
Wednesday
Before the markets open, Boeing and Coca-Cola are scheduled to share their most recent results. Estimize forecasts call for EPS of $2.13 (22 estimates) and $0.61 (18 estimates), respectively. That would be decline near 12 percent for the former and of three cents for the latter, relative to the year-ago period.
As far as revenue, the consensus forecasts have the aerospace giant posting $23.80 billion and the cola king offering up $12.22 billion. That would be a year-on-year gain around 9 percent for the former and a decline near 3 percent for Coke.
Also mid-week, Texas Instruments is expected by Wall Street to show earnings growth in its most recent quarters, while Abbott Labs, American Express, Discover Financial Services, EMC, Qualcomm, SanDisk are predicted to have lower earnings. Look for a net loss from Weatherford International.
Thursday
GM is scheduled to share its results before the markets open, and per-share earnings are expected to have surged from $0.58 in the year-ago period to $1.13. The 12 estimates collected by Estimize also indicate that revenue for the second quarter will be around $40.15 billion, a gain of around 2 percent.
Also early in the day, Caterpillar will say that it had EPS of $1.39, according to 16 Estimize estimates, and revenue of $13.11 billion. However, in the same period of last year, the heavy equipment maker posted per-share earnings of $1.69 on $14.15 billion in revenue.
According to 58 Estimize estimates, a net loss of $0.07 per share in in the cards for Amazon when it reports after the closing bell. Revenue of $22.47 billion is also in the forecast. That would be compare with the $0.27 per share loss and $19.34 billion revenue in the year-ago period. Note that the Wall Street EPS forecast is more pessimistic, calling for a net loss of $0.14.
On what may be one of the busiest days of the earnings season, be sure to watch for anticipated earnings gains from Celgene, Dow Chemical, Starbucks, 3M and Visa, relative to the same periods of last year.
However, Bristol-Myers Squibb, Capitol One, Cypress Semiconductor, Freeport-McMoRan, Juniper Networks, McDonald's, Pandora Media, Under Armour and Union Pacific are projected to have EPS that are lower. EPS at Boston Scientific are expected to be the same as last year.
See also: GoPro Beat Last Quarter By A 'Crazy Amount,' Will It Repeat In Q2?
Friday
First thing Friday, AbbVie and Johnson Controls, will offer earnings growth, while Xerox posts an earnings decline, if Wall Street forecasts are accurate.
View Comments and Join the Discussion!
Posted-In: Amazon.com Apple Boeing CaterpillarEarnings Previews Top Stories Trading Ideas Best of Benzinga