Tesla Q1 Earnings Live Blog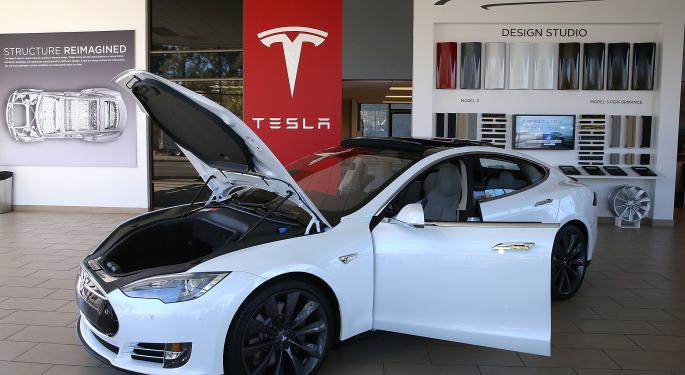 Tesla Motors Inc (NASDAQ: TSLA) will be hosting a conference call today to announce the firm's first quarter results at 2:30 p.m. PT / 5:30 p.m. ET; below is a live blog of the event.
6:47:30 p.m.: The call has ended.
6:47:07 p.m.: Musk on Model X: "We have a lot of customers that have been waiting a long time. This is really a great car. It handles like a sports car even though it's an SUV. The performance is surreal. Nothing else is comparable."
6:43:22 p.m.: Musk: A big factor in scale is labor hours per vehicle. He said that has improved. Direct overhead is also a factor. That has improved as well.
6:41:48 p.m.: Musk: 60 percent of the Model S's supplies come from the United States and Canada. Five percent of parts come from Europe.
6:34:52 p.m.: Musk on construction at Lathrop factory: "We're establishing a big casting foundry and machining facility" to support activity in Fremont.
6:33:31 p.m.: Musk: Our sales in Europe have been pretty great. "Really strong," he said.
6:29:18 p.m.: Musk hopes to show Model 3 in March 2016. "Don't hold me to that month," he said, but that is Tesla's aspiration. Late 2017 production date is being targeted.
6:24:56 p.m.: Musk on Apple, others in Silicon Valley making cars: "I certainly hope Apple gets into the car business. that would be great. We're not really seeing significant attrition of engineers to Apple. Anyone can figure this out by going on LinkedIn. LinkedIn can produce the statistics of what the relative flow is from one company to another."
6:22:31 p.m.: Musk: Tesla hopes to cut its ramp at least by half for the Model X. Model S ramped in six months from launch; Tesla hopes Model X can ramp up within two or three months.
6:18:15 p.m.: Tesla reiterated that multiple Powerwalls can be linked together.
6:08:29 p.m.: Unlike other car companies, Tesla's sales are only recognized when the car has been delivered. Musk said that Tesla's sales are always true sales, not dales to the channel.
5:58:32 p.m.: Musk said the Powerwall will work anywhere the Tesla automobiles work, which is anywhere.
5:56:51 p.m.: It seems that if you already have a solar inverter, Powerwall will be good to go out of the box.
5:54:48 p.m.: Musk said the stationary demand is "just nutty." "Worldwide, it's just crazy," he said.
5:53:12 p.m.: Musk: "The sheer volume of demand here is just staggering. We could have the entire Gigafactory just do storage."
5:52:01 p.m.: Powerpack demand is higher than Powerwall.
5:49:51 p.m.: Musk thinks a battery pack is a good solution for traditional power plants, which can't be started up immediately, require maintenance, etc.
5:48:40 p.m.: Tesla expects the daily use battery pack to last 5,000 cycles, or up to 15 years. High-energy pack will not last as long.
5:46:28 p.m.: Musk: I think we'll see demand for stationary hours to be approximately double that of the car. That, he said, is his best guess for long-term demand.
5:44:12 p.m.: If one percent of US households wanted a battery backup option, that's one million potential Powerwall customers, Musk said.
5:42:33 p.m.: Musk said that when businesses order the Powerpack, they tend to order 10 batteries. So the reservations are really closer to 25,000.
5:40:21 p.m.: Musk: In less than a week, Tesla has had 38,000 reservations for Powerwall, 2,500 for Powerpack. There's no way Tesla could satisfy this demand this year, he said.
5:37:28 p.m.: Musk referred to the Model X as "by far the best SUV." Was very impressed by the latest prototype.
5:36:37 p.m.: Musk: The X ended up being a lot more different from the S than originally anticipated. Development took a lot longer than expected. Tesla was distracted by solving issues with the S.
5:34:42 p.m.: Elon Musk, Co-Founder, CEO, and Product Architect: You cannot scale production if one supplier fails to deliver a single part. A significant ramp is still expected in Q4.
5:31:58 p.m.: The call has begun.
5:29:42 p.m.: The call is about to begin.
5:14:27 p.m.: But not everyone was excited to hear about Tesla's results:
Tesla is another one of these hype stocks that is going to implode. I'm sick of this nonsense and everyone who believes in this tech bubble.

— Jesse Colombo (@TheBubbleBubble) May 6, 2015
5:13:02 p.m.: Many investors have turned to Twitter to share Tesla-related news:
Tesla Motors confirm commercial scale battery - the Powerpack - costs $25,000 for basic unit. #battery

— Simon Moores (@sdmoores) May 6, 2015
4:51:18 p.m.: Tesla has enjoyed impressive growth:
Tesla's First Quarter Revenue: 2015: $1.1 billion 2014: $713 million 2013: $562 million 2012: $30 million

— Jon Erlichman (@JonErlichman) May 6, 2015
4:37:13 p.m.: Tesla produced 11,160 vehicles during the first quarter.
4:34:26 p.m.: Tesla reported sales of $1.1b vs. $1.04b estimate.
4:32:40 p.m.: Shares of Tesla have spiked and are up more than three percent in after hours trading.
4:31:23 p.m.: Tesla Reports Q1 Deliveries 10.045K Autos, Expecting Q2 Production ~12.5K Autos
4:30:45 p.m.: Tesla Reports Q1 Adj. Loss of $0.36/Share vs Loss of $0.50/Share Est.
4:26:55 p.m.: Tesla's shares have rebounded and are now up more than one percent in after hours trading.
4:24:07 p.m.: Some investors wonder if the battery was factored into the stock price.
4:14:18 p.m.: Last week Tesla finally unveiled its first home battery, known as Powerwall. Some investors think it could help Tesla become the biggest company in the world.
4:11:05 p.m.: Shares of Tesla are currently down less than one percent in after hours trading.
4:10:21 p.m.: Tesla closed down 1.08 percent today.
Related Links
Disclosure: At the time of this writing, Louis Bedigian had no position in the equities mentioned in this report.
Posted-In: Earnings News Tech Best of Benzinga
View Comments and Join the Discussion!