Fun & Fancy Free: Disney Q2 Conference Call Live Blog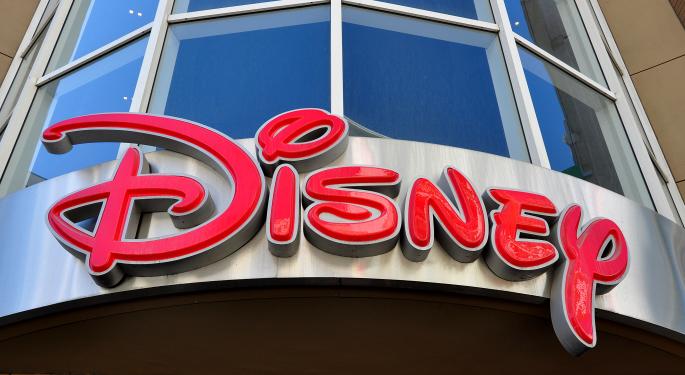 Walt Disney Co (NYSE: DIS) reported Q2 2015 earnings on Tuesday morning. A conference call is scheduled for 9:30 a.m. ET. Below is a live blog of events.
10:20am: Disney shares trading around $111.20, up 0.15%
10:19am: Conference call has ended.
10:16am: SEC Network launch one of the best new network launches in cable history.
10:14am: Over next 5-10 years, for sure 5 years, you'll real growth in the studio
10:11am: Worked on strengthening Disney movie output, particularly in animation. Results have been "stunning" since Alan Horn joined the company.
10:04am: On A&E Networks: 50/50 join venture with Hearst. Value to us, but we rarely speak for them. Ratings were dependent by "Duck Dynasty" and those ratings def. decreased significantly. Not a driver for the quarter.
10:01am: "As long as current distribution ecosystem continues to create value for us, we'll continue to rely on it"
9:59am: Growth in "new media" is only going to continue; No question we're seeing a new advertising reality
9:57am: ABC is doing extremely well in SVOD and DVR playback world; ABC was the "only network that was up" this season.
9:55am: On "Star Wars" and its trailers: Reaction and anticipation has even surpassed expectations
9:54am: Iger: Not treating "Star Wars" as brand new, but mindful that the franchise may have certain generational gaps. Want to be careful that demand doesn't create too much in the marketplace too soon.
9:51am: Half of our guests have Magic Bands and response has been "overwhelmingly positive." As a growth driver going forward, perhaps not as a great a factor as it was this quarter.
9:48am: Iger: "When you unbundle, particularly in broadband, there are going to be hidden costs."
9:47am: On Sony, Iger says "it was't to our advantage financially"
9:46am: "The better the navigation, the better the consumption." Asking Verizon to simply adhere to our contract; offering consumers more choice
9:45am: Q&A session begins.
9:44am: Year-to-date, about $3.9 billion returned to shareholders
9:42am: Attendance at domestic parks up 2% in Q2
9:40am: ESPN ad revenue up in Q2, but down slightly so far in Q3 -- benefited in 2014 due from the World Cup
9:38am: CFO Rasulo: Cable programming/production costs up up sig. in Q2 due to new NFl and NCAA football games on ESPN. Expect flat costs in second half of the year; FY outlook unchanged (low teen's % points). ESPN didn't defer any revenue
9:37am: Saggs: Retail sales for "Frozen" merchandise up double-digits year-over-year
9:35am: Saggs: Q2 saw double-digit audience growth on ESPN and ESPN 2
9:33am: Shanghai Disney details will be unveiled this summer. Iger and COO Saggs will visit China in a few weeks
9:32am: Success of "Avengers: Age Of Ultron," as well as the Marvel and "Star Wars" series'
9:32am: Iger touts EPS up 11% year-over-year
9:30am: Conference call begins
9:12am: Iger on CNBC: We have big plans for the Star Wars franchise; don't have any holes to fill in the studio operation.
9:10am: Iger on CNBC: ESPN's costs will flatten out, we're not going to buy everything, we'll buy what we can.
9:06am: Iger on CNBC: We believe Verizon has violated our programming agreement; we do not think the bundle as we know it is dead
9:04am: CEO Bob Iger on CNBC: Demand for Disney's parks and resorts is "increasing" globally
8:36am Disney shares trading up 2.3% at $113.60, a new all-time high
8:01am: Disney Reports Q2 Sales $12.461B vs $12.25B Est.
8:00am: Disney Reports Q2 EPS $1.23 vs $1.11 Est.
Related Links:
Posted-In: Bob Iger conference call ESPN Frozen Star WarsEarnings News Intraday Update Best of Benzinga
View Comments and Join the Discussion!