Twitter Q1 Earnings Live Blog: Report Leaked, Shares Crash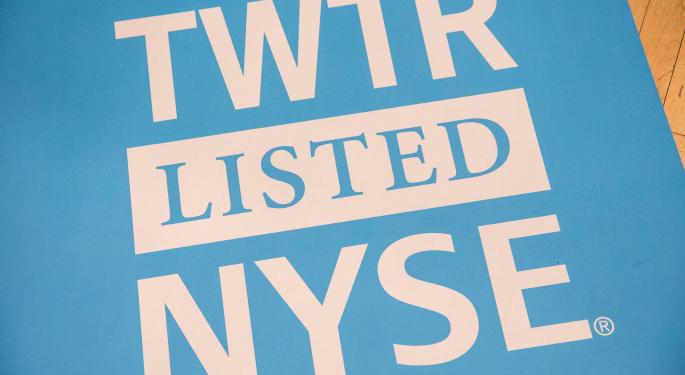 Twitter Inc (NYSE: TWTR) reports earnings Tuesday afternoon. The company's conference call is expected to begin at 5:00pm ET; below is a live blog of the events.
6:03:pm: The call has ended.
6:00:pm: Costolo on M&A strategy: While it's a super early days for Periscope, "we're really delighted with how acquisitions like that and Vine have worked out for us." He plans to be opportunistic about looking for teams and companies like that.
5:57:pm: Forecast for advertisers at year end will not be provided.
5:55:pm: Tweets per day have increased.
5:54:pm: Twitter looks at a lot of different metrics internally. DAU (daily active users) is one. DAU to MAU ratios as well as tweets per day, searches, others.
5:53:pm: Twitter is continuing to explore in-tweet purchases. It's described as in-the-moment commerce.
5:52:pm: Twitter's yoy ad retention rate is similar to what it was in the fourth quarter.
5:49:pm: Costolo: Twitter has seen an increase in use of direct messaging with the combined launch of direct DM and the share tweet function.
5:48:pm: It is not clear exactly when the DoubleClick deal will roll out.
5:47:pm: Twitter's search deal with Google will roll out in May.
5:42:pm: Since the launch of native mobile video on iOS and Android, Twitter has seen orders of magnitude increases in the volume of native mobile video shared to Twitter.
5:39:pm: Twitter is not sharing any additional information about the DoubleClick deal.
5:32:pm: Costolo reiterated that more than a million people logged into Periscope in the first 10 days.. He said he keeps talking about native mobile video (and by that he said he means video produced primarily for mobile consumption). He is very excited to be able to organize these experiences that people are distributing and deliver them to logged out users. "I'm just super excited about the ability to grow that Periscope user base," he said.
5:29:pm: Noto said that TellApart really accelerates Twitter in the aforementioned three areas -- targeting, measurement and creative.
5:27:pm: Noto: "We have prediction capability models as it relates to click-through rates." Now they are aiming for prediction capabilities from actual conversions.
5:26:pm: Twitter is focused on targeting, measurement and creative.
5:26:pm: Twitter is adding significant value to advertisers by lowering click-through rate. Creates value for advertisers.
5:22:pm: Noto reiterated that Q2 revenue is expected to be $470m to $485m.
5:18:pm: Anthony Noto, CFO: TellApart provides immediate benefits to Twitter.
5:12:pm: Costolo on Periscope: In first 10 days alone, more than 1M people signed in to Periscope, and even more viewed content.
5:12:pm: NYSE Says Reviewing Trades In Twitter Inc Between 3:47 PM ET and 3:48 ET
5:11:pm: More than half a billion people visit Twitter but don't log in. The logged out homepage could help take advantage of this.
5:10:pm: "We're seeing, perhaps, the most exciting results here," Costolo said of the Recap feature. He said it's bringing users back to Twitter more frequently.
5:09:pm: "Highlight" feature brings a summary of the best tweets via push notification to let users catch up.
5:08:pm: Costolo expects Twitter to iterate frequently on the instant timelines based on data it receives.
5:08:pm: To grow Twitter's user base, Costolo said Twitter needs to improve user retention.
5:07:pm: Costolo said Twitter is focused on strengthening its core and removing barriers to consumption.
5:06:pm: Costolo is impressed by the company's ability to exceed profitability targets.
5:06:pm: NASDAQ's Market System Status Page Shows Exchange Probing Potentially Erroneous Transactions in Twitter Between 3:47-3:48pm EDT http://www.nasdaqtrader.com/Trader.aspx?id=MarketSystemStatus
5:05:pm: Twitter CEO Dick Costolo said the company finished the quarter with mixed financial results and solid operational performance.
5:01:pm: The call has begun.
4:58pm: Twitter has also announced that it will offer new measurement and buying tools through DoubleClick.
4:56pm: The conference call is about to begin.
4:55pm: In addition to its earnings results, Twitter announced that it acquired TellApart, a company that it describes as a "leading marketing technology company providing retailers and e-commerce advertisers with unique cross-device retargeting capabilities through dynamic product ads and email marketing."
4:15pm: Twitter up 1% after hours to $42.75.
4:00pm: Twitter closes day down 18.18%, at $42.27.
3:48pm: Shares Of Twitter Open For Trade At $41/Share, down ~19%
3:36pm: NYSE Floor Trader Indicates Shares To Open Between $40-40.25
3:35pm: Via BenzingaPro: Seeing A Lot of Activity at Twitter Post on NYSE Floor Right Now, Price Discovery Appears to be Happening
3:41pm: MAU Were 302M For Q1, Up 18% YoY
3:41pm: Twitter Release Confirms Sales Of $435.94M vs. Est. $456.8M
3:38pm Twitter Releases Q2 Guidance; Sales $470M-$485M vs. Est. $538M
3:37pm: Twitter Cuts FY15 Rev. From $2.3B-$2.35B To $2.17B-$2.27B vs. $2.37B Est. Click here for the company's full earnings report.
3:36pm: Benzinga Reached Out To Selerity, Source Wouldn't Confirm Or Deny Anything Related To The Publication Of Twitter's Earnings Numbers, Awaiting Email Responses To Further Inquiry
3:35pm: Twitter to Buy Telapart (terms not disclosed)
3:35pm: Twitter Release Confirmed Adj. EPS $0.07
3:27pm Shares were down more than 5.7% at $48.67. Shares were halted.
3:21pm Leigh Drogen Tweets, "The @Selerity guys win again catching the Twitter IR screwup"
3:19pm: Phil Pearlman Tweets, "i recall i think selerity pushing an early earnings before. it was microsoft and it was 3-4 years ago maybe more and it moved the stock"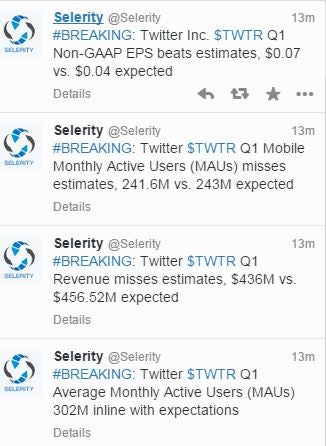 3:16pm: UPDATE: Selerity Tweets-#BREAKING: Twitter $TWTR Q1 Revenue misses estimates, $436M vs. $456.52M expected
3:13pm: Selerity Tweets: #BREAKING: Twitter Inc. $TWTR Q1 Non-GAAP EPS beats estimates, $0.07 vs. $0.04 expected. Selerity Monitors Historically Used URL's, Investor Relation Websites; May Have Spotted URL To Twitter Release Early.
Related Links:
Everything Wall Street Has Said About Twitter This Week
Who Holds The Most Twitter Stock?
Should Shareholders Expect A 15% Move In Twitter?
Posted-In: Earnings News Best of Benzinga
View Comments and Join the Discussion!