Google Q1 Earnings Conference Call: A Play-By-Play Recap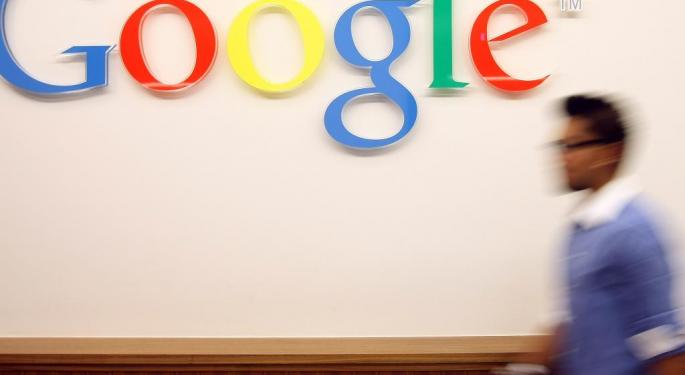 Google Inc (NASDAQ: GOOG) (NASDAQ: GOOGL) reports earnings on Thursday afternoon. The company's conference call is scheduled to begin at 4:30 p.m. ET. Below is a live blog of the events.
5:26pm: GOOG shares up ~3.6 percent, GOOGL shares up ~4 percent
5:25pm: Conference call has ended.
5:23pm: Ruth Porat will join "in about a month"
5:22pm: Auto and travel were stronger verticals this quarter
5:15pm: Very easy to make YouTube profitable, but still focused on its growth
5:14pm: FX adjusted, continue to be very pleased with Google Play
5:11pm: Project Fi is about services, not assets. "Pushing the envelope"
5:10pm: Google Maps will be integrated in other web services. Partnering is an area we're investing it
5:08pm: Improvements in measurements will be a big boost to Google's mobile push
5:05pm: One-third of all people on Internet everyday are watching YouTube.
5:03pm: What's changed over the last year: Making sure trueview is more efficient.
5:01pm: Apple Pay - it's great to see the industry open up here. Our focus is to bring Android Pay to remove much of the friction our users encounter.
4:58pm: Focused on sequential performance rather than last year; no specific one-time items for this quarter
4:57pm: Non-mobile friendly sites won't disappear form search, but lack of mobile friendliness is a problem. Early to speculate exactly how monetization impact these changes will be
4:55pm: We make sure people want to watch these treuview ads. This is not a view back to the last five years at all
4:54pm: On apps and UX: We recently introduced app install Carousel. It's bout delivering results to users, see the results in monetization
4:52pm: Q&A session begins
4:51pm: For YouTube, "we are seeing the natural shift of TV budgets"
4:50pm: Trueview ads grew by 45% in 2014
4:50pm: YouTube is world's most popular video service on all screens.
4:48pm: Mobile also helps the 90% of commerce that still takes place offline
4:47pm: Android One released in Indonesia and Philippines -- 6 emerging markets
4:44pm: CBO Omid Kordestani on shift to mobile: Further development of apps, retooled search engine. Recent Chrome release made it easier for users to add fav. sites to home screens
4:40pm: Pleased with strong operating cashflow at $6.6 billion
4:39pm: US ad rev. up 11% YoY; in fixed FX terms UK grew 12% YoY
4:38pm: YouTube viewership climbed rapidly YoY, users choosing not to skip trueview ads. Significant drivers of YoY growth in site clicks
4:36pm: Pichette: Global paid clicks up 13% YoY, down 1% QoQ
4:34pm: CFO Patrick Pichette: The US dollar had gross negative impact of $1.1 billion.
4:32pm: Conference call is beginning
4:26pm: GOOG shares up ~1.8 percent, GOOGL shares up ~2.2 percent
4:03pm: Google Q1 Sales $13.9B vs $14B Est.
4:01pm: Google Reports Q1 Adj. EPS $6.57 vs $6.63 Est.

The conference call can be accessed at the company's YouTube channel, found here.
Related Articles:
Posted-In: conference callEarnings News After-Hours Center Best of Benzinga
View Comments and Join the Discussion!