Earnings Heat Up: Here's Everything You Need To Know This Morning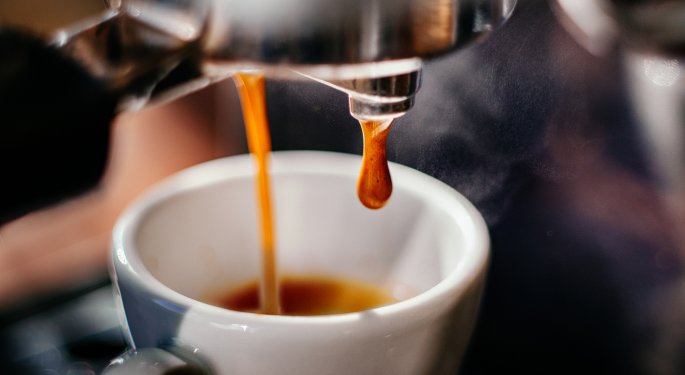 This article was first published in newsletter form, from Morning Brew.
There is only one boss. The customer. And he can fire everybody in the company from the chairman on down, simply by spending his money somewhere else. ~ Sam Walton
MARKET SNAPSHOT: MONDAY'S REBOUND
After a real battering, indices dusted themselves off and came back with a vengeance, leading to a recovery of most of the losses sustained on Friday. Upbeat earnings and the announcement of stimulus in China helped to push the major indices well into the green. The Dow finished above 18k and the Nasdaq finished just shy of the 5k mark. Oil continues to turn heads with continued daily gains flowing in. What to watch for: more big earning releases and updates on Greece.
WORLD MACRO: U.S, JAPAN NEAR AGREEMENT ON PACIFIC TRADE DEAL
Deal Would Strengthen Relations Between U.S. And Japan
Longtime allies Japan and the U.S. are at it again. According to Japanese Prime Minister Shinzo Abe, the two countries are close to finalizing a major 12 nation trade deal, called the Trans-Pacific Partnership, which will strengthen both the economies of the two world powers and the ties between them. Specifically, the U.S. is seeking more agricultural imports from Japan (Kobe beef, anyone?). Japan, on the other hand, wants to gain greater access to the U.S. auto market by repealing a 2.5 percent tariff on American auto imports.
So Why Should You Care?
Unless your diet consists solely of rice (the agreement calls for Japan to double their U.S. rice imports), the ramifications of the deal may not be immediately apparent. One of the big debates concerns the deal's actual effects on the American economy--Republican lawmakers in Washington are skeptical of its benefits. However, a new business study released Tuesday claimed that the partnership would create up to 250k U.S. jobs due to increased foreign investment--not to mention all the rice.
CORPORATE PRIMER: BACK TO BASIC (CABLE)
Verizon announced plans to offer a slimmed-down television package after losing customers to cheaper streaming services like Netflix, Inc. (NASDAQ: NFLX), Amazon.com, Inc. (NASDAQ: AMZN) and HBO Now. Less is more--instead of forcing users to pay for channels they never watch, Verizon Communications Inc. (NYSE: VZ) FiOS customers will have the option of buying a package for $55 per month that includes 35 basic channels and two free "channel packs" grouped by theme, such as sports, lifestyle or children. The folks at ESPN are not too pleased, arguing that they should be included in the regular package. I'd be upset too, the rapidly changing TV market is affecting everyone, not just providers. Verizon releases its earnings report today, so look out for further developments.
CORPORATE PRIMER: BIG DAY FOR EARNINGS
Here comes another week of hotly anticipated earnings. Investors have tucked napkins into their shirts and are ready to dig in, and analysts are starting to feel bad after so many underestimates. Here's what happened on Monday:
Keeping with the trend set by other major banks, Morgan Stanley (NYSE: MS) reported better than expected earnings yesterday (its $0.85 EPS beat predictions by 7 cents). Revenue was boosted by increased trading revenue due to market volatility. Morgan Stanley also announced a dividend increase, from $0.10 to $0.15. Shares traded up.
Let's talk about oil--service provider Halliburton Company (NYSE: HAL) earnings also beat analyst predictions, soaking up increased revenue in Latin America and Asia thanks to major workforce downsizing. Revenue from other regions decreased, however. Shares rose on the news.
Lastly, the Big Blue-- International Business Machines Corp. (NYSE: IBM)'s report was mixed; earnings beat expectations, but revenue didn't. They also announced a weak second quarter outlook, as the company has been struggling with consumer trends toward smaller cloud-based systems.
In the coming week, here's what to look for:
Tuesday: Yahoo! Inc.(NASDAQ: YHOO), Baker Hughes Incorporated (NYSE: BHI), Chipotle Mexican Grill, Inc. (NYSE: CMG), Lockheed Martin Corporation (NYSE: LMT) and Verizon
Wednesday: AT&T Inc. (NYSE: T), Boeing Co (NYSE: BA), and Facebook Inc (NASDAQ: FB)
Thursday: 3M Co (NYSE: MMM), Amazon, Google Inc (NASDAQ: GOOG) (NASDAQ: GOOGL), Southwest Airlines Co (NYSE: LUV), and Microsoft Corporation (NASDAQ: MSFT)
Friday: Xerox Corp (NYSE: XRX)
OTHER STORIES
2013 winner Lelisa Desisa wins Boston Marathon
Big time donors Koch brothers prefer Walker in 2016
Oil ends higher amidst stockpile data
Once dominant Nokia plans to return to phone market in 2016
WATER COOLER
Best Selling Products Of All Time
In these ever-changing times, it is often wise to look back fondly and appreciate how we got here. You guessed it--we're talking about product lines. When a company brings out a best-seller, they not only transform an industry, but often open up an entirely new field for future business. Many best-selling products were firsts in new categories.
What do we mean by new? We'll give you an example. Apple Inc. (NASDAQ: AAPL) iPhone, which has sold more than 500M units, was the first touchscreen smartphone that could seamlessly handle music, web browsing and phone calls. In other cases, the best-sellers were just better than their competitors in a given field. Here are some of the top best-sellers:
1. PlayStation - video game console (344M units sold).
2. Lipitor – cholesterol drug ($141B in sales).
3. Corolla – vehicle (40.7M units sold).
4. Star Wars – movie franchise ($4.6B in sales).
5. Rubik's Cube – toy (350M units sold).
TODAY IN TECH: RAYTHEON BETS ON CYBERSECURITY
Defense contractor Raytheon Company (NYSE: RTN) is buying Websense, a leading network security provider, in a move to diversify its revenue stream. The acquisition comes at a cost--a five times revenue multiple, in fact--and underscores massive corporate investment in cyber security in the wake of high-profile cyber attacks on companies including Target Corporation (NYSE: TGT), Home Depot Inc (NYSE: HD) and JPMorgan Chase & Co. (NYSE: JPM). Websense software helps to identify potential hackers. It provides peace of mind for CEO's who were left "shaking in their boots" after the attacks, says Raytheon CEO Thomas Kennedy, in an attempt to talk some Websense into CEO's. We can only hope they'll buy in.
STARTUP OF THE DAY: INNOVATIONS IN THE PHARMACY BUSINESS
Watch out CVS and Walgreens, there's a new pharmacy in town. Well, not really in town--PillPack is an online pharmacy with $12.8M in funding. The value add? PillPack delivers medication directly to patients in presorted doses. Each packet contains one day's worth of pills labeled with a date and time, so you'll always remember if you took your daily dose of Lipitor. The business addresses the serious issue of patients improperly taking their medication. To complement the service, PillPack will soon have an app for prescription fulfillment and medicine notifications.
The preceding article is from one of our external contributors. It does not represent the opinion of Benzinga and has not been edited.
Posted-In: morning brewEarnings News Events Tech Best of Benzinga
View Comments and Join the Discussion!